Police chopper stirs debris during Penn State tailgate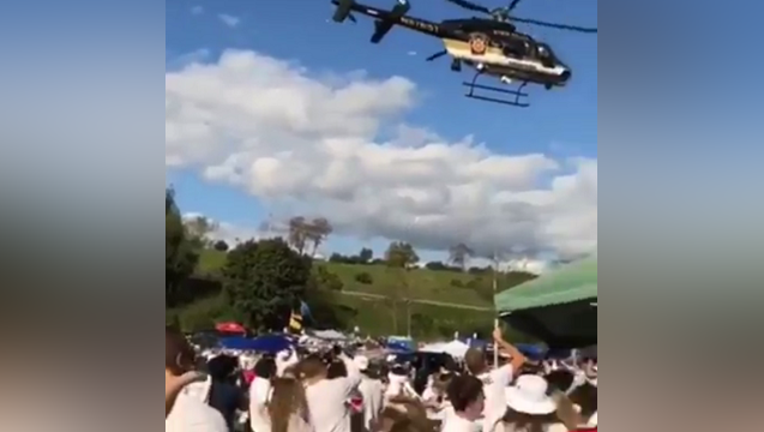 article
STATE COLLEGE, Pa. (AP/WTXF) - A state police helicopter responding to unruly tailgaters before Penn State's game with Ohio State on Saturday blew over tents and kicked up debris, with stunned reactions by onlookers recorded on social media.
State police said Monday that a trooper suffered a broken wrist while trying to arrest a man who had allegedly struck a state police horse, part of a horse-mounted team summoned when the party with hundreds of revelers got out of hand.
Agency spokesman Ryan Tarkowski said troopers on the ground were pulled back "in an effort to de-escalate the situation," after which the helicopter arrived and flew low over the crowd.
"The helicopter made an initial pass at a higher altitude, but (the) loudspeaker could not be ... heard," Tarkowski said. "The second pass was lower to ensure people on the ground could hear the order to disperse. PSP helicopters may fly at an altitude that will best accomplish the mission at hand while keeping safety in mind."
He said the man who allegedly struck a horse was taken into custody by university police.
Penn State Police, responding to concerns about the incident, said officers were dealing with numerous violations of the law that put officers' safety at risk.
When tailgate items began flying around, the chopper gained more altitude.
In a statement, university police said the helicopter "was deployed as another tool to compel the group to disperse and curb dangerous and unruly behavior. Following the use of the helicopter, the dangerous behaviors dissipated."
Video posted by Nittany Lion Wearhouse & Ticket Exchange shows chaotic moments as people on the ground appeared astonished to see the helicopter so low, with tents and other material flying around.