Pet shop facing threats after adding gun control question to adoption form
THOUSAND OAKS, Calif. - At Shelter Hope Pet Shop in Thousand Oaks, the angry, threatening calls keep on coming in. 
"Get the hell out of our country psychopath," said a man who didn't leave his name. The emails in the thousands are also jamming the inbox. All because owner Kim Sill is asking this question on the pet adoption application: "How do you feel about gun control?"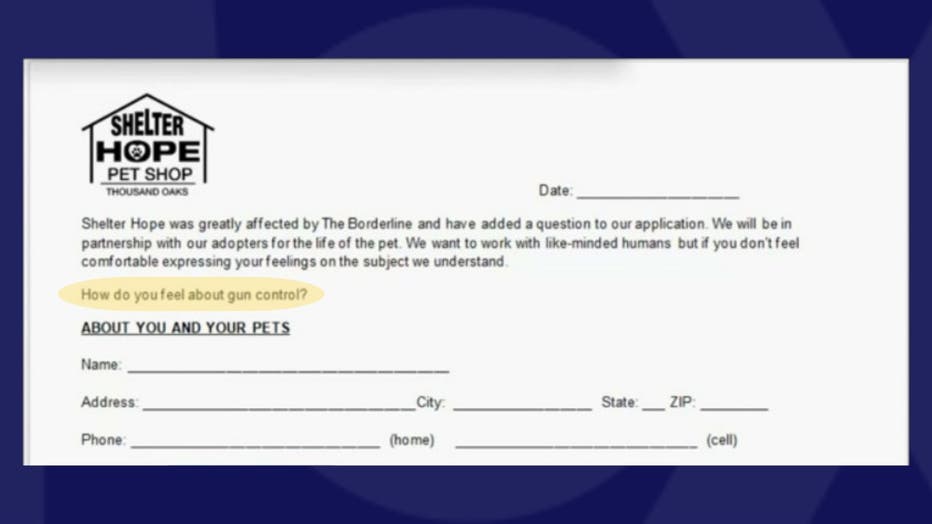 Sill says, "I don't think it's a bad thing to ask people how they feel about gun control. I think it's good to know how your neighbors feel." 
The trouble began when Kim sent out a newsletter supporting gun control and announced her private rescue shelter would stop adopting-out animals to anyone opposing gun restrictions. 
"I believe that you should be 25 years old before you should have the right to buy a gun, I believe that a mental health check is necessary," she said. Sill says responsible gun owners wouldn't necessarily have a problem adopting a pet at her shop but NRA members are not allowed. 
PREVIOUS COVERAGE: California animal shelter bans anti-gun control supporters from adopting pets
"We're a dog rescue, we're a non-profit, we get to choose who gets these dogs," says Sill. 
Trial Attorney Rachel Fiset says Sill is not breaking the law by refusing to allow NRA members to adopt her rescues. 
"NRA members are not a protected class, she's not discriminating on race, religion or gender and this is something she's allowed to do under the law and this is her way of speaking out," says Fiset. 
The reason Sill feels so strongly about gun control, is because her sister Michelle was shot and killed. Plus, Sill briefly met the man who committed the mass shooting at The Borderline Bar and Grill. 
SUGGESTED: Video shows cow taking over office on England farm
"A few months before he killed all those people at The Borderline Bar and Grill he came here for some community service hours," Sill said. "It ended up not working out because he was not willing to follow the rules."
Despite all the nasty messages, Sill says she's not backing down. She says, "When the thing happened with Uvalde, I said 'Ok, if I can do one tiny thing in my little world of animal rescue, it will be to say how I feel and this is how I feel. Do something!'"