Peeps maker to remove cancer-linked red dye No. 3 from popular Easter candy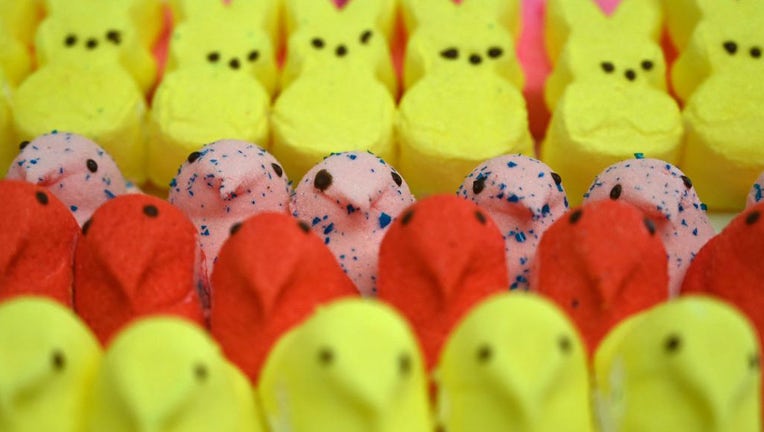 article
Peeps, the popular marshmallow treat most associated with Easter, will no longer contain a chemical linked to cancer known as red dye No. 3.
Red dye No. 3 is often used as food coloring for various products like Peeps. But the color additive has been banned in the U.S. for decades in makeup and topical medicines after being linked to cancer. 
However, it remains approved for use in foods, dietary supplements, and oral drugs – found in popular candies, fruit cocktails and plenty of other foods on grocery store shelves. 
Just Born, Inc., a family-owned candy company based in Pennsylvania, was called out earlier this year by the nonprofit Consumer Reports for using red dye No. 3 in Peeps. In a statement last week to the nonprofit, Just Born said it would no longer use the chemical in any of its products after Easter 2024.
"For Easter 2024, of all our PEEPS offerings, two colors will contain Red #3 – Pink and Lavender," the company said. "All Just Born products, including Pink and Lavender PEEPS, comply with FDA guidelines and use only FD&C certified color. HOT TAMALES no longer contains Red #3. You will begin to see the updated ingredient list on store shelves in the coming months."
The news comes as California became the first state to ban red dye No. 3 and other chemicals used in well-known candies and other foods and drinks because of their link to certain health problems.
Democratic Gov. Gavin Newsom signed a law earlier this month banning red dye No. 3, as well as brominated vegetable oil, which is used in some store brand sodas, and potassium bromate and propylparaben, two chemicals used in baked goods.
Newsom said in a signing statement that the additives addressed in the bill are already banned in various other countries. All four chemicals are already banned in foods in the European Union.
"Signing this into law is a positive step forward on these four food additives until the United States Food and Drug Administration (FDA) reviews and establishes national updated safety levels for these additives," Newsom's statement said.
Consumer health groups have been calling on the FDA to ban the use of red dye No. 3 in food for years, citing the risk of cancer and other health problems. This includes the Center for Science in the Public Interest (CSPI), a nonprofit group that advocates for safer and healthier foods.
Last October, advocates with CSPI sent a petition to the FDA urging the agency to finally ban Red Dye No. 3 from being used in foods, dietary supplements, and oral medicines. 
The agency told FOX Television Stations Monday in an email that it was still "actively reviewing" the petition, adding that it extended the cutoff date for public comment by a month due to "stakeholder requests." 
"When we review a color additive petition requesting that the FDA revoke an authorization, we are reviewing the information submitted in the petition to determine whether it contains sufficient data to support a finding that the authorized use should be revoked. For more information about the petition process, see:  Guidance for Industry: Questions and Answers About the Food Additive or Color Additive Petition Process. We will publish our response to the petition in the Federal Register once we have completed our review," the FDA spokesperson said. 
This story was reported from Cincinnati. The Associated Press contributed.