'It's heartbreaking': 8-alarm fire burns South Jersey church to the ground, officials say
FLORENCE, N.J. - Fire crews were on scene of a roaring multi-alarm fire that officials say ripped through a church in Burlington County on Monday evening. 
Just after 6 p.m., officials say they responded to a call that initially came over as a three-alarm fire at the Fountain of Life Center on Burlington Columbus Road in Florence, N.J. 
After 40 crews from several fire companies arrived, the blaze was soon declared an eight-alarm fire, causing flames and smoke that could be seen for miles. 
Colleen Reichert lives nearby and says she can recall the church being established since around 1979. She says in the past few years, the church updated its property and expanded its congregation.
"They do a wonderful Easter show every year, every single year. People come from all over. It's a wonderful congregation, it's part of the community, and it's going to be missed," said Reichert.  
MORE HEADLINES 
Residents say the church also had a school on its property with a huge basketball center used by the community. 
Before the raging inferno burnt the church to the ground, officials say there were kids on the property for an after-school program.
All the kids were safely evacuated from the gym area of the church and no injuries were reported. 
According to authorities, the fire was placed under control at 11:44 p.m., and firefighters remained on scene overnight to make sure the fire did not reignite.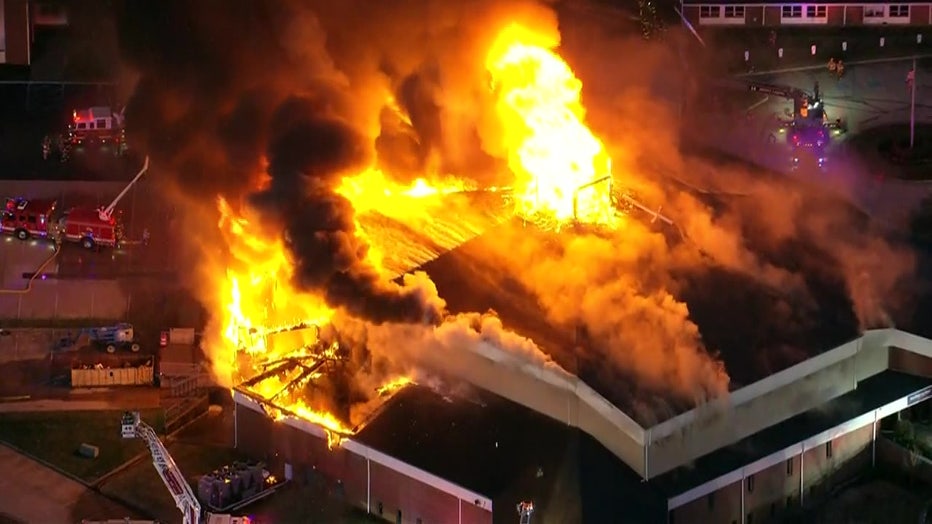 Fire crews are on scene of a roaring five-alarm fire that they say is ripping through a church in New Jersey.
On Tuesday afternoon, fire officials held a press conference to discuss the operation to extinguish the blaze. 
Those officials say more than 200 firefighters from multiple agencies responded to the church, saving about 65% of the complex. 
Burlington County Commissioners later released a statement, thanking all the firefighters, police, and EMS personnel that responded to the fire. 
"Our thoughts are with the church's congregation and school community who have been impacted. The devastating loss will be felt by our entire county. While we were shaken to learn of the extent of the damages, we were relieved to learn that there was no loss of life or apparent injuries from the blaze," the Burlington County Commissioners said in a statement. "The teamwork and professionalism exhibited by our county's public safety leaders, telecommunicators and responders last night and today should make all of Burlington County proud."
Investigators are now set to examine the building to determine a cause.