Officers weep at wake for NYC policeman shot in head on duty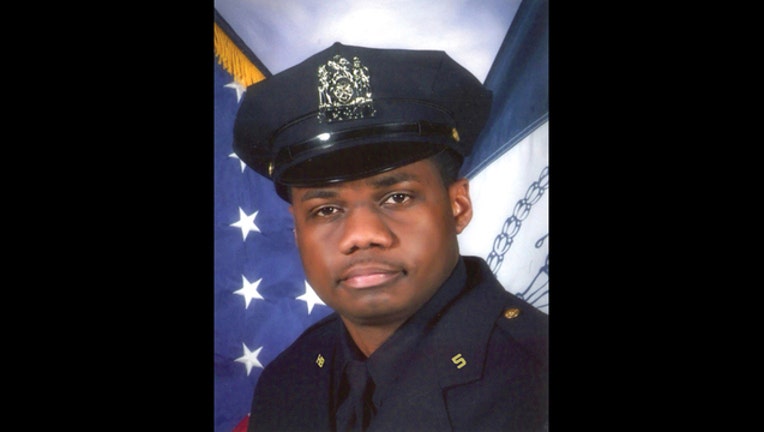 article
NEW YORK (AP) — Hundreds of officers stood in the shadows of blue ribbons tied to fences and trees as they waited Tuesday to pay tribute to a policeman slain on patrol — a man remembered for his love of family and pride in his job.
Officer Randolph Holder always wanted to be a policeman, following in the footsteps of his father and grandfather, who served as officers in their native Guyana. Holder's dream came true in 2010 when he joined the New York Police Department and began patrolling the city's public housing complexes.
"It's in his blood," said his commanding officer, Capt. Reymundo Mundo. "It's in his genes."
Dozens of officers saluted as a coffin carrying Holder's body, which was draped in the Police Department's flag, was brought into the Greater Allen A.M.E. Cathedral on Tuesday morning. Mayor Bill de Blasio, former and current Police Commissioners Ray Kelly and William Bratton, Cardinal Timothy Dolan and the family of slain officer Wenjian Liu were among the hundreds of mourners.
As a stream of officers wiped tears from their faces, many said they wanted to live by Holder's example and not bury themselves in the loss.
"It's never easy," Sgt. Joe Imperatrice said, recalling the funerals of NYPD officers Rafael Ramos and Liu last December. "But anything that goes on, you're going to put on your vest, put on your uniform and do your job right."
Holder, 33, was also remembered for the sacrifices he made for his family, his No. 1 priority.
"He was a very outgoing person, very giving and very caring, especially for the family back home," his aunt Ruth Noel said. "It's a great loss in Guyana, too, not just here."
As Noel stood in front of the church, she recalled memories of her time with her nephew.
"It's only when these people are gone that you see how good they really were," she said.
Noel said she was overcome with emotion when she saw her nephew laid out in an open casket in the church, dressed in his full uniform, as his fellow officers wept.
"I just couldn't hold myself," she said. "It's too much for me."
Holder died Oct. 20 after being shot in the head in Manhattan's East Harlem neighborhood. He and his partner had been chasing a man after responding to a call of shots fired and a bicycle stolen at gunpoint. The suspect, 30-year-old Tyrone Howard, hopped off the stolen bicycle and shot Holder, authorities allege. Howard was taken into custody a few blocks away and has been charged with murder and robbery.
Howard didn't appear at a brief court proceeding Tuesday where a grand jury indicted him. The charges will be announced at a state Supreme Court arraignment on Nov. 24. His attorney has said there are many missing details in the case.
The Rev. Al Sharpton, a frequent police critic, had been scheduled to deliver the eulogy at Holder's funeral on Wednesday, but he said Tuesday he changed his mind, saying he didn't want to spark a confrontation that could turn the funeral into a "sideshow."
Holder will be buried in Guyana.