Obama headed to battleground states to boost Dems before midterms
Former President Barack Obama is headed to Georgia, Michigan and Wisconsin in the closing days of the 2022 campaign to give a boost to Democrats running for governor, senator and on down the ballot.
He goes first to Atlanta, where Stacey Abrams is taking on Republican Gov. Brian Kemp on Nov. 8. She lost a close race to him in 2018.
As in 2020, Georgia also may once again decide which party controls the Senate. Democratic Sen. Raphael Warnock is facing a challenge from Republican Herschel Walker, a football star making his first bid for public office.
After campaigning in Atlanta on Oct. 28, Obama plans stops the following day in Detroit and Milwaukee for events to help get out the vote.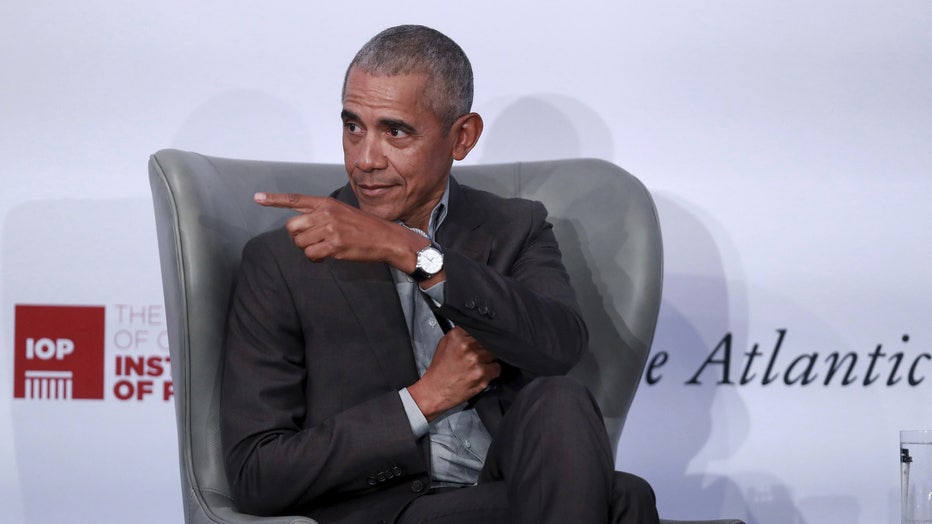 Former President Barack Obama has a conversation with The Atlantic's editor-in-chief, Jeffrey Goldberg, during the Disinformation and the Erosion of Democracy conference at the University of Chicago on April 6, 2022. (Chris Sweda/Chicago Tribune/Trib
In Michigan, Democratic Gov. Gretchen Whitmer is running against Tudor Dixon, a onetime commentator for a conservative online program who was endorsed by former President Donald Trump.
Michigan voters also are deciding whether to enshrine abortion rights in the state constitution.
In Wisconsin, Democratic Lt. Gov. Mandela Barnes is trying to unseat Republican Sen. Ron Johnson and become the state's first Black senator.
Barnes, who is from Milwaukee, the state's largest city and home to the largest group of African American voters, has been trying to energize Black voters in a race that a Marquette University Law School poll this past week showed Johnson with an apparent lead.
Obama also hopes to give a boost to Democratic Gov. Tony Evers, who is being challenged by Tim Michels, a construction company co-owner who is endorsed by Trump. Marquette polls for months have shown that race to be about even.
Biden makes late push for West Coast Democrats
Obama's tour comes on the heels of President Joe Biden's visit to the West Coast, where Democrats hope he'll help deliver votes. 
Democrats are trying to retain power in the face of widespread economic uncertainty and the traditional midterm headwinds against the party in power. Republicans, aiming to regain the House and Senate, think they can capitalize on gas prices, inflation and the economy.
READ MORE: Voters in key battleground states will decide on ballot proposals that could reshape voting rights in 2024
In Oregon, the party is in danger of losing the governor's race in the traditional Democratic stronghold as Betsy Johnson — who has quit both the Democratic and Republican parties — has run a well-financed race against Democratic nominee Tina Kotek and the GOP nominee Christine Drazan.
Democratic candidates have been far more likely to appear with Biden at official White House events underscoring their achievements than at overt campaign events. In California, Biden was joined by state lawmakers and the city's mayor, and he called them out individually. Rep. Karen Bass, who is running for mayor of Los Angeles, made a takeout run with Biden to a taco shop.