NYPD sees record number of officers eyeing retirement
NEW YORK - There's been more evidence of a mass exodus within the NYPD as hundreds of off duty officers packed into a retirement seminar held in Queens Wednesday night.
 The line wrapped around the building--800 off duty New York City police officers waiting outside Antun's Catering Hall in Queens Village learn more about retired benefits. 
Another one is planned for another 800 cops next month. 
"There's a level of disrespect out in the street in regard to police officers. Like people yell things at you and whereas before, you know, people say thank you, thank you for being here. Thank you for protecting us.," one Queens officer of over 19 years said.
"I think what would help would be an increase in the manpower," he added. 
The spike in NYPD officers quitting or retiring as soon as they are eligible, started in 2020.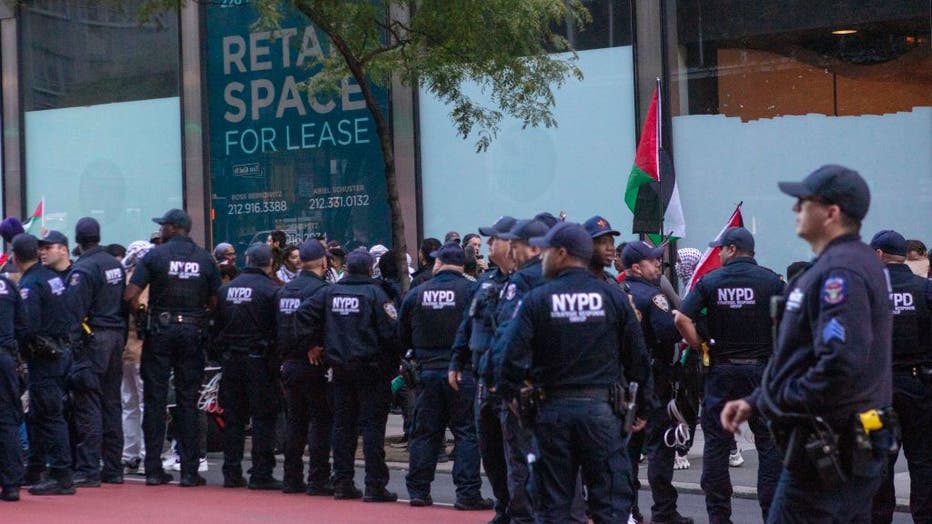 NEW YORK, NEW YORK - OCTOBER 13: NYPD officers stand guard as people demonstrate in support of Palestinians on October 13, 2023 in New York City. (Photo by Wang Fan/China News Service/VCG via Getty Images)
Cops leaving in record numbers directly followed the 'defend the police' movement and protests about police brutality in the wake of George Floyd's death. 
Police Benevolent Association, PBA president Patrick Henry said the anti-police sentiment, coupled with bail reform laws, makes it hard to retain veteran cops. 
"We're losing a veteran police officers who are out in the streets every day risking their lives to protect New Yorkers, Henry explained.
He said he'd like to see laws changed in Albany to create better funded pensions and incentives to keep seasoned officers on the force for five or ten years longer.
"One of the main reasons is our police officers are leaving at 20 years because there's no incentive to stay past 20 years financially. It doesn't make any sense," Henry added.
As the police union tries to get attention from state lawmakers in Albany, they do appear to have an ally in city hall. Mayor Adams, a former police officer himself, recently agreed to a new contract with the PBA, one that includes pay raises and higher salaries for new recruits.