Injured NYPD detective's support network reaches new heights
STATEN ISLAND, N.Y. - Some would consider it a victory just for NYPD detective Dalsh Veve to be here.
On June 3, 2017, Veve rushed to a scene where shots were reportedly fired in Brooklyn. Zeroing in on a teenage suspect in a stolen car, he would be dragged for three blocks, suffering severe brain trauma and other injuries.
"We had our clothes ready to go to church the following morning. So that's not something that I ever expected," recalled his wife, Esther Veve.
Nearly a year later in 2018, after unrelenting physical therapy, Detective Veve left the hospital – his wife by his side, their daughter on his lap.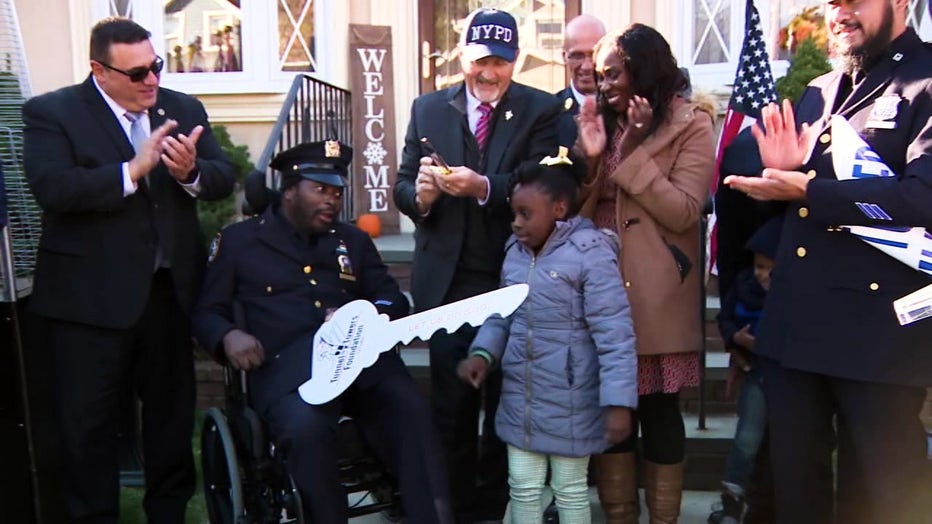 In 2022, the Tunnel to Towers Foundation helped renovate the family's home to make it more accessible.
Now, six years after the detective's life was forever changed, a strong community has built around him. From his wife, who set her nursing career aside to focus on his recovery, to his NYPD colleagues, who have lived by the words to "never forget."
Combined, they are now a team called Dalsh's Dawgs, and on June 4 will climb all 104 floors of One World Trade Center as part of the annual Tunnel to Towers Foundation Climb.
Dalsh's Dawgs had five members last year. This year, his wife Esther tells FOX 5, they are 47 strong – led in large part by NYPD colleagues, including Chief Joseph Gulotta, who was Dalsh Veve's commanding officer in Brooklyn the night of his injury.
"That night forever changed his life and forever changed my life as well. I made a commitment to that family, and I'll stick to it. And we've become very close and family," Chief Gulotta told FOX 5.
The chief's sentiment was echoed by another officer who was on Veve's unit.
"I personally feel so proud that, you know, everyone's is coming together and we'll all be going big on our way up to the top as a team with our blue shirts and everything," Lt. Carolyn Nitowitz agreed.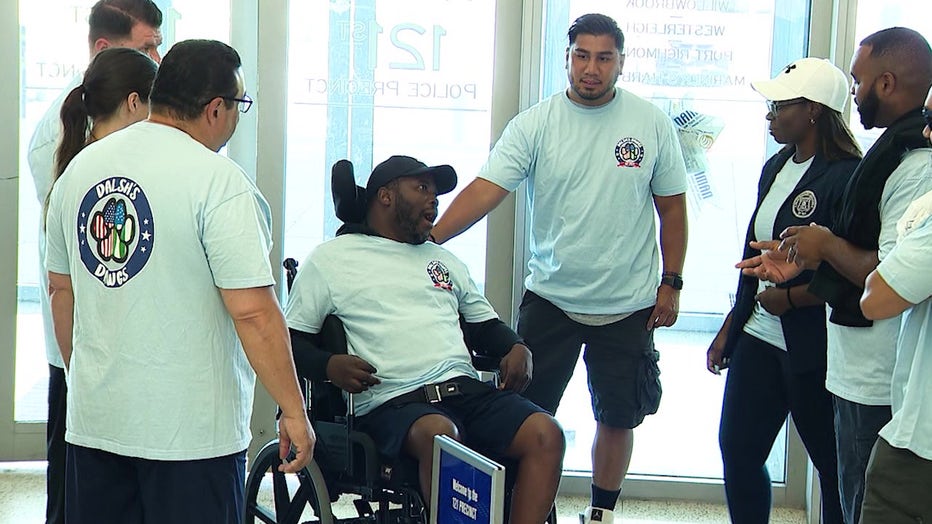 Dalsh's Dawgs now boasts 47 members, led in large part by his NYPD colleagues.
For Esther Veve, it's a support that she says has lifted her up when she hit rock bottom.
"It makes every difference," she added. "That's what keeps me going. That's what gives me the strength to wake up every morning to know that, hey, you can do this. There's people that you don't want to let down."
LINK: More information about this year's climb can be found at www.t2t.org.