NYPD Chief Rodney Harrison tapped to lead Suffolk County PD
NEW YORK - A few weeks ago, NYPD Chief of Department Rodney Harrison announced he would be retiring at the end of the year, but it turns out he won't be leaving law enforcement. Suffolk County Executive Steve Bellone has nominated Harrison to be the county's next police commissioner.
It would be history in the making. If confirmed by the county legislature, Harrison would be Suffolk's first Black police commissioner. 
"I love police officers — they do god's work every single day," Harrison said. "Me working in every single borough is going to allow me to adjust, allow me to find out the issues and how can we fix them." 
Bellone said he hopes Harrison, a longtime Baldwin resident, will solve the Gilgo Beach serial murder case. 
"Commissioner Harrison will bring to bear his extensive investigative experience on this case and work with federal, state and local partners to offer closure to victims and their families," Bellone said. 
Bellone also said he plans to have Harrison implement the police reform plan, which will require most officers in the force to wear body cameras.
Get breaking news alerts in the free FOX5NY News app | Sign up for FOX 5 email newsletters
"Protecting the residents of this county is very, very important but yet at the same time in order for that to be effective you have to have that community trust," Harrison said. 
But it's a challenging role, according to some legislators including Rob Trotta who insist on meeting with Harrison before voting him in. 
"He's walking into a department with a rank and file, hard-working cops, very low crime rate but there are other scandals you read about all the time and I want him to know what he's getting himself into," Trotta said. 
The Suffolk County Police Department has been accused of racial profiling and disqualifying minority applicants at rates higher than those of their white peers. 
"Misconduct and corruption is unacceptable," Harrison said. "It will not be allowed under my tenure."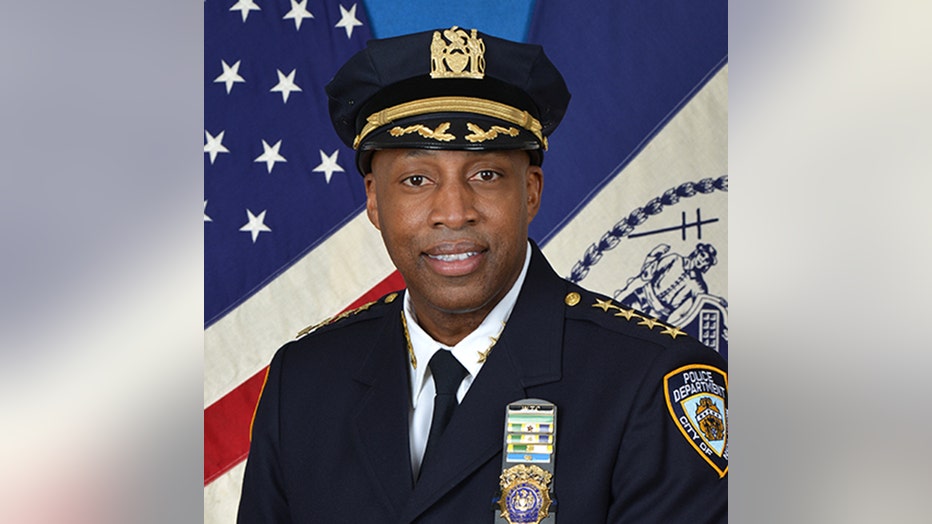 Chief of Department Rodney Harrison (NYPD Photo)
Life in service runs in Harrison's family. His wife is a retired NYPD lieutenant and their two oldest daughters are NYPD officers. 
Harrison's nomination comes after a seven-month search including some 90 applicants. The 52-year-old would succeed Geraldine Hart, who led the department for three years before resigning in May to become head of security at Hofstra University.   
The Suffolk County Legislature's public safety committee is expected to review the nomination on Thursday. If approved, it'll go before the full legislature on Dec. 21.
If confirmed, Harrison would lead a department of about 2,400 sworn officers and about 1,000 civilian employees.
Harrison, who grew up in Queens, joined the NYPD in 1991 and became the only person in the history of the department to rise from cadet to its highest-ranking uniformed officer.
New York City Police Commissioner Dermot Shea has called Harrison a "trusted advisor" and an "innovative leader."