De Blasio names NYPD's Monahan senior advisor; Harrison named Chief of Department
NEW YORK - Terence Monahan, the highest-ranking uniformed police officer in the NYPD, is leaving the department to become Mayor Bill de Blasio's senior advisor. 
De Blasio introduced Monahan, 59, as the newest Senior Advisor for Recovery, Safety and Planning, during a briefing from City Hall Thursday afternoon. 
"There is nothing I want more than to see New York like it was two years ago. There is nothing better that I can do," said Monahan.
"I choose -always- people who are known for that incredible energy and work ethic. That is who Terence Monahan has been for 39 years serving the people of this city with the NYPD.  Thirty-nine years of protecting us but also innovating new solutions. Terry is one of the great architects of neighborhood policing which has been a sea change of how we police this city," said de Blasio.
Monahan will be replaced by Chief of Detectives Rodney Harrison. He was introduced in his new role by de Blasio and Commissioner Dermot Shea.
"Commissioner Shea, I have known you for a long time," said Harrison. "Coming from the Chief of Detectives to now the Chief of Department is not going to be easy. The men and women of the detective bureau are absolutely phenomenal and you know that. I am going to work hard for you. I'm looking to partner up with you, and pick your brain and figure out how we can continue to make this a safe city and revive this city once again."
The change follows a lawsuit filed by State Attorney General Leticia James last month against the NYPD for using excessive force during the George Floyd protests. The suit also named Chief Monahan.
Monahan, a Bronx-born cop, joined the NYPD in 1982, was named Chief of Department in 2018. Earlier reports indicted Monahan was planning to retire this week.
Monahan made headlines worldwide over the summer after he joined protesters in Washington Square Park in a show of solidarity with the group outraged over the death of George Floyd in Minneapolis.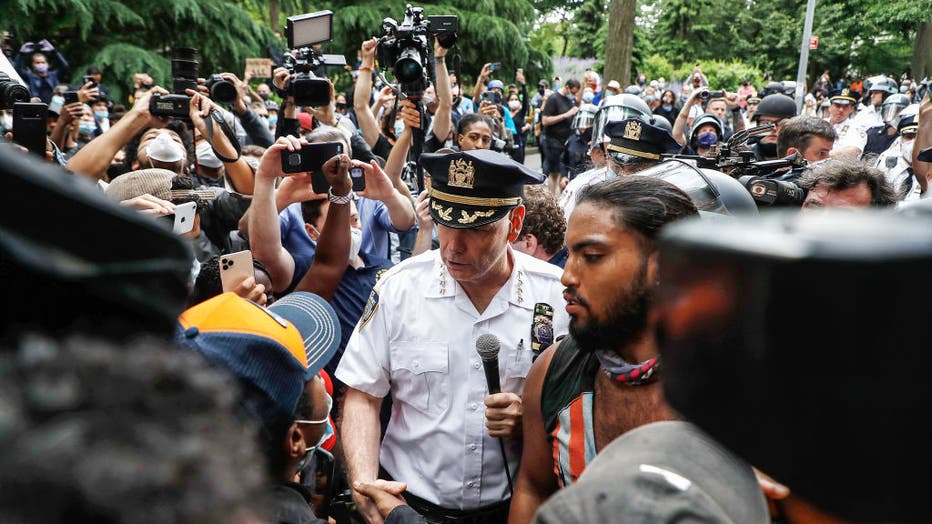 NEW YORK, UNITED STATES - 2020/06/01: Protesters and Chief of the Department of NYPD, Terence Monahan show their solidarity in Washington Square Park during a demonstration in response to the death of a Minneapolis man George Floyd. (Photo by John La
Video and photos showed Monahan kneeling, hugging, and joining hands with demonstrators. People in the crowd had reportedly hurled water bottles at the officers in the park earlier during their demonstration. 
"Thank you for supporting us," a man could be heard saying.
COVERAGE: DEATH OF GEORGE FLOYD
Earlier this year, New York Attorney General Letitia James filed a lawsuit against the NYPD and its leadership over the use of excessive force during the protests.
James singled out Monahan and said he was also in charge of the unconstitutional mass arrests of protesters during the 2004 Republican National Convention.
RELATED: NYPD Chief Monahan, other officers hurt in clash with marchers on Brooklyn Bridge