Winter storm drenches NYC with heavy rain and flooding, followed by arctic chill
NEW YORK - Heavy rain has caused major flooding across parts of New York City, as temperatures are set to plummet into Saturday. Gusty winds are also expected to continue into the evening.
Download the FREE Fox 5 NY weather app and always stay updated on storms.
Apple App Store: https://apple.co/2GrlPnz Google Play Store: http://bit.ly/2IPSlTd
New York City Storm Timeline
Showers lingered into Friday afternoon before temperatures plummeted in the evening, dropping from highs in the upper-50s to lows in the mid-teens. 
New York City officials are warning people that the drop in temperature after so much rainfall could create hazardous conditions on the roads, with black ice a serious threat. 
In response, millions of pounds of salt have been put down across the city's roads. 
Heavy Rainfall and Strong Winds
Powerful winds and rain walloped the Northeast on Friday. The FOX Forecast Center is predicting wind gusts of more than 50 mph and even up to 60- to 70-mph gusts as the arctic cold front passes into Saturday morning.
"A Wind Chill Advisory has been issued for Orange, Putnam, and Western Passaic Counites until 10 am Saturday," the National Weather Service said in a tweet. "Wind chills as low as 20 below zero are expected in these areas late tonight into early Saturday morning. Elsewhere, wind chills 5 to 14 below zero are anticipated."
Forecasters expect gusts around 40 to 50 mph through Friday night.
"Right along the cold front as it moves through on Friday, a narrow squall line could develop bringing localized wind gusts up to 60 mph," the National Weather Service office in Mount Holly, New Jersey, said in a briefing. "These winds could lead to downed trees and power outages." 
Gale conditions are expected on all waters through Friday night. In some areas, seas could build to 9 to 14 feet.
New Jersey utility company PSE&G said it was preparing to respond to potential power outages.
"Heavy rain and strong wind gusts are expected followed by a deep drop in temperatures. These conditions have the potential to cause tree limbs to break and pull down wires, causing outages," PSE&G said in an email. "As we closely monitor this latest weather event, our crews are prepared and ready to respond safely and as quickly as possible if power outages occur. PSE&G has additional personnel ready to respond to service calls for 'no-heat' as well as power outages."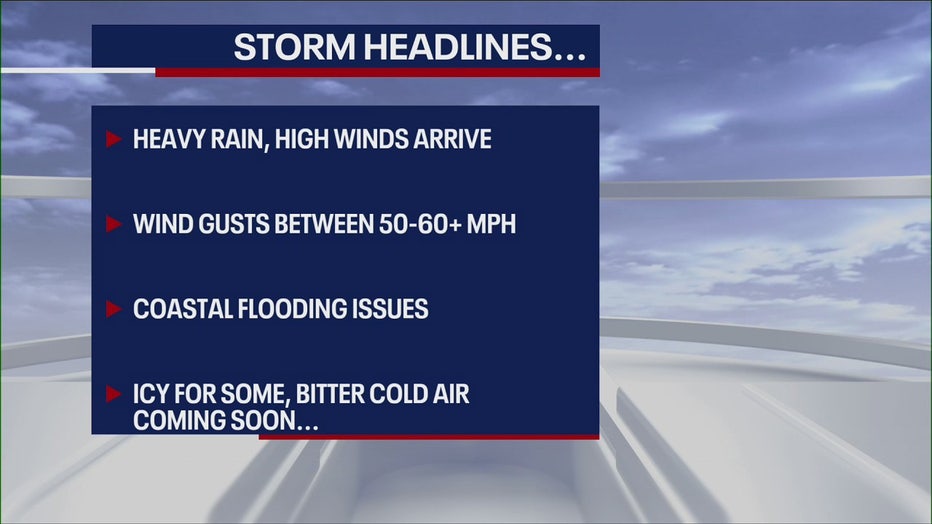 What Can We Expect from the NY Storm?
Heavy rain, high winds
Wind gusts between 50-60+ mph
Coastal flooding
Icy for some, bitterly cold air coming soon
How Much Rain for the NYC Area?
More than an inch of rain will come through the area. White Plains could see 2.5 inches.
Snow and ice are possible on the back side of the storm. A Gale Watch is also posted for the waters off New Jersey and New York.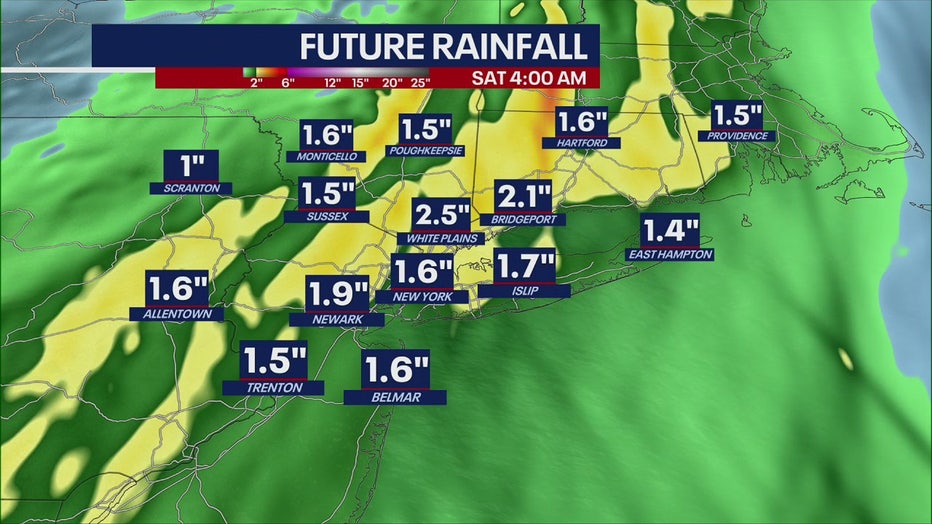 Coastal Flooding Impacts 
The potential for widespread moderate to locally major coastal flooding exists for the south-facing coastal communities of southern Nassau County, southwest Suffolk County, southern Queens, the south shore of Long Island's North Fork (including Riverhead), and coastal Connecticut for the Friday morning high-tide cycles, forecasters said.
This means flooding of 1.5 to 2.5 feet above ground with areas of 3 feet above ground.
"Numerous low-lying and shoreline roads will be closed in the area, with adjacent properties taking on water," the National Weather Service said. "Cars may be inundated if not moved to higher ground. Some flooding into areas that normally don't experience flooding."
Forecasters also expect breaking surf potentially peaking at 10 to 15 feet to cause widespread dune erosion and scattered overwashes along the oceanfront into Friday night.
The potential for widespread moderate coastal flooding exists along Long Island communities facing the Long Island Sound, southeast Suffolk County, southeast Connecticut, New York Harbor, Newark Bay, and tidally affected areas of the Hackensack River and Passaic River.
The Jersey Shore is at risk of widespread minor to moderate coastal flooding. 
"Widespread minor coastal flooding is expected to impact the high tides Friday morning and afternoon for the Atlantic coasts of New Jersey and Delaware, as well as the Delaware Bay coasts and tidal Delaware River," "Moderate coastal flooding is expected for the coastal areas of Monmouth and Middlesex Counties in New Jersey, and spotty moderate coastal flooding may occur elsewhere in Atlantic coastal New Jersey."
Warnings and Advisories
The National Weather Service has issued numerous weather alerts for New York, New Jersey and Connecticut that remain in effect.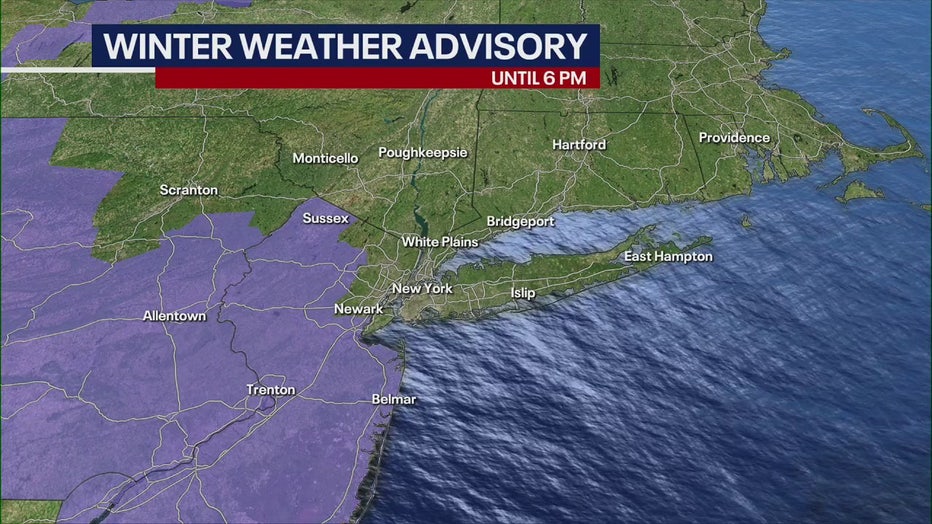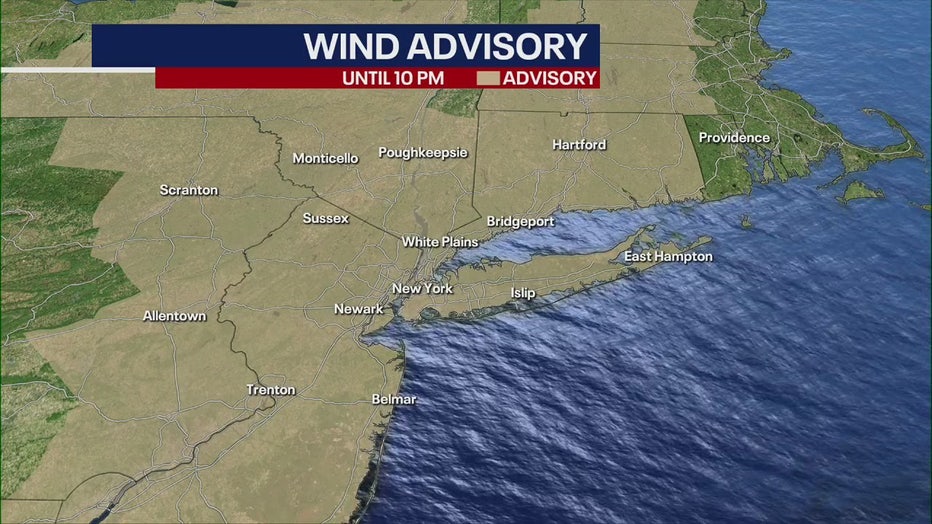 To see other warnings, watches and advisories, click HERE.
Fox 5 Weather Team on Twitter
How's the NYC Christmas Weekend Weather Forecast Looking?
Sunny but very, very cold. After the rain moves through, expect a dramatic drop in temperatures as arctic air rushes into the tri-state area, which could send the region into a sub-freezing temp range for a few days.
RELATED: What are the chances of a White Christmas in New Jersey?
RELATED: Could New York City have a White Christmas this year?