NYC Health Commissioner says everyone should have Naloxone
NEW YORK - Naloxone--It's an essential, the city's top doctor says everyone should have. 
It's an overdose rescue kit containing naloxone, the generic name for Narcan. 
In an exclusive interview, Health Commissioner Dr. Ashwin Vasan said one New Yorker is dying from a drug overdose about every 3 hours. 
It's a public health crisis.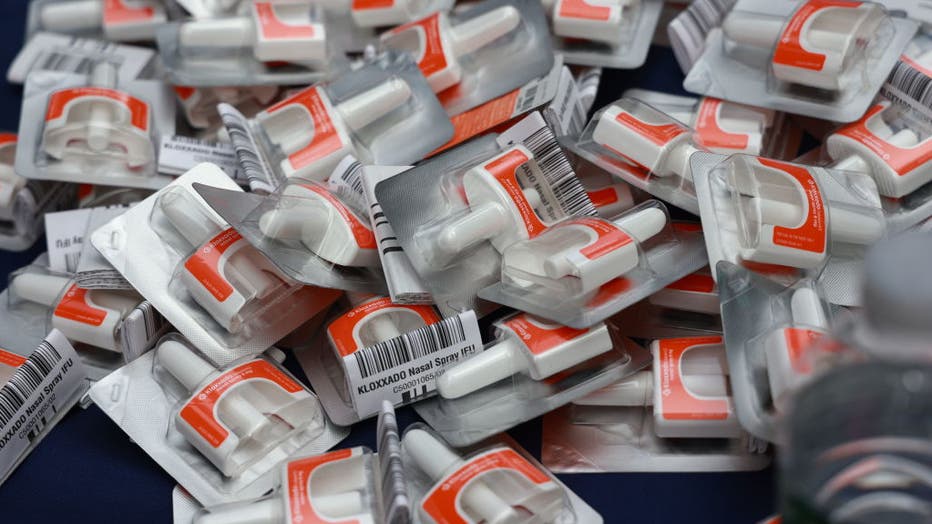 Naloxone, which can be administered as a nasal spray and can quickly reverse an overdose from opioids, including heroin, fentanyl, oxycodone, hydrocodone, codeine, and morphine. (It will not work on overdoses from cocaine, methamphetamine, or other n
"We're on track to hit our record high based on 2022 data and 2023 looks like it's on the same sort of trajectory, so I'm extremely concerned about our overdose epidemic."

Those concerns intensified after the fatal fentanyl overdose of baby Nicholas Domenici at a Bronx daycare center. It showed no one, no matter how young, was exempt from potentially deadly danger. Dr. Ashwin Vasan said. "It shocked us into really putting out a call to action for this crisis."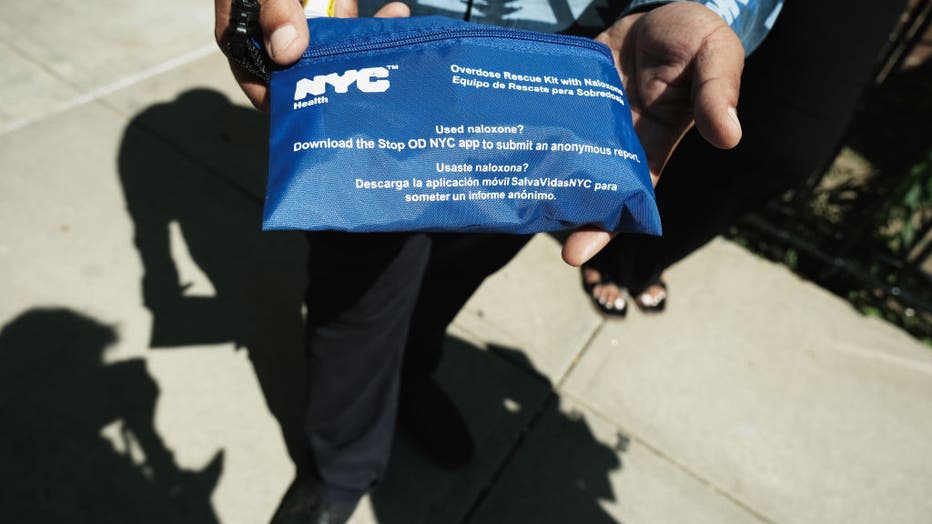 NEW YORK, NEW YORK - JUNE 05: Elan Quashie with Services for the UnderServed (S:US) holds a naloxone overdose kit available in a new vending machine in Brooklyn that will disperse fentanyl test strips and naloxone as well as hygiene kits, maxi pads,
Under Dr. Vasan's leadership, the Health Department is encouraging and training New Yorkers on what to do if they see someone suffering from an apparent drug overdose. 
Symptoms include unresponsiveness, and slow or difficult breathing. 
He advises: "First you call out their name or you make a loud noise to try to wake them up, if they don't respond to that, take your knuckles and rub their chest, what we call a sternal rub, if that doesn't revive them, call 911 immediately and administer naloxone.'
Health Department Harm Reduction Trainer Herbert Quinones showed how to administer Naloxone properly. 
Herbert Quinones explained, "Peace fingers, insert the nozzle in the person's nose, then I would press, you would press it one time - so you don't have to pump it - so one quick spray, one dose, one nostril." 
Dr. Ashwin Vas-an says Naloxone is safe to use on children, if a parent or caregiver thinks it's necessary.
"If you're concerned use it, no hesitation, you could save a life, no matter what the age."
The Health Department is offering free training and free Naloxone kits to encourage as many people as possible to be ready for an overdose emergency. You can also buy them for $45 at a pharmacy. 
For more information go to nyc.gov/naloxone.