NYC air quality among world's worst as smoke from Canadian wildfires streams south
NEW YORK CITY - Smoke hangs over New York City for another day, as officials are urging people to stay inside as much as possible.
"Avoid strenuous activities in the outdoors," Basil Seggos, the commissioner of the Department of Environmental Conservation, said.
Winds have blown smoke from unchecked Canadian wildfires into the region, which led the DEC to issue an Air Quality Health Advisory for all five boroughs.
According to IQAir.com, New York City had the world's worst air quality of any major city in the world Wedensday afternoon, with an AQI rating over 350, more than twice as high as Dubai.
Wildfire smoke in the Financial District in Manhattan. (Credit: Manisha Verma)
City public schools are open today, but there will be no outdoor activities.
An Air Quality Health Advisory is in effect for New York City until 11:59 p.m. on June 8.
How does wildfire smoke affect your health?
Wildfire smoke is a complex mixture of gases, particles, and water vapor that contains multiple pollutants that can get into the lungs and bloodstream. 
There is no evidence of a safe level of exposure to some of the pollutants, meaning that smoke can impact your health even at very low levels. 
Inhaling smoke from wildfires can cause headaches, sore and watery eyes, nose, throat, and sinus irritation, chest pains, heart palpitations and more. 
Who should be careful?
Exposure to elevated fine particle pollution levels can affect the lungs and heart.
The air quality alerts caution "sensitive groups," a big category that includes children, older adults, and people with lung diseases, such as asthma and chronic obstructive pulmonary disease.
Kids, who often are encouraged to go out and play, "are more susceptible to smoke for a number of reasons," said Laura Kate Bender, the lung association's National Assistant Vice President, healthy air. "Their lungs are still developing, they breathe in more air per unit of body weight."
No one is immune. 
What can you do for now?
It's a good time to put off that yard work and outdoor exercise. If you go out, consider wearing an N95 mask to reduce your exposure to pollutants.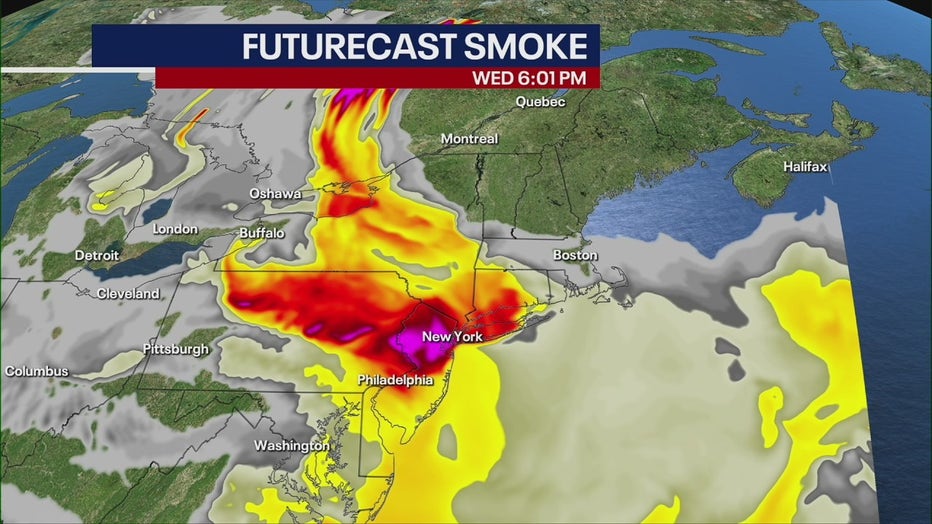 Stay inside, keeping your doors, windows and fireplaces shut. It's recommended that you run the air conditioning on a recirculation setting.
When will conditions improve?
Conditions are expected to worsen Wednesday afternoon and evening and may not markedly improve for a couple of days.
Associated Press wire services helped contribute to this report.