Northeast coastal storm threatens early Thanksgiving travel this weekend
Thanksgiving is a week away and the FOX Forecast Center is monitoring the arrival of a cold front and coastal storm off the Eastern Seaboard that could lead to delays for those who were hoping to get a jump start on holiday travel in the Northeast and New England this weekend.
Computer forecast models show precipitation is expected to begin in the Northeast on Friday, with impacts from the coastal storm arriving on Saturday.
Those impacts will vary by location, however, with coastal communities in New England receiving more rain and gusty winds.
WHERE WEATHER COULD CAUSE PROBLEMS FOR THANKSGIVING TRAVEL THIS YEAR
"(The storm) is making a beeline right up the coast, and this is going to create a problem once it gets closer to the mid-Atlantic and into New England," FOX Weather Meteorologist Craig Herrera said. "At that point, it does collide with the cold front coming off the Great Lakes. And as we go into the weekend, we're going to have widespread rain."
Rain totals aren't expected to amount to much, but combined with gusty winds delays are expected both in the air and on the roads.
Cities such as Philadelphia and New York aren't expected to see high rainfall accumulations, but Boston could see higher totals, depending on how quickly tropical moisture lifts northwards.
The precipitation could even include snow showers in the higher elevations of New York, New Hampshire, Vermont and Maine.
WHAT ARE THE WORST AIRPORTS TO FLY INTO DURING WINTER?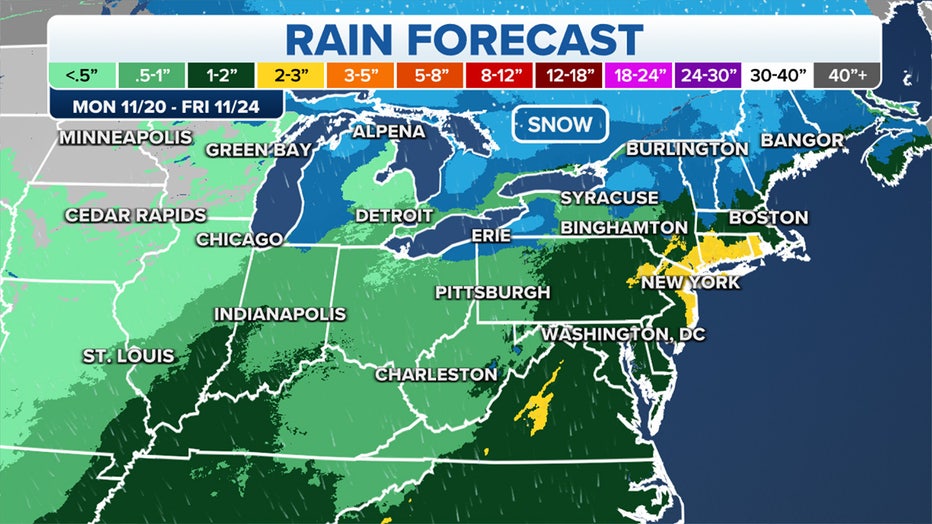 Rain and snow forecast from Nov. 17-19. 2023. (FOX Weather)
Communities closer to the heart of the system face the potential of seeing heavier precipitation.
Places like Martha's Vinyard and Downeast Maine have the potential for seeing higher rain totals through Saturday.
The National Weather Service office in Boston says it is not expecting any flooding concerns from the storm system, but it will be windy at times.
Wind gusts of at least 20-30 mph are expected to impact the region on Friday and last well into Saturday.
Behind the cold front, temperatures are expected to fall to values that are well below average – a pattern that could stick around through most of the Thanksgiving holiday week.
LINK: FOR UPDATES ON THIS STORY, VISIT FOXWEATHER.COM