North Carolina man startled by bear while relaxing: 'Please don't drink my coffee'
ASHEVILLE, N.C. - An afternoon of relaxation turned into a heart-pounding encounter for a North Carolina man when he found himself face-to-face with an unexpected visitor – a bear.
The incident, which occurred Wednesday at Asheville resident David Oppenheimer's home, was captured on his house's security camera. 
The footage shows the curious bear approaching Oppenheimer while he is scrolling through his phone. He jumps in surprise once he notices the bear, and then quickly regains his composure.
"The bear was almost at my feet before I saw the yearling cub," Oppenheimer recalled in his video description.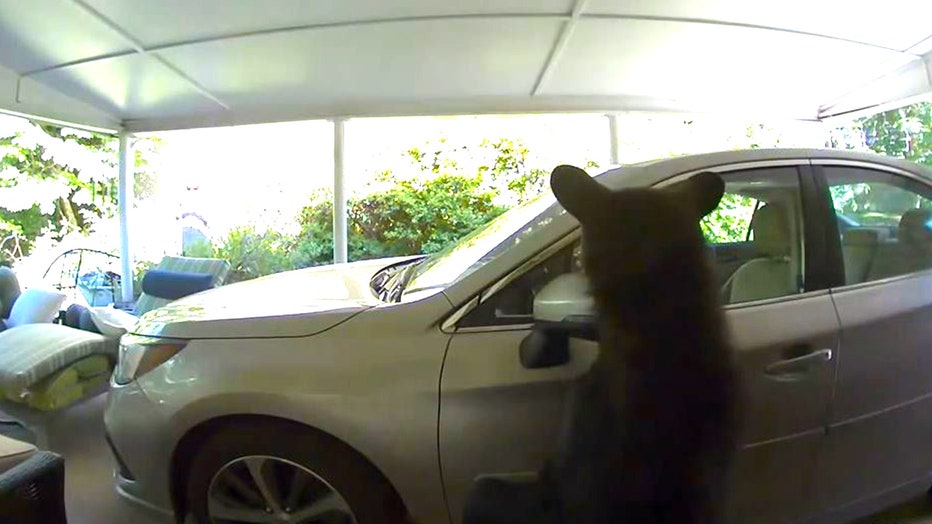 Asheville, North Carolina resident startled by bear in viral video (Credit: David Oppenheimer via Storyful)
"Hi bear, we're going to be famous," Oppenheimer says in the video while trying to calm the animal.
Oppenheimer then starts recording the event on his phone as the bear moves toward his belongings. 
"Please don't drink my coffee," he pleads with the wild animal.
RELATED: 'Bear-y' lucky: Nevada firefighters rescue bear stuck in tree
 And, this isn't the first time that Oppenheimer has been surprised by a bear. In April, he found himself in a similar situation when another bear strolled into his carport.
Oppenheimer told news licensing company Storyful that bears often frequent his neighborhood and that he regularly captures bear photos from his home.
"I thought that I would see any approaching bears ahead of time so that we could avoid any close encounters. Apparently, my peripheral vision is not reliable when it comes to a quiet slow-moving bear," he told Storyful.
This story was reported from Los Angeles. Storyful contributed.