NFL wild-card weekend features 6 rematches, 3 division games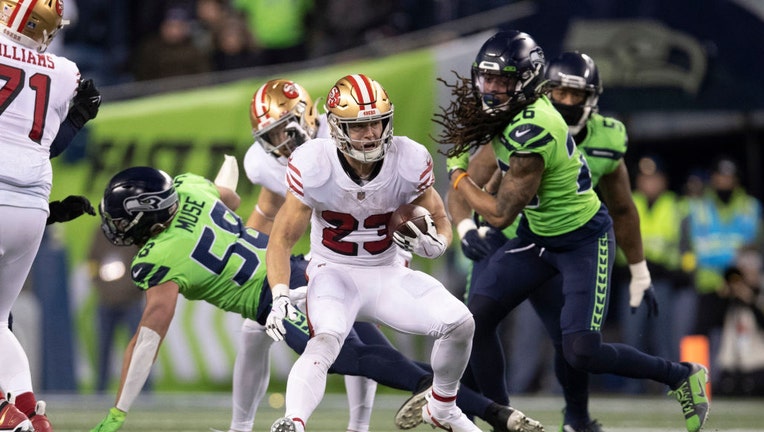 article
Wild-card weekend is all about familiarity.
All six games feature teams that already faced off this season, including three matchups between division rivals going head-to-head for the third time and two clubs playing each other in back-to-back weeks.
Bust out the popcorn. It should be a wild weekend.
The action kicks off Saturday with the San Francisco 49ers (13-4) hosting the Seattle Seahawks (9-8).
The 49ers are the hottest team in the NFL, entering the postseason on a 10-game winning streak that gave them the NFC's No. 2 seed.
RELATED: NFL playoff roundup: Seahawks in the postseason after Lions stun Packers
The Seahawks walked off the field last week uncertain about their playoff berth and got in when the Detroit Lions upset Aaron Rodgers and the Green Bay Packers on Sunday night.
Rookie third-string quarterback Brock Purdy, the very last player selected in the draft, has won all five of his starts since replacing the injured Jimmy Garoppolo. Purdy has thrown multiple touchdown passes in the last six games, helping the 49ers score an NFL-best 33.5 points per game in that stretch.
Purdy has plenty of talent around him, including Christian McCaffrey, Deebo Samuel and George Kittle. The Niners also have the league's top-ranked defense. They swept Seattle in the regular season.
Geno Smith broke several of Russell Wilson's passing records in his first year as Seattle's starter, but the Seahawks struggled down the stretch. They had lost five of six, including three in a row, before winning their last two games.
The 49ers are 9 1/2-point favorites, per FanDuel Sportsbook. It's not enough.
49ERS, 31-16
Los Angeles Chargers (minus 2 1/2) at Jacksonville
Brandon Staley and Justin Herbert are in the playoffs for the first time in their second season together in Los Angeles.
Doug Pederson needed one season to take the Jaguars from worst to first in the AFC South. Pederson, who led the Philadelphia Eagles to a Super Bowl title after the 2017 season, has helped 2021 No. 1 overall pick Trevor Lawrence develop into a franchise QB.
The fifth-seed Chargers (10-7) have the eighth-ranked offense and 20th-ranked defense. The fourth-seed Jaguars (9-8) are ninth in offense and 24th on defense. The Jags won their last five games to capture the AFC South.
The Chargers have plenty of firepower on offense with Herbert, Austin Ekeler, Mike Williams, Keenan Allen and others. They dominated Jacksonville in a 38-10 home win in Week 3.
CHARGERS, 24-20
Miami (plus 13 1/2) at Buffalo
The Bills (13-3) and Dolphins (9-8) split their regular-season games, each winning at home. Miami had a dynamic offense when Tua Tagovailoa led them to an 8-3 start, winning all eight games he finished. But Tagovailoa is in the concussion protocol, Teddy Bridgewater injured his finger and the Dolphins were down to third-string rookie Skylar Thompson last week.
No matter who's under center for Miami, going to Buffalo to face a superior Bills team playing for fallen teammate Damar Hamlin is a tall task.
Josh Allen and Co. are on a mission.
BEST BET: BILLS, 31-13
New York Giants (plus 3) at Minnesota
The Vikings (13-4) beat the Giants (9-7-1) on Greg Joseph's 61-yard field goal as time expired on Christmas Eve. They had a 11-0 record in one-score games this season, winning eight of them after trailing in the fourth quarter.
The Giants, resting many starters, gave No. 1 seed Philadelphia a tough time in the regular-season finale.
Two first-year coaches — Kevin O'Connell for Minnesota and Brian Daboll for New York — go head-to-head while Vikings star receiver Justin Jefferson and Giants star running back Saquon Barkley make their playoff debuts.
VIKINGS, 23-21
Baltimore (plus 7 1/2) at Cincinnati
The teams split their regular-season matchups, with the Bengals beating the Ravens 27-16 last week to secure home-field advantage for this one.
Baltimore had Lamar Jackson when it rallied for a 19-17 win against Cincinnati on Justin Tucker's 43-yard field goal in the final seconds back in October.
Jackson missed the last five games of the regular season with a knee injury, and the Ravens (10-7) have no chance without him.
Joe Burrow was outstanding in leading the Bengals to eight straight wins to secure the No. 3 seed. The Bengals (12-4) reached the Super Bowl last season as the fourth seed. They're determined to go back and finish the job. It starts Sunday night.
BENGALS, 27-18
Dallas (minus 2 1/2) at Tampa Bay
The Cowboys (12-5) looked awful last week in a loss that eliminated Washington. They barely beat lowly Houston in Week 14 and lost to Jacksonville the following week.
Dak Prescott is turning over the ball far too often, with three pick-6s in the last four games. But Micah Parsons could make life miserable for Tom Brady against an inferior offensive line.
The Buccaneers (8-9) struggled all season, winning a woeful NFC South to get the No. 4 seed. Brady led them to three comeback wins in the fourth quarter over the final six games for their only wins in that span.
Tampa beat Dallas 19-3 on the road in Week 1 for one of just two double-digit wins.
Chasing his eighth Super Bowl ring, Brady has never entered the playoffs on a team this bad. It could be a quick exit.
COWBOYS, 24-23
2022 Record
Last Week: Straight up: 11-5. Against spread: 8-8.
Season: Straight up: 171-99. Against spread: 136-129-5.
Thursday: Straight up: 13-6. Against spread: 9-10.
Monday: Straight up: 10-7. Against spread: 8-9.
Best Bet: Straight up: 10-8. Against spread: 9-9.
Upset Special: Straight up: 6-11. Against spread: 8-8-1.