Newark building explosion leaves six injured, man in coma
NEW JERSEY - The City of Newark is investigating the cause of an explosion at the Stephen Crane housing complex. The blast left six people injured and destroyed three apartments.
Crews were out all day cleaning up the massive pile of rubble left behind. The man who was seriously injured has 43 percent of his body covered in burns. And residents are scared — unsure if their apartment is safe. 
Everything 53-year-old Mario owned inside his apartment at the Stephen Crane Village in Newark— is now destroyed. His childhood best friend and neighbor telling me Mario is in an induced coma at Copperman Barnabus's Burn Unit, recovering from nearly half of his body being burned after a sudden explosion in his apartment Friday evening.
"It's a miracle he is alive, beyond belief," said Mario's friend Toby Marmorino, a Newark resident. "And then it's a miracle that no one else is dead. No one else is seriously injured."
In a video caught on surveillance camera and making the rounds on TikTok by Victor Galletto, you can see the second what appears to be a fireball ignite, tearing apartment Mario's apartment upstairs, his neighbor's, and the unit below.
"All of a sudden, I hear this boom. And the whole entire ground shook like an earthquake," said one resident. "And then I see all the smoke from the building when it collapsed. People are screaming over the ground. People are all over the ground.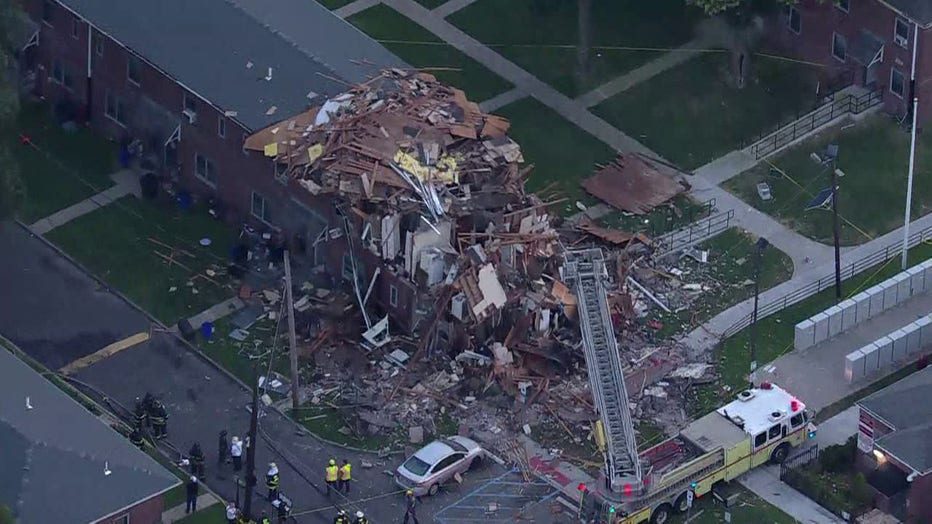 My mom is panicking. I am panicking. It's not something you expect to see. It was horrible."
The apparent explosion was so powerful, it threw Mario into the adjacent apartment
And while residents believe it was a gas leak, the city nor PSE&G will confirm—
Only telling us they are investigating. Fox 5 reached out to the city twice on Saturday and both times they said they would get back to us, but never did.
"We're going to be holding a meeting pretty soon to talk about the work that's been going on here," said Marmorino. "We don't know if it's up to code. People have been complaining of gas leaks. Nothing was done about it. It's a shame it took this to happen."
Residents say the bottom floor apartments have been undergoing renovations to make them handicap accessible, although the Newark Housing Authority did not respond to our questions. 
"I know if I was living here, I don't think I would stay here in this building," says a resident.
Residents also tell me PSE&G are working on the gas lines. PSE&G says it cannot comment on the explosion. The trucks on-site Saturday were not working on anything related to the explosion, although they could not specify what crews were doing. 
"I live two buildings away but in my building, they're currently doing work, so I hope they stop until an inspector comes out or something because who is to say it won't happen in my building," said Marmorino. "Yeah, I'm concerned very concerned."
The gas is on right now in the complex, so people are nervous. As for Mario, he will be in the induced coma for 3-6 weeks so he doesn't have to deal with the pain. But he has a long road to recovery.