Newark building collapse leaves six injured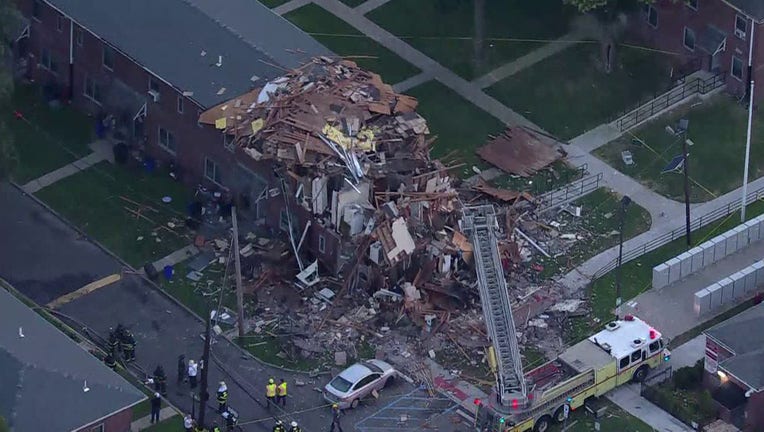 article
NEW JERSEY - A building collapse at a Newark housing complex injured six people, one seriously, and destroyed three apartments Friday evening.
"It was a little after 6 o'clock, and it was a loud noise, boom!" said Toby Marmorino, a Newark resident who lives in the Steven Crane housing complex.
"A bomb, that's what it sounded like," said another resident.
Shaken Newark residents stood in shock, staring at what was three apartments inside the complex, now just a heap of busted bricks and broken appliances. resident so they could feel the blast when it happened.
"(People) were screaming and hollering. Someone was screaming. My sister was on the floor," said a resident.
"All of a sudden, my door just flew open and my lock came off," says a resident. "I was scared, I couldn't move."
Inside people could feel the reverberation through their floors and walls. Outside, entire windows from the destroyed apartment flew nearly a hundred feet, and shards of glass covered the parking lot. Friends, family, and neighbors remarked on how lucky they were, no one had been standing outside at the time of the blast. 
"That was my friend's apartment that blew up," Marmorino said. "He was in the apartment."
Marmorino says his 53-year-old friend was inside the top left apartment. The unit under him was vacant and undergoing renovations. When the collapse happened, the force of it, sent his friend straight through the wall of a third apartment, the one adjacent to him.
"He made it out," Marmorino said. "I don't know how by the grace of God, he made it out. He was burned up. His skin peeling off his arms and legs and neck. He was screaming."
Newark Public Safety Director Fritz Frage said in a news conference that six people had been injured. Crews turned off the complex's gas and stared at the rubble—Investigating what triggered the damage.
"I'm hoping nothing else blows up," Marmorino said. "They were doing construction on the apartment below it. It was vacant. I don't know what happened, but my friend for the last two days Tells me this his gas wasn't working. I kept telling him to go to the house, and say something about it. And he didn't make it, he was working."
Mayor Ras Baraka said 13 people lived in the building. The city has relocated them to hotels, providing them with food. And the victims, dealing with trauma, are being offered counselors.
The Newark housing authority owns this complex. Engineers are assessing the damage and the utility company is investigating all the homes to make sure there is no leak. This entire building will have to be removed.