After policy change, New York Blood Center accepting blood from gay men
NEW YORK - As of Monday, the New York Blood Center says it is officially welcoming gay and bisexual men to donate blood at their physical locations – and at blood drives – across the tri-state area.
The center has revised its donor-screening process in response to a change at the federal level.
In 1985, the FDA implemented a lifetime ban on giving blood on men who had sex with men.
But science — and HIV testing capabilities — have evolved since the 1980s. After calls that the policy was "outdated" and "stigmatizing," the policy was revised in 2015; no longer a lifetime ban but instead men must have abstained from sex with men for one year.
But this past May, the FDA made a change again: gay and bisexual men in monogamous relationships would finally be allowed to donate blood.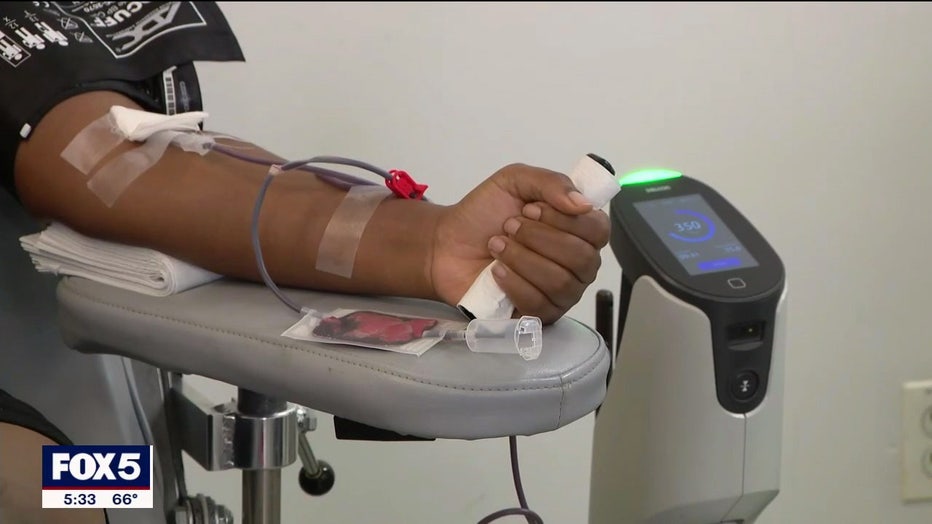 PREVIOUS: FDA finalizes blood-donation rules to allow more gay, bisexual men
To reflect the change in policy, the New York Blood Center on Monday began implementing a new screening procedure focused on individual behavior rather than sexual orientation.
"For the blood industry as a whole, it's a huge win," said Chelsey Smith, a spokeswoman for the New York Blood Center. "It means that more donors are now going to be eligible to donate blood, which means more patients are going to be saved."
Now, potential donors will be asked whether they've had new or multiple sexual partners within the past three months.
"If you answer yes to that question, you will then be asked about a history of anal sex in the past three months. So if you answer yes to both of those questions, you will be deferred for three months."
Smith says the changes couldn't come at a more critical time since she says the NYCB recently declared a blood emergency. Their blood supply is averaging only about two days; ideally, it would be seven.
But Dr. Amesh Adalja, an infectious disease expert with Johns Hopkins University, says that while overall the revised policy change from the FSA is "a great step forward," it could go even further.
"We don't have to use blunt tools like behavioral screens and asking people what did they do, what they didn't do, and then make a decision based on that," Adalja says. "We can actually test for [HIV]."
Adalja says HIV screening is accurate enough in 2023 that, he believes, the three-month window for abstaining from anal sex is unnecessary.
"I think that continuing to have some of these restrictions that may be done out of — quote unquote — an abundance of caution actually continue to stigmatize people regarding HIV risk because it could be literally down to two months or one month."