New NYC subway cars a hit with straphangers
NEW YORK - New Yorkers may not look forward to their daily commutes, but there's something they can look out for if they ride the A/C subway lines.
The MTA's first new subway cars in five years have finally hit the tracks. The R211 cars come with a number of upgrades. Beginning with how you walk in and out, the doorways are 8 inches wider so the passengers can get on board and off faster.
Digital signage is also wider and more visible from further away. And surveillance cameras line the cars – eight per car – with recordings stored for several months.
RELATED: Survivor of NYC subway surfing issues dire warning: 'Don't do it'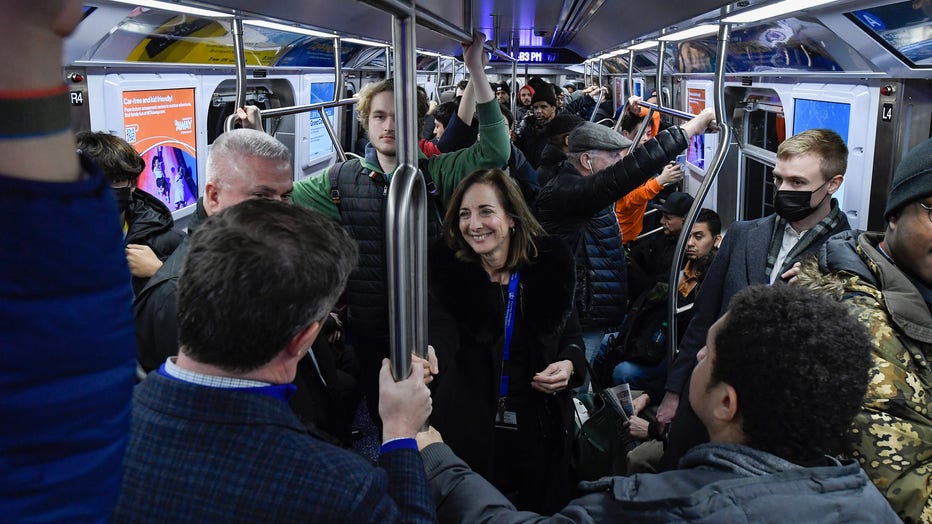 MTA Chair & CEO Janno Lieber and NYCT President Richard Davey participate in the inaugural ride of the first R211A subway to enter customer service, from 207 St on the A line on Friday, Mar 10, 2023. (Credit: MTA via Flickr)
The MTA has spent $6 billion as part of its five-year capital plan to purchase over 500 of the subway cars, replacing the R 46s which first arrived in 1975.
Currently, the MTA is running only one of the new subway trains as part of an initiation to work out any glitches. Officials told FOX 5 NY that if all goes as planned, the new cars will all come rolling out beginning next month.