New movie roundup: 'Morbius,' shmorbius
Chicago - Whether you're in a theater or streaming at home, movie choices exist in abundance, with more arriving every week. Here's our take on what's new, free, fun or all of the above.
"Morbius": Jared Leto is a blood-swilling bat man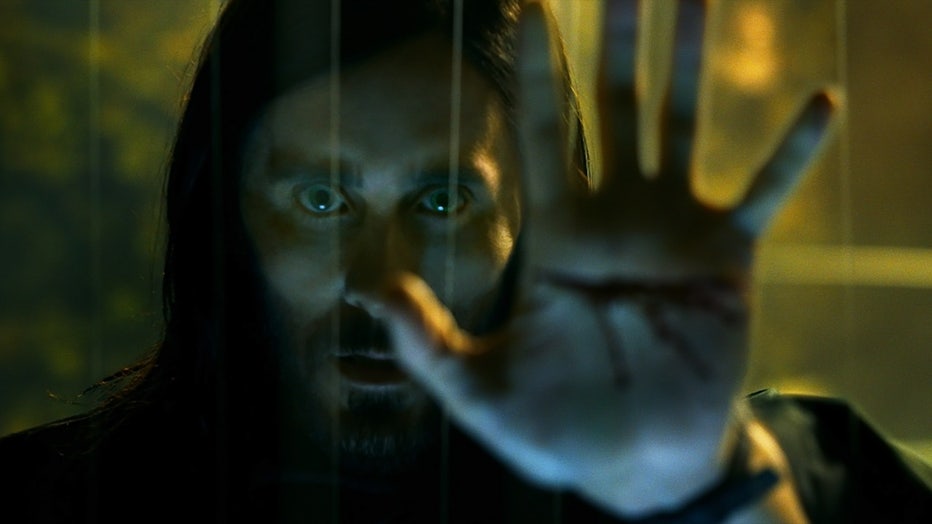 Dr. Michael Morbius (Jared Leto) in Columbia Pictures' MORBIUS.
"Whether your reference point is "Angel," "Twilight" or "The Vampire Diaries," Morbius' crisis of conscience about drinking human blood will feel awfully familiar; just as his whole "reluctant hero" schtick will feel garden-variety to anyone who's ever seen a superhero movie before. (So, everyone.) Plus, since this is first and foremost a Hulk-style science-gone-wrong story, "Morbius" misses out on some of the coolest bits of vampire lore — like the idea of living an immortal life through centuries of human history. Instead all we have is a man who decides to cure his blood disorder by casually splicing human and bat DNA together; you know, as one does. 
RELATED: The essential onscreen superheroes of 2021
What's left is a superhero origin story that never quite finds its center because it's so choppily edited and narratively inert. There's no driving plot or pointed character study, just lots and lots of incident. The film clumsily rushes through its setup to get Morbius to his souped-up vampire state. But once it does, it doesn't seem to have any idea what to do with him."
Read the rest of film critic Caroline Siede's review of "Morbius."
Rated PG-13. 108 minutes. Dir: Daniel Espinosa. Featuring: Jared Leto, Matt Smith, Adria Arjona, Jared Harris, Tyrese Gibson, Al Madrigal, Michael Keaton. 
WATCH FREE ON TUBI: Jared Leto in "Requiem for a Dream"
Make "Morbius" a double feature with: "The Toxic Avenger"
This cult classic from the genre titans at Troma Entertainment follows a mild-mannered janitor ("98 lbs. of solid nerd") who becomes his city's superpowered defender after he falls into a vat of toxic waste. Rated R. 82 minutes. Dir: Michael Herz and Lloyd Kaufman. Featuring: Andree Maranda, Mitch Cohen, Jennifer Babtist, Cindy Manion, Robert Prichard.
More new movies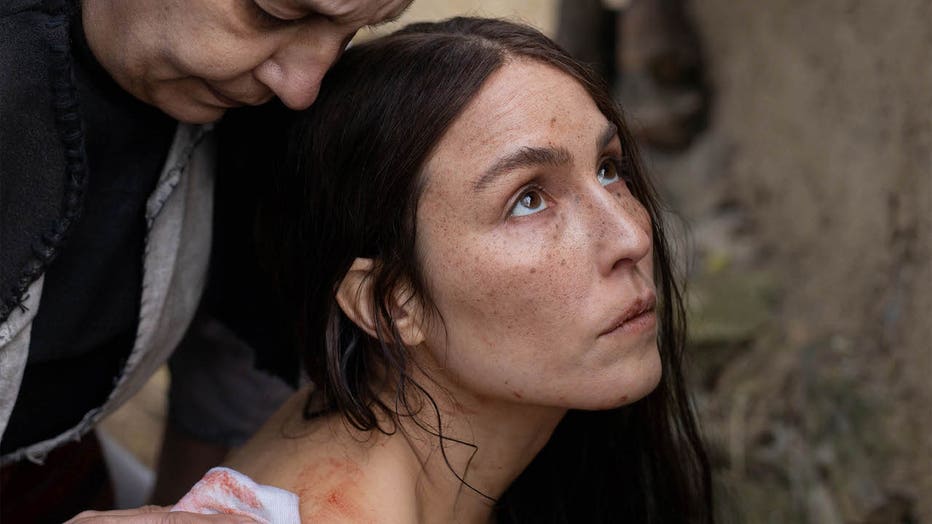 Noomi Rapace appears in "You Won't Be Alone" by Goran Stolevski, an official selection of the World Cinema: Dramatic Competition at the 2022 Sundance Film Festival. Courtesy of Sundance Institute | photo by Branko Starcevic.
WATCH FREE ON TUBI: "With Great Power: the Stan Lee Story"
Now streaming: "King Richard" (HBO Max)
You can technically still catch "King Richard" in theaters, if you happen to live in a city where it's still playing, but most of those curious to see the performance that won Smith an Oscar (and the movie that was overshadowed by "the slap") will need to watch at home. Fortunately, as of Mar. 24, the film has returned to HBO Max. Here's what critic Ines Bellina had to say: "Tennis is almost incidental to the larger story the movie wants to tell. Up until the big match, the sport scenes are brief interruptions, used mostly to punctuate the bratty elitism of the sport vis-à-vis the Williams' focused competitiveness. The final match more than makes up for this, though. The tension swells, even though the audience knows that the Williams sisters will become the best in the game."
Read reviews of "King Richard" from critics Clint Worthington and Ines Bellina. 
Rated PG-13. 156 minutes. Dir: Steven Spielberg. Featuring: Rachel Zegler, Ansel Elgort, Ariana DeBose, Mike Faist, David Alvarez, Rita Moreno, Corey Stoll, Brian d'Arcy James, Josh Andrés Rivera.
WATCH FREE ON TUBI: 2022 Oscar nominee Aunjanue Ellis in "Freedomland"
The best movie of the month (so far): "Everything Everywhere All At Once"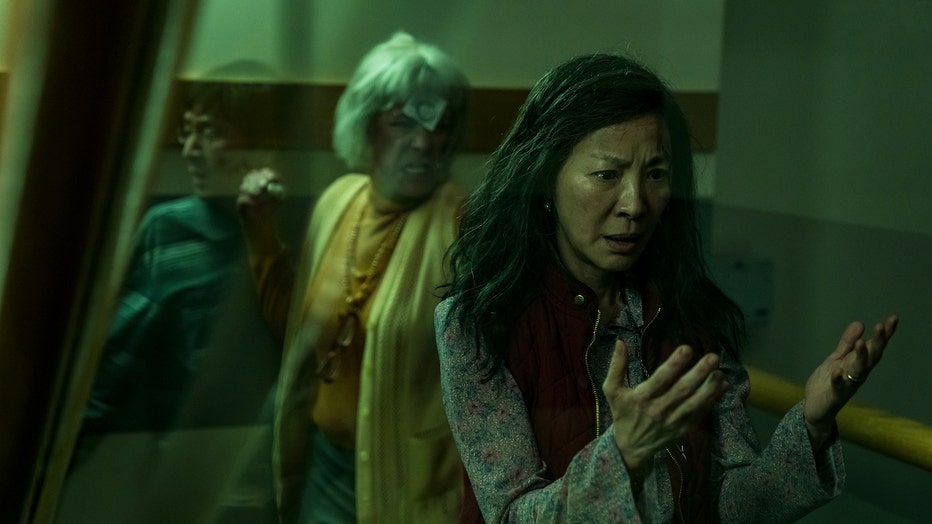 Ke Huy Quan, Jamie Lee Curtis and Michelle Yeoh in "Everything Everywhere All At Once." Photo: A24.
After opening in limited release in March, "Everything Everywhere All At Once" expanded to more cities on April 1; it'll be everywhere (all at once) nationwide on April 8. So what can you expect? Well, the title says it all, really. Michelle Yeoh stars as an everyday woman who suddenly discovers access to a multiverse of worlds where other versions of herself exist as chefs, movie stars, martial arts masters and even cartoon characters. This trippy movie is the long-awaited sophomore feature for "the Daniels" (directors Daniel Kwan and Daniel Scheinert), who made a major splash with 2016's "Swiss Army Man" a.k.a. the Daniel Radcliffe farting corpse movie. And in her review of "Everything Everywhere All At Once," FOX film critic Caroline Siede calls it "a transcendently singular film that remixes familiar genre tropes into something that feels wholly new and quietly revolutionary."
Read Caroline Siede's full review of "Everything Everywhere All At Once."
Rated R. 140 minutes. Dir: Daniels. Featuring: Michelle Yeoh, Jamie Lee Curtis, Stephanie Hsu, Ke Huy Quan, Jenny Slate, Harry Shum Jr., James Hong. Now playing in select cities; in theaters nationwide April 8.
WATCH FREE ON TUBI: Michelle Yeoh in "The Lady," Ke Huy Quan in "The Goonies" and Jamie Lee Curtis in "A Fish Called Wanda"
The best movie of the year (so far): "The Worst Person in the World" (February) 
Make-your-own double feature with these gems, streaming (for free!) on Tubi
10 Truths About Love (2022): Camilla Belle stars as Carina Franklin, a thriving romance columnist who has her own love life totally figured out — at least until her longtime boyfriend dumps her. Even worse, her editor insists on giving her column a "male perspective" and hires a writer named Liam (David Lafontain) to balance her out. When the two new co-workers clash, Liam sets out to demonstrate that his tactics work by helping Carina win back her ex. Of course, in trying to prove each other wrong, Liam and Carina might just realize how right they really are for each other. "10 Truths About Love" is a Tubi Original. Rated TV-14. 90 minutes. Dir: Brian K. Roberts. Featuring: Camilla Belle, David Lafontaine, Jennifer De Lucia, Karn Kalra, Paula Rivera, David Keeley.
B.A.P.S. (1997): This cult classic comedy from screenwriter and actress Troy Byer stars Halle Berry and Natalie Desselleas two friends who dream of opening the world's first hair salon/soul food restaurant combo. The leads' lively, charming performances are perfectly complemented in memorability by the film's iconic costuming, hairstyling, makeup and production design. One-of-a-kind. Rated PG-13. 92 minutes. Dir: Robert Townsend. Also featuring Martin Landau, Ian Richardson, Troy Byer, Bernie Mac. 
Dead Ant (2017): It's a tale as old as time: a one-hit-wonder '80s glam rock outfit has a shot at a big comeback, but their trip to Coachella is derailed by a peyote-fueled stop in the desert and some bloodthirsty ants. Not quite as well known as Sean Astin's other road movie where a band of travelers face untold dangers in pursuit of a vital goal, but here he's facing ants, not ents. Rated TV-MA. 97 minutes. Dir: Ron Carlson. Also featuring Tom Arnold, Jake Busey, Natasha Blasick.
About Tubi: Tubi has more than 35,000 movies and television series from over 250 content partners, including every major studio, in addition to the largest offering of free live local and national news channels in streaming. The platform gives fans of entertainment, news and sports an easy way to discover new content that is available completely free.
Tubi is available on Android and iOS mobile devices, Amazon Echo Show, Google Nest Hub Max, Comcast Xfinity X1, Cox Contour, and on OTT devices such as Amazon Fire TV, Vizio TVs, Sony TVs, Samsung TVs, Roku, Apple TV, Chromecast, Android TV, PlayStation 5, Xbox Series X | S, and soon on Hisense TVs globally. Consumers can also watch Tubi content on the web at http://www.tubi.tv/.
Tubi and this television station are both owned by the FOX Corporation.