Cuomo must resign, Curran says, pointing to incident with state trooper
MINEOLA, N.Y. - The groundbreaking for UBS Arena in Elmont, Long Island, was supposed to be a joyous occasion. But the 2019 unveiling of what will become the future home of the New York Islanders has now been tainted.
"This was a great day for Nassau County, and to hear that one of these incidents happened on that day," Nassau County Executive Laura Curran said, "it casts a bit of a pall on it." 
New York Attorney General Letitia James alleges that Gov. Andrew Cuomo sexually harassed a state trooper assigned to his security detail during that event. That trooper alleges that Cuomo ran his hand across her stomach that day, in addition to several other inappropriate acts in various locations, during her time working as his security.
Curran was a big part of that day on Long Island two years ago but doesn't remember witnessing any uncomfortable situations. Still, she is joining officials across the state and country in calling for Cuomo's resignation.
Get breaking news alerts in the FOX5NY News app. Download for FREE!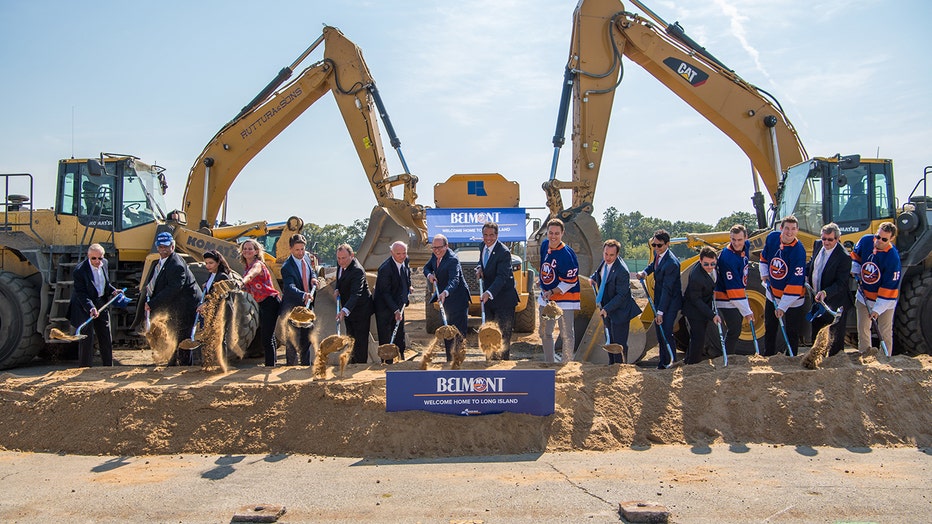 New York Gov. Andrew Cuomo, Nassau County Executive Laura Curran (4th from left), and others shovel dirt at the ceremonial groundbreaking of a hockey arena in Elmont, N.Y., Sept. 23, 2019. (Governor's Press Office Photo)
"I found his tone of self-pity and his own victimhood rather surprising and it was exactly the wrong note to take — I think he has to take responsibility," Curran said. "And at this point whatever his intention was, he is not in a position now where he can focus on leadership."
District attorneys from several counties are now seeking evidence in the probe.
Acting Nassau County District Attorney Joyce Smith said her office is reviewing these "deeply disturbing findings." Smith said her office has already requested records from the attorney general related to any incidents believed to have occurred in Nassau County and will thoroughly investigate any potential crimes.