NASCAR champion Kurt Busch hopes his Tubi-sponsored car will be in 'victory lane' Sunday at Richmond Raceway
LOS ANGELES - Tubi, the largest online library of free television shows and movies, will make an appearance on NASCAR champion Kurt Busch's No. 1 Chevrolet Camaro at the Toyota Owners 400 on Sunday.
"We'll have ten sets of tires, we've got over 400 laps and we just need to time it out right where we get our Tubi car in the victory lane," Kurt Busch, the former NASCAR Cup Series champion, told FOX Television Stations.
It's the first-ever branded partnership between the free streaming platform and the American auto racing empire.
RELATED: Celebrate the Tubi, NASCAR sponsorship with these racing classics streaming for free
"It's fun to have a new partner with us to go racing," Busch said. "There are partners that jump on with the teams with NASCAR and it's fun to represent their brand."
The partnership kicked off with Chip Ganassi Racing (CGR) and the No. 42 team, led by driver Ross Chastain, in Atlanta on March, 21.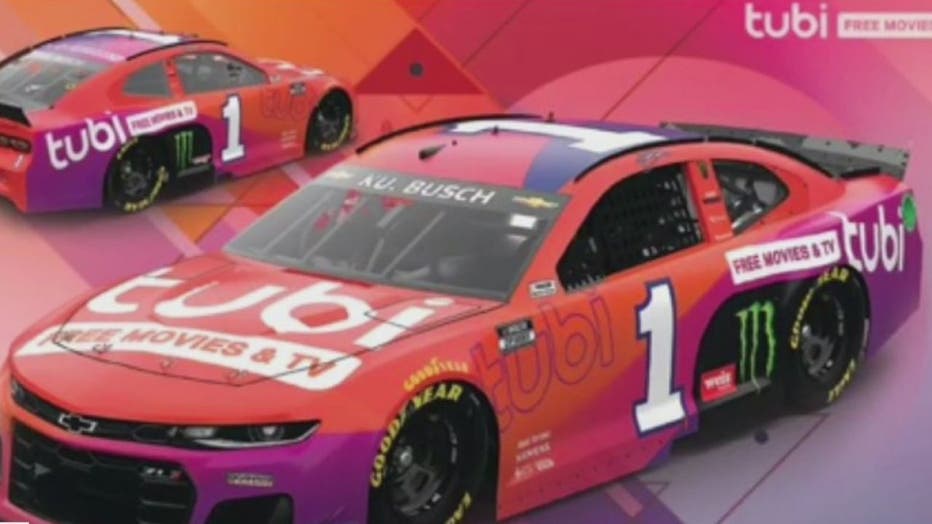 Now the Tubi brand will head to Richmond Raceway in Virginia on April 18 to compete in the Toyota Owners 400.
"The car is colorful. Now my job is to put it up front," Busch continued. "The tire wear at Richmond is one of the highest of all the tracks that we race on, so it's managing the tires and I think that's where I've had a solid strength in that category over the years."
But there are still races Busch wishes he could go back and replay again — like in 2003.
"The Darlington race a few years back where I finished second in the closest finish in NASCAR history. ...I finished 2000ths of a second behind," Busch said.
Busch and Ricky Craven came neck-in-neck on the final lap before Craven took the win by a mere 0.002 seconds, setting the record at that time for the closest win in NASCAR premier series history.
RELATED: 'Caddyshack,' 'National Lampoon's Vacation': Tubi adds more than 100 new movies
Natalie Bastian, vice president of marketing at Tubi, says the company is excited to make history with FOX as Tubi appears at its first NASCAR races.
"Our collaboration is a uniquely organic one, given both Tubi and NASCAR have such a massive and diverse audience and we're thrilled that established drivers Ross Chastain and Kurt Busch will be in the driver's seat," Bastian said.
Tubi is FOX's streaming service with over 30,000 movies and television series – including racing-themed content — all available completely free.
"Jumping on a new streaming service like this and discovering more and finding shows that you didn't even know were out there. That's the best part about Tubi," Busch said.
Fans have started trickling back to raceways as COVID-19 restrictions ease in some states, but Busch acknowledged the difficulties and changes the pandemic brought to the racing world.
"It's a challenge for everybody. Most importantly we miss our race fans at the race track," Busch said.
This station is owned by the FOX Corporation.