NASA announces plan to test nuclear rocket engine for possible Mars mission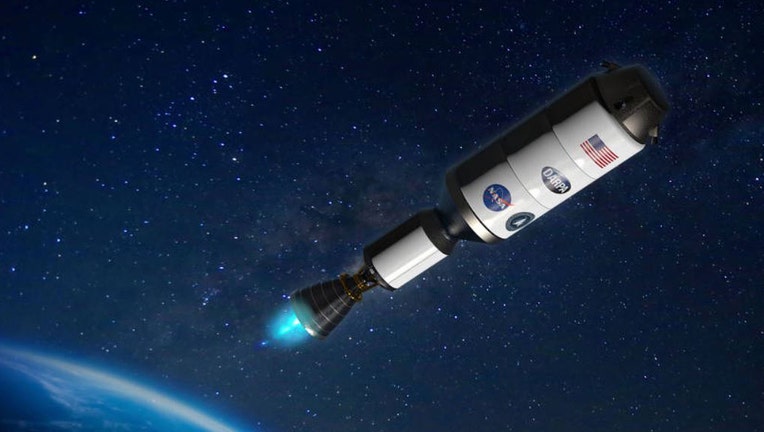 article
A mission to Mars could soon be on the horizon for NASA.
The agency is working with the Defense Advanced Research Projects Agency (DARPA) to test a nuclear thermal rocket engine in space for a potential trip to Mars, NASA said in a release Tuesday. The thermal rocket allows astronauts to travel to and from space faster, which is crucial for a mission to Mars because it cuts down on the number of supplies needed for space travel. 
NASA explains that a nuclear thermal rocket engine uses a fission reactor to produce high temperatures. The engine transfers heat from the reactor to fuel used through a nozzle to propel a spacecraft.
According to NASA, the agency's Space Technology Mission Directorate (STMD) will lead the development of the nuclear thermal engine, which will be part of DARPA's experimental spacecraft.
RELATED: NASA's launch schedule stays full for 2023 after a busy year with historic missions
During the project, NASA and DARPA will work together to build the engine before an in-space demonstration scheduled for 2027.
"NASA will work with our long-term partner, DARPA, to develop and demonstrate advanced nuclear thermal propulsion technology as soon as 2027. With the help of this new technology, astronauts could journey to and from deep space faster than ever – a major capability to prepare for crewed missions to Mars," NASA Administrator Bill Nelson said in a release. "Congratulations to both NASA and DARPA on this exciting investment, as we ignite the future, together."
RELATED: NASA's Virginia rocket launch expected to be visible across DC area; lift off scheduled for Tuesday
According to NASA, the last nuclear thermal rocket engine test performed by the U.S. happened over 50 years ago under the agency's Nuclear Engine for Rocket Vehicle Application and Rover projects.
This story was reported from Washington, D.C.