More than 50 officers injured in Capitol riot
WASHINGTON - Capitol Police Chief Steven Sund says more than 50 U.S. Capitol Police and Metropolitan Police Department officers were injured in the riot that took place on Wednesday.  He says that several Capitol Police remained hospitalized with serious injuries.
Rep. Tim Ryan, D-Ohio, told reporters that one of the officers was in critical condition and many of the injured were hit in the head with lead pipes.
The attack on the Capitol was "unlike any I have ever experienced in my 30 years in law enforcement here in Washington, D.C.,'' said Sund, a former city police officer. "Make no mistake: these mass riots were not First Amendment activities; they were criminal riotous behavior. The actions of the USCP officers were heroic given the situation they faced.''
SCHUMER CALLS FOR TRUMP'S REMOVAL FROM OFFICE
Sund on Thursday defended his department's response to the violent breach at the Capitol, saying officers "acted valiantly when faced with thousands of individuals involved in violent riotous actions" as they stormed the building.
Rioters "actively attacked" Capitol police and other law enforcement officers Wednesday with metal pipes, discharged chemical irritants, and took up other weapons against our officers,'' Sund said in a statement.
Four people died, one of them a woman who was shot and killed by police inside the Capitol. Three other people died after suffering "medical emergencies" related to the breach, said Robert Contee, chief of the city's Metropolitan Police Department.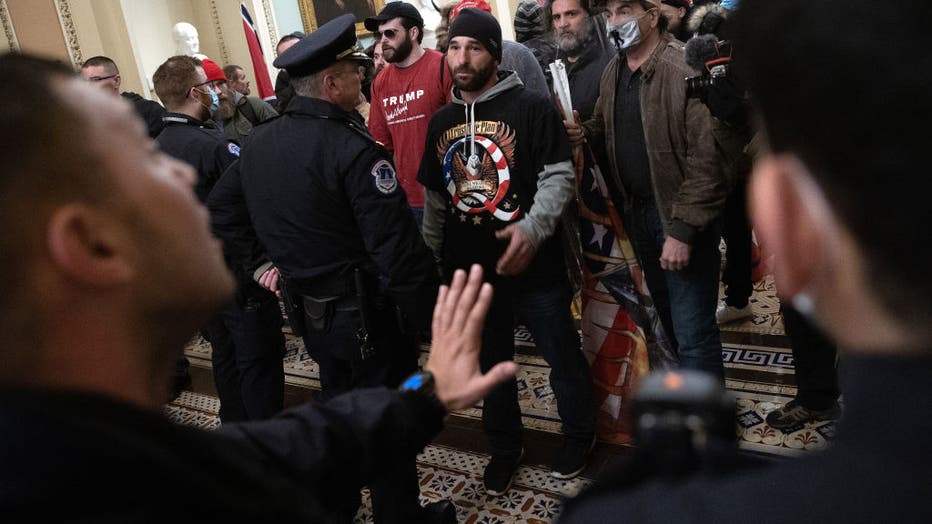 A pro-Trump mob confronts U.S. Capitol police after the group stormed the building on Jan. 6, 2021 in Washington, D.C. (Photo by Win McNamee/Getty Images)
Police said 52 people were arrested as of Wednesday night, including 26 on the Capitol grounds. Fourteen police officers were injured, Contee said.
The mob broke windows, entered both the Senate and House chambers and went into the offices of lawmakers, including House Speaker Nancy Pelosi, D-Calif.
Rep. Ryan suggested there could be leadership changes at the Capitol police.
"I think it's pretty clear that there's going to be a number of people who are going to be without employment very, very soon because this is an embarrassment both on behalf of the mob, and the president, and the insurrection, and the attempted coup, but also the lack of professional planning and dealing with what we knew was going to occur," Ryan said.
RELATED: FBI seeking information after chaos and destruction at US Capitol
The Associated Press contributed to this report.