Missing golden retriever found safe after being gone for nearly 5 months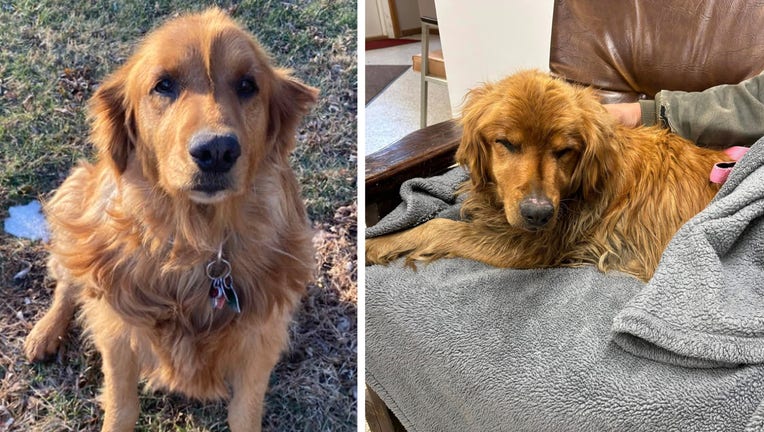 article
A family in Iowa is "just so grateful" after being reunited with their dog, Molly, who escaped through an open door at the groomer and went missing for nearly five months.
Molly, a 6-year-old golden retriever, was brought to Spitfire Farm in Anita, Iowa, to be groomed with Rose Shoemaker on June 14, according to her owner, Randy Ruth. 
Molly, who was microchipped but not wearing a collar, escaped through the door and into corn fields. Farm employees tried luring the dog in with treats, toys, and her family, but they were unable to capture her. 
The missing dog was spotted "three to four times" in the months after, including by her owners shortly after she disappeared.
"Two weeks after she disappeared, my wife and I decided after a rain to see if she would be out getting a drink. She was out by the cattle lot drinking out of a mud puddle," Ruth told FOX Television Stations. "We stopped 10 feet from her. My wife called her name and she looked and ran into the cornfield. She was in survival mode."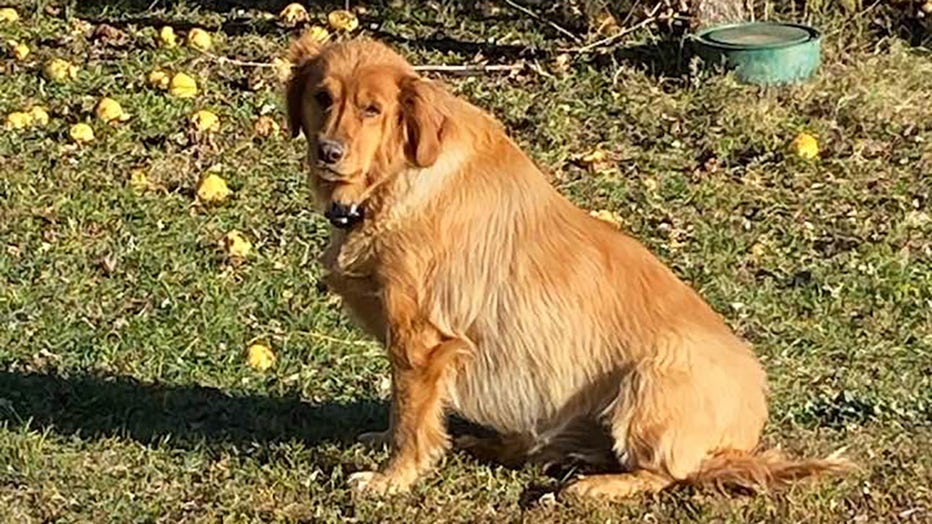 Molly's owners describe her as "a very relaxed dog." (Credit: Randy Ruth)
The family received a number of reports just north of their house, but it turned out to be a neighbor's dog.
"We didn't care and were just so happy people were looking for her," Ruth recalled.
The family put up missing fliers and continued posting about Molly on social media, sharing pictures of their beloved pet and her last known locations. The missing dog prompted "an army of searchers" in the community in the months following.
"We had a mother and son call us and ask if they could come down from Audubon and look for her. They had hamburgers to put in the live trap to help coax her in the trap," Ruth said. "We had no idea who they were."
Finally, there was a break in the missing case on Oct. 29 when a young farmer found Molly in his corn field and quite literally bumped into her. 
"He was combining his corn and as he came around the row, he bumped her with the nose of the corn head," Ruth told FOX Television Stations. "She jumped up and that's when he saw her. She ran up the row and laid down." 
The farmer, who had helped the family search for Molly in the past, quickly alerted the dog's family.
"That's when he called me and said, 'I'm looking at Molly,'' Ruth recalled. "I asked, 'is she dead or alive?' 'Alive!"
The family quickly surrounded the exhausted dog – about 3 miles from where she disappeared – and captured her, safe and sound. Ruth said his wife, Cynthia, was at work when the farmer first spotted Molly. He called to tell her, but "she didn't want to get her hopes up again."
"I called her again to let her know I had her in the pickup. She left work to come home to see her," Ruth said.
Molly was taken to a veterinary clinic for treatment, where she was put on an IV and antibiotics. Molly is now "getting back to her normal routine" but doesn't understand why she now has to wear a leash outside.
"She is a very relaxed dog. We have a wireless dog fence. But with her heavy coat, it doesn't seem to affect her," Ruth said. "She has always been able to wander over our acreage. We also have a German shepherd named Nala. They grew up together and are the best of friends."
Molly was found safe in a corn field by a farmer on Oct. 29, 2023. (Credit: Randy Ruth)
As for the groomer, Molly's family says they have no hard feelings about the situation – and Rose Shoemaker even paid the veterinarian bill after the dog was found. 
"Jay (Rose Shoemaker's husband) was out looking for her almost every day driving the roads," Ruth told FOX Television Stations. "Accidents happen, and it was hard on us, but Rose didn't mean for this to happen."
"We are just so grateful to have her back and grateful to all the people who helped look for her," he added.
This story was reported from Cincinnati.