Mayor Adams to close Randall's Island tent shelter for asylum seekers
NEW YORK - New York City is closing the tent shelter on Randall's Island built to house asylum seekers, according to Mayor Eric Adams.
A new humanitarian relief center with 600 rooms will open at the Watson Hotel in Midtown Manhattan.
"This Humanitarian Emergency Response and Relief Center will provide asylum seekers with a place to stay, access support, and get to their final destination," Adams said in a statement. "We will continue to pivot and shift as necessary to deal with this humanitarian crisis, but it's clear that we still need financial assistance from our state and federal partners." 
CityLimits.org first reported the news. 
The Randall's Island shelter opened last month after being moved from Orchard Beach due to flooding. It was meant to house up to 500 single adult men but never got much use. 
The Adams administration said in a news release that although asylum-seekers continue to arrive, the number of adult men coming alone has slowed and so the city will "demobilize" the Randall's Island facility.
Anyone at the Randall's Island shelter will be moved to the Watson Hotel facility next week, City Hall said.
Some lawmakers and humanitarian groups criticized the Adams administration for building the so-called tent city in the first place.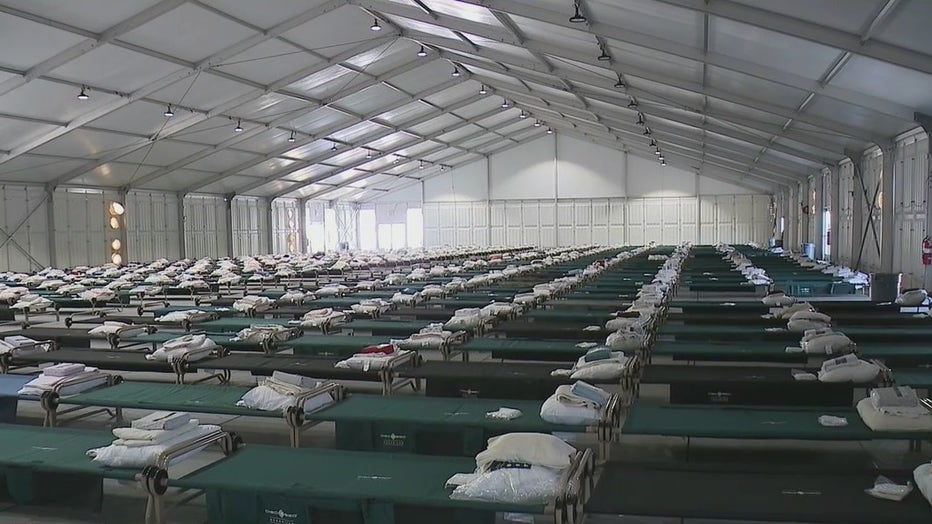 A tent shelter on Randall's Island.
In a statement, City Council Speaker Adrienne Adams (no relation to the mayor) said the council has always advocated for shelters to be set up indoors and even pointed to several hotels that could be used.
"People who seek asylum in our city deserve to be treated with dignity, care and compassion, and we always believed this was more appropriate," Adrienne Adams said. "I'm pleased to see the Administration implement this model that the Council recommended by closing the Randall's Island HERRC and opening a new site in the Watson Hotel." 
An estimated more than 23,000 migrants seeking asylum in the United States have arrived in New York City since the late spring, city officials said. Many came on charter buses from Texas and other southern border states with little or no warning from authorities in those states.