Top Marine general hospitalized after 'medical emergency'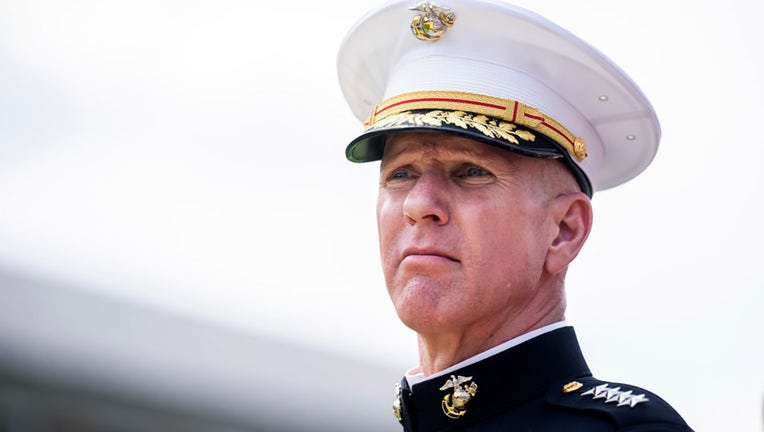 article
WASHINGTON - The Marines' top general was hospitalized after suffering an apparent heart attack, according to reports. 
Marine Corps Commandant Gen. Eric Smith was hospitalized on Sunday evening after a "medical emergency," the Marine Corps said in a brief statement. Two defense officials later confirmed to USNI News on Monday that Smith suffered an apparent heart attack. 
As of Monday afternoon, there were no additional details on Smith's condition. Smith was last seen in public on Sunday afternoon greeting runners at the finish line for the Marine Corps Marathon in Arlington, Virginia.
"Additional information regarding the condition of Gen. Smith will be released at a later time," the Corps statement added. 
Smith is a highly decorated Marine officer who has been involved in the transformation of the force to be better able to fight amphibious wars in the Pacific after years of battling terrorist groups in the Middle East. He was confirmed by the Senate in September on a 96-0 vote.
The Marine Corps commandant, along with the Marine's assistant commandant, is appointed by the U.S. president and must be confirmed by a Senate majority vote. 
Normally, the Marine's assistant commandant would step into the role, but there is currently no assistant commandant due to Sen. Tommy Tuberville's, R-Ala., months-long block on military nominations over the Pentagon's abortion policy.
The White House previously nominated Lt. Gen. Christopher Mahoney for the assistant commandant role, but he has been unable to start.
The Senate usually holds roll call votes to confirm top Pentagon leadership such as Smith. But lower-ranking promotions and nominations are always approved in large groups by unanimous consent, meaning no objections from senators. 
Tuberville has upended that tradition by objecting, and he has said he will continue to object unless the Pentagon reverses its policy of paying for travel when a service member has to go out of state to get an abortion or other reproductive care.
Lt. Gen. Karsten Heckl, the most senior officer of the Marine Corps in the headquarters, has been tapped to perform duties of Marine commandant in the meantime, according to a statement from the service.
Heckl serves as the deputy commandant for combat development and integration and commanding general of the Marine Corps Combat Development Command. 
This story was reported from Cincinnati. The Associated Press contributed.