Mariah Carey Barbie doll released for the holiday season
All I want for Christmas is…the Mariah Carey Barbie.
Mattel announced the release of a new Mariah Carey Barbie doll for the holiday season.
According to the toy company, the doll "captures the incredible vocalist's signature flair and dazzling style in a festive look." 
The Barbie is featured in a glittery red gown, accompanied by silvery accessories and matching red heels.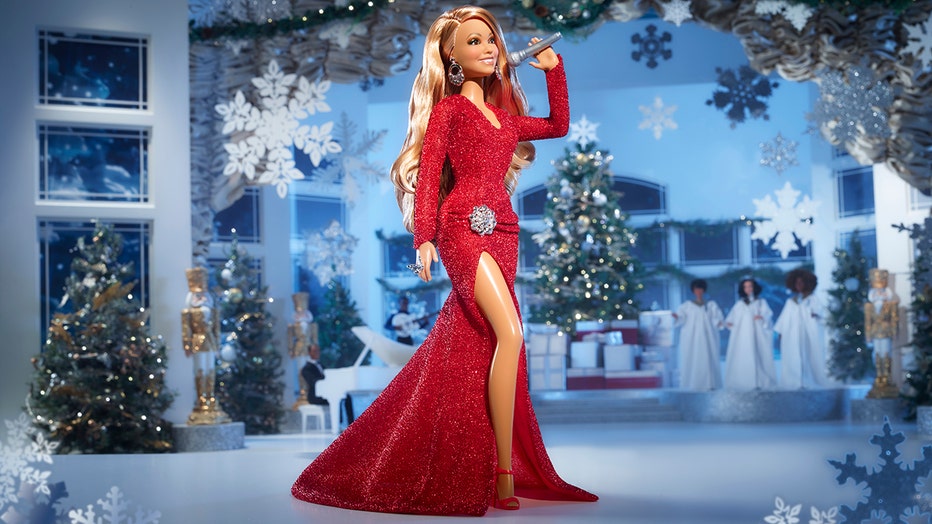 "It's a once-in-a-lifetime dream to have my own Barbie!," Mariah Carey said in a statement. "If I could go back and tell my little girl self that one day, I would have a Barbie made in my likeness, I think she would flip out! I hope all collectors and fans everywhere enjoy the holiday season and hopefully the Mariah Barbie will be a wonderful addition to it!"
RELATED: Mattel releases new doll collection to celebrate 'Barbie' movie
The Mariah Carey Barbie doll is now available to purchase at Mattel's online shop for $75. You can purchase the Mariah Carey Barbie here.
A look at the doll's packaging. (Image courtesy Mattel.)
The doll comes on the heels of her "Merry Christmas One and All" tour. Her tour will hit several cities nationwide throughout the holiday season including Los Angeles, Chicago and New York. 
Mariah Carey is considered one of the best solo artists of all time, known to many as the "Queen of Christmas," for her now-iconic Christmas anthem, "All I Want for Christmas is You." The hit song reached 1 billion streams on Spotify alone last year and even hit number one on the Billboard Global 200 chart. 
RELATED: Mariah Carey facing $20M lawsuit over 'All I Want for Christmas is You'
This story was reported from Los Angeles.