Manhattan student sucker-punched in random assault
NEW YORK - For the last year or so, Ellio Wagner has been walking a path similar to a lot of New Yorkers in Lower Manhattan, on her way to pursuing her dreams.
Despite being a new student working and living in the big city, safety hadn't been as much of a concern for her – until Friday morning around 6 on her way to work.
"I was just walking my normal route. I was on my phone and then this guy was walking towards me. I didn't notice him at first. Really, like I looked at him and didn't think he was a threat," Wagner recalled.
But in a matter of seconds, her sense of safety in the city was about to be transformed forever.
"He just charged toward me diagonally, punched me and ran off," she said. 
That assault, she says, left her with a black eye that more than 900,000 TikTok users have already seen in a viral video recalling the attack.
Normally, Ellio says she keeps her pepper spray armed in case of an incident just like what happened, but in this case, the student was a defenseless target.
"It felt like he could've just kept hitting me and I wouldn't have been able to do anything about it so I'm really thankful that this is all I walked away from it with," Wagner shared.
Now the confident walk she used to take comes with a lot more concerns and double takes.
Wagner called 911 hoping cameras captured the assault and would lead to an arrest.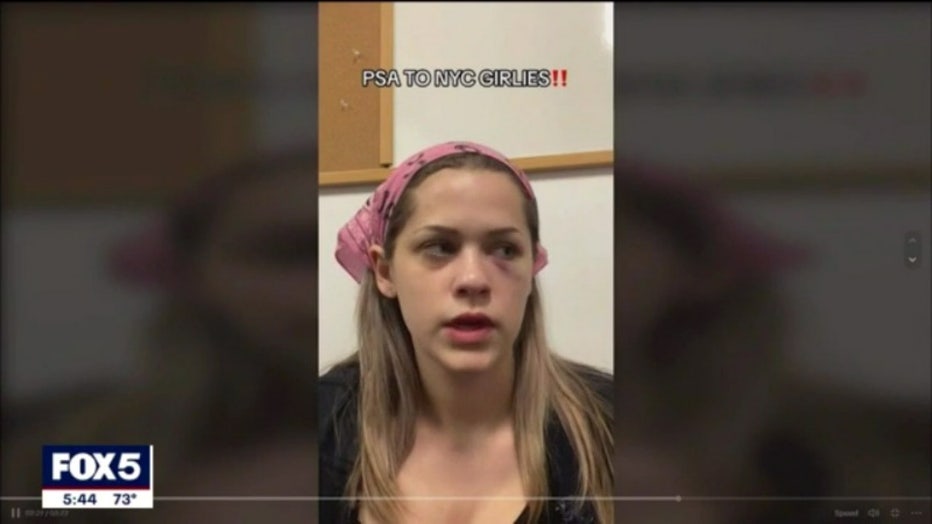 More than 900,000 TikTok users have watched Wagner's video.
Her worry now has shifted to the amount of mentally ill people on New York City streets that could either victimize her or someone else she knows and loves.
"I just think no person in a normal state of mind would like, hit a random person, so I think there must've been something going on with him. Whether he was on drugs, I don't know," she added. 
So far, the NYPD has not yet found the suspect.
Wagner says that since the attack, she has changed her route, keeps her pepper spray handy and is hoping the police find her attacker.