Drill rap artists Sheff G, Sleepy Hallow busted in NYPD gang takedown
BROOKLYN - Two popular drill artists, Sheff G and Sleepy Hallow, along with 30 other men and women, were charged in a sweeping gang murder conspiracy case.
According to the Brooklyn DA, they allegedly used money from their music careers for guns, and to offer bounties on the heads of rival gang members. 
FOX 5 NY's Lisa Evers had an exclusive look inside the NYPD investigation that helped build a case.
How the investigation began
Twenty-two teams make up of the NYPD's Gun Violence Suppression Division. The Warrant Squad was briefed about the case, which stretched back four years. 
Over the coming hours, they took alleged eight Trey gang members into custody. Some were already behind bars, like Michael Williams, better known as drill rapper Sheff G, who previously pleaded guilty to gun possession.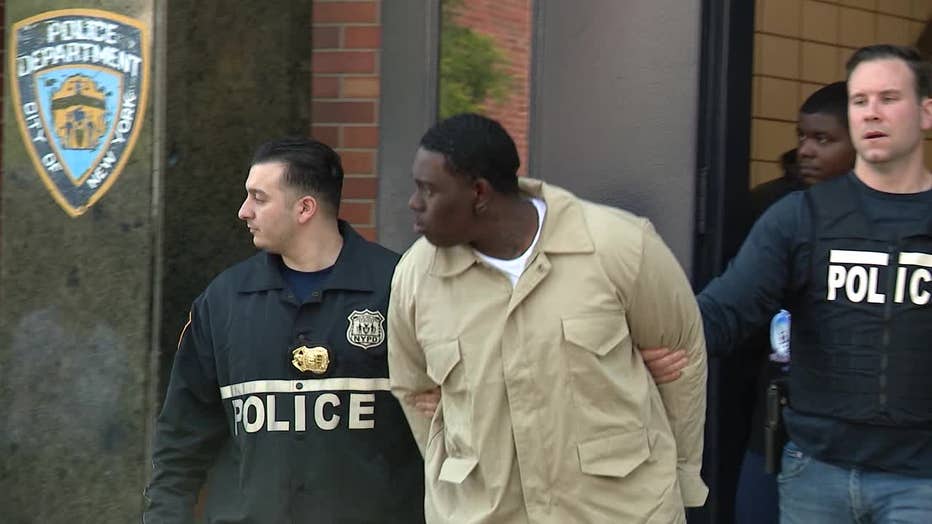 Michael Williams, better known as drill rapper Sheff G, taken into custody.
He was booked on new charges. Police said Sheff G controlled the streets, even though he was locked down.
RELATED: Inside NYPD's dismantling and takedown of 2 violent Queens gangs
"Let's talk about Sheff," Chief Jason Savino, of the NYPD's Gun Violence Suppression Division, said. "If he said something, it happened. A simple text like 'we got to get a big one.' That simple text created a war. You talking about an individual that sends out a text. It instantly starts a gang war."
Gang takedown begins
The detectives and officers from the NYPD Gun Violence Suppression Division and Warrant Squad received their assignments. Over 200 of them would be fanning out to take in any suspects who have been pre-indicted on very serious allegations.
Help from surveillance video
They took the suspects not already incarcerated into custody without a single shot being fired. 
Brooklyn District Attorney Eric Gonzalez said the gang members used more than 30 guns to threaten or eliminate their rivals, proudly posting and boasting on social media phone videos. 
The surveillance video, where they pop out with guns from the sunroof and window, shows one of the street shootings included in the case.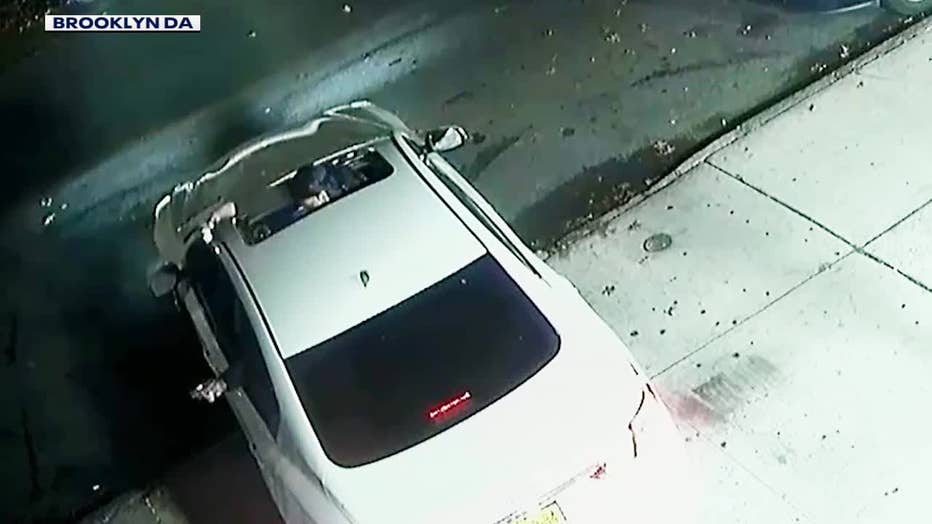 Surveillance video captured one of the street shootings included in the case. 
Gonzalez said charges include murder, attempted murder, weapons, possession and other crimes. It was one murder, four attempted murders and 12 non-fatal shootings.
"What we allege and what we learned during the course of this investigation is that Sheff G use a lot of the money he earned to help facilitate further gang activity, encouraging gang members to participate in violent crimes," Gonzalez said.
"The sheer violence in this case would stick out to me. The total disregard for civilians," Sgt. David Zayas said.
At the 77th Precinct in Crown Heights, the suspects were brought in to be booked.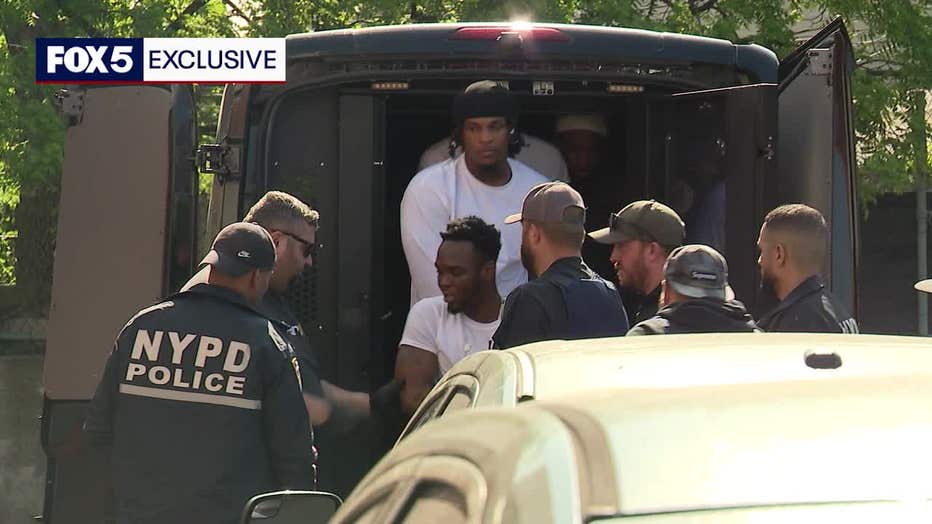 The suspects were brought in to be booked at the 77th Precinct.
"There's many facets to an investigation like this that cover a wide range that have to be vetted," Lt. Salvatore Sciove said.
After being arrested on the new charges, Sheff G and two other suspects were taken in to central booking.
According to investigators, their celebrity status of the drill rappers increase their clout and influence on the streets. 
NYPD said it's not targeting drill rappers, but merely going after those responsible for the gun violence.
"Everybody looks up to these guys. It's a shame that they're using the music platform to actually carry out a negative message, when I talk about a negative message, I don't mean the music, I mean what they are actually doing."
The Brooklyn DA said he will continue to pursue these cases to get the most violent criminals off the streets and stop the shootings which have terrorized so many neighborhoods. 
If convicted on these charges, the suspects could be facing decades behind bars.