Louvre Museum evacuated in Paris; France on high alert after stabbing by suspected Islamic radical
PARIS - The Louvre Museum in Paris and Versailles Palace evacuated visitors and staff Saturday after receiving bomb threats. The government has put France on high security alert after a fatal school stabbing by a suspected extremist.
The Louvre communication service said no one was hurt and no incident was reported. Paris police said officers searched the museum after it received written bomb threats.
The former royal palace at Versailles also received bomb threats, a national police spokesperson said. The palace and its sprawling gardens were being evacuated while police examine the area, the spokesperson said.
Alarms rang out through the vast museum in central Paris overlooking the Seine River when the evacuation was announced, and in the underground shopping center beneath its signature pyramid.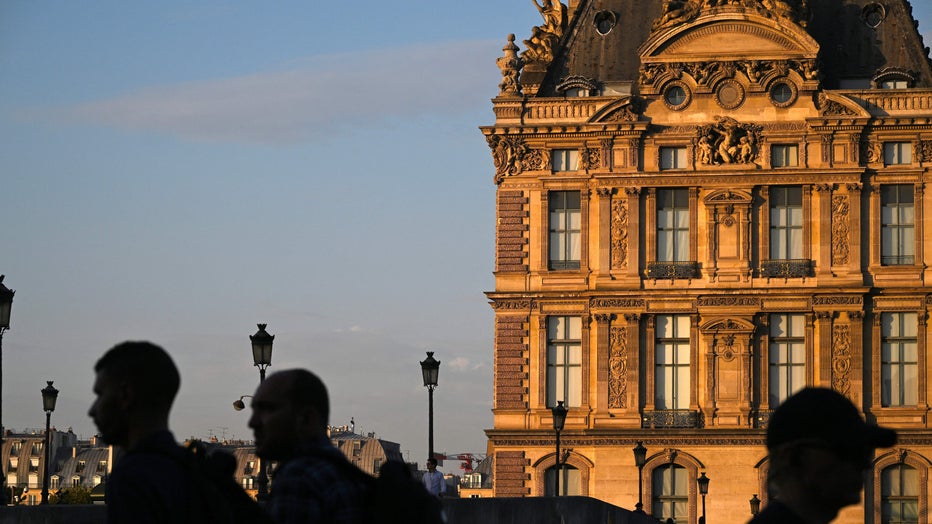 Pedestrians walk in front of Louvre Museum in central Paris, on October 10, 2023. (Photo by MIGUEL MEDINA/AFP via Getty Images)
Police cordoned off the monument from all sides, and the underground access, as tourists and other visitors streamed out. Videos posted online showed people leaving, some hurriedly and some stopping to take photos, others apparently confused about what was happening.
The French government raised the threat alert level and is deploying 7,000 troops to increase security after Friday's school attack. French authorities say a former student suspected of Islamic radicalization killed a teacher and wounded three other people before being captured.
READ MORE: Israel urges mass evacuation of Gaza as aid groups warn of untold human suffering
The suspect in the attack had been under surveillance since the summer on suspicion of Islamic radicalization, French intelligence services told AP. He was detained Thursday for questioning based on the monitoring of his phone calls in recent days, but investigators found no sign that he was preparing an attack, Interior Minister Gerald Darmanin said.
French intelligence suggested a link between the war between Israel and Hamas and the suspect's decision to attack, the minister said. He said authorities have detained 12 people near schools or places of worship since the Hamas attack on Israel, some of whom were armed and were preparing to act. France has heightened security at hundreds of Jewish sites around the country this week.
The Louvre, home to masterpieces such as the Mona Lisa, welcomes between 30,000 and 40,000 visitors per day.