Lahaina residents brace for return to wildfire burn zone, unsure of what they'll find
Soon after one of Maui's Japanese Buddhist temples, the Lahaina Hongwanji Mission, burned in the deadliest U.S. wildfire in more than a century, its resident minister was desperate to go back and see what remained.
Six weeks later, he's more hesitant.
"Now I feel like I have to have mental preparation to go there," the Rev. Ai Hironaka said. "I'm kind of afraid."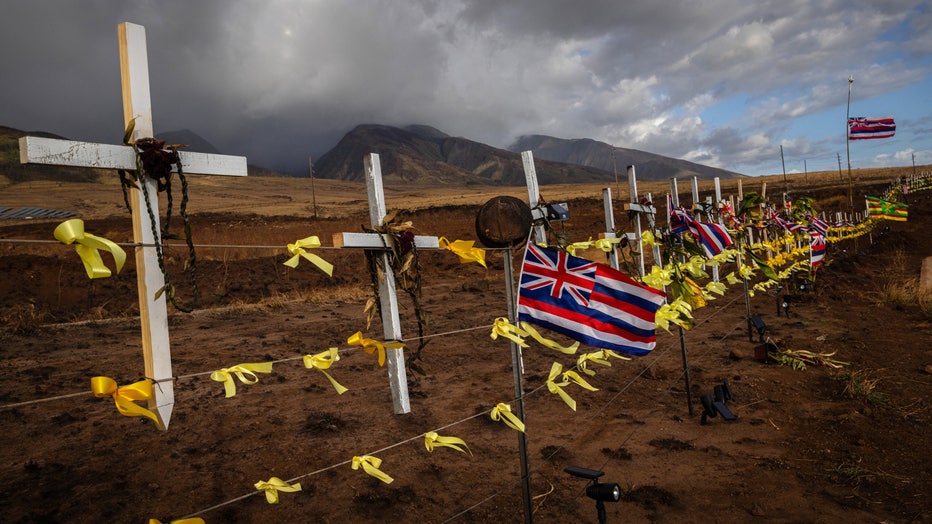 A makeshift memorial honoring the victims killed in the Aug. 8 fires and those who remain missing is seen in Lahaina, HI, on Aug. 29, 2023. (Photo by Tamir Kalifa for The Washington Post via Getty Images)
Hironaka and other Lahaina residents are grappling with a range of emotions as Maui authorities plan next week to begin allowing some on supervised visits back into the areas devastated by the Aug. 8 fire, which killed at least 97 people and demolished thousands of buildings.
Lana Vierra is bracing to see the ruins of the home where she raised five children, a house that started with three bedrooms in 1991 and was expanded to six to accommodate her extended family as the cost of living in Hawaii soared.
WATCH: Historic banyan tree, scorched during Maui wildfires, sprouts new leaves
She's been telling her family to be ready when it's their turn, so that they can all visit together.
"We're preparing our minds for that," she said. "I don't know know if our hearts are prepared for that."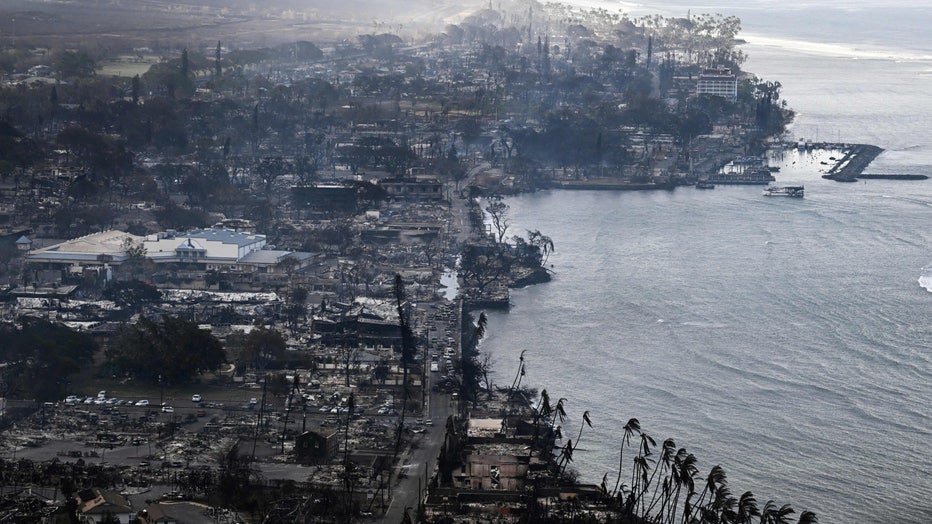 An aerial view shows destroyed homes and buildings that burned to the ground around the harbor and Front Street in the historic Lahaina Town in the aftermath of wildfires in western Maui in Lahaina, Hawaii, on August 10, 2023. (Photo by PATRICK T. FA
Authorities have divided the burned area into 17 zones and dozens of sub-zones. Residents or property owners of the first to be cleared for reentry — known as Zone 1C, along Kaniau Road in the north part of Lahaina — will be allowed to return Monday and Tuesday on supervised visits.
Government agencies including the U.S. Environmental Protection Agency, the U.S. Army Corps of Engineers and Maui County's highways division are involved in clearing the zones for reentry by, among other things, removing any hazardous materials, checking buildings for structural safety and ensuring safe road access.
READ MORE: Lawyers allege cable TV, phone companies are also responsible in Maui wildfires
Those returning will be provided water, shade, washing stations, portable toilets, medical and mental health care, and transportation assistance if needed, said Darryl Oliveira, Maui Emergency Management Agency interim administrator.
Authorities are also offering personal protective equipment, including respirator masks and coveralls. Officials have warned that ash could contain asbestos, lead, arsenic or other toxins. There are other hazards, too, Oliveira said, such as burned out cars along roads and chunks of metal or concrete in the ruins.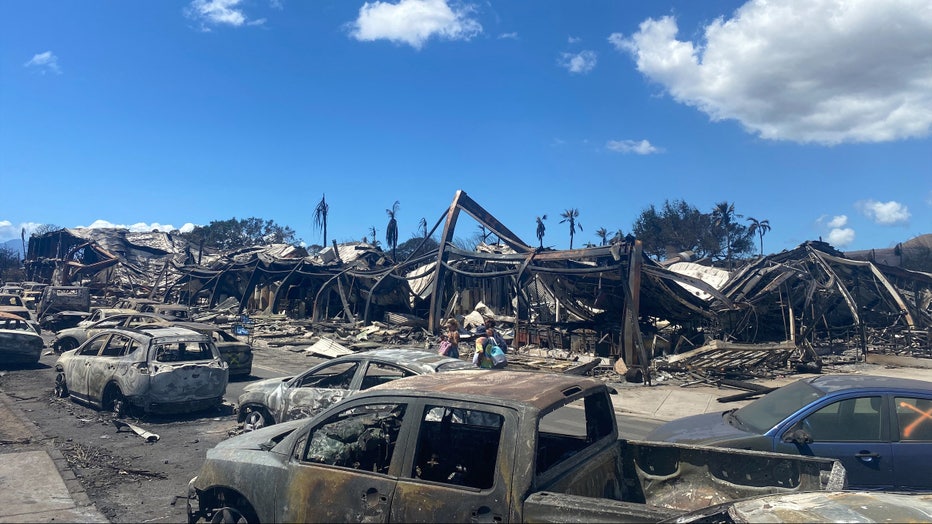 Burned cars, destroyed buildings and homes are pictured in the aftermath of a wildfire in Lahaina, western Maui, Hawaii on August 11, 2023. (Photo by PAULA RAMON/AFP via Getty Images)
"We really want to help guide them, provide them the support, but also provide them the privacy, that space and quiet, so they can get the closure they're looking for," Oliveira said in a video message Thursday.
Some people might want to sift through the ashes for any belongings or mementos that survived, but officials are urging them not to, for fear of stirring up toxic dust that could endanger them or their neighbors downwind. Other residents said they didn't immediately have plans to return to the properties because jobs or the hassle of obtaining a pass to reenter the burn zone would keep them away.
Melody Lukela-Singh plans to take a hazardous materials course before visiting the Front Street property where the house she lived in with about a dozen relatives once stood.
"I'm hoping to learn what we're going to encounter as far as exposure to things we know nothing about," she said. "The winds pick up and it's going to be all in the air. It's going be a while before all of that is gone."
Hironaka reflected on how his feelings toward reentry have changed as the weeks have passed — and as the magnitude of losing the temple, along with his home on the temple grounds, has set in.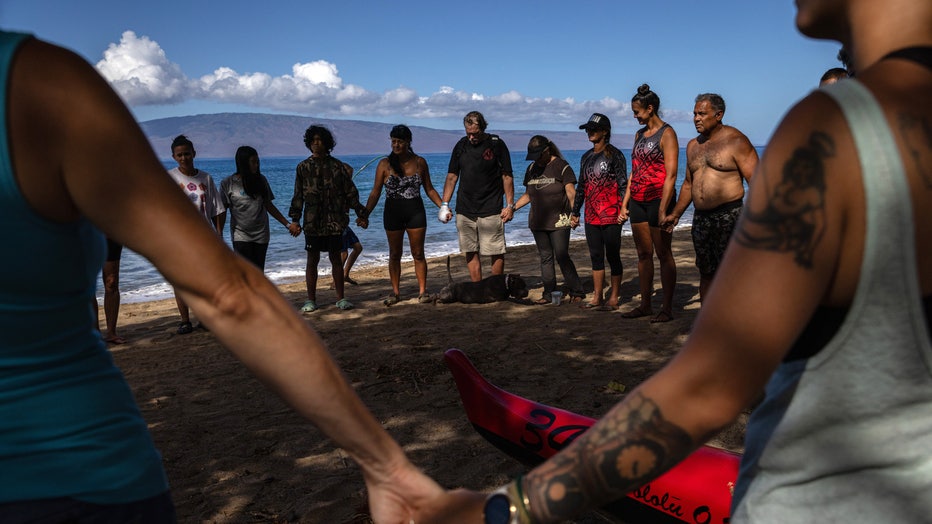 Members of the Lahaina Canoe Club hold hands in prayer before paddling out from Hanakaoo Beach in honor of Carole Hartley, their member who died in the Aug. 8 fire, in Lahaina, HI, on Aug. 28, 2023. (Photo by Tamir Kalifa for The Washington Post via
"After a week, I feel like I still have energy, like a car with full tank of gas," Hironaka said. "After I use all the gasoline, I don't know where to fill it up, what to fill it up. No gas. I feel like I'm pushing the empty-gas car only by myself. Pushing from the back."
He, his wife, their four children and their French bulldog piled into his Honda Civic to escape the flames. As they drove off, he said, he imagined the temple as protecting their home.
In a phone interview, he said he initially intended not to cry until he could return to thank the temple and apologize to the Buddha statue that had been at its main altar. But he became emotional and sobbed as he spoke, saying, "The temple building, I was supposed to protect as resident minister."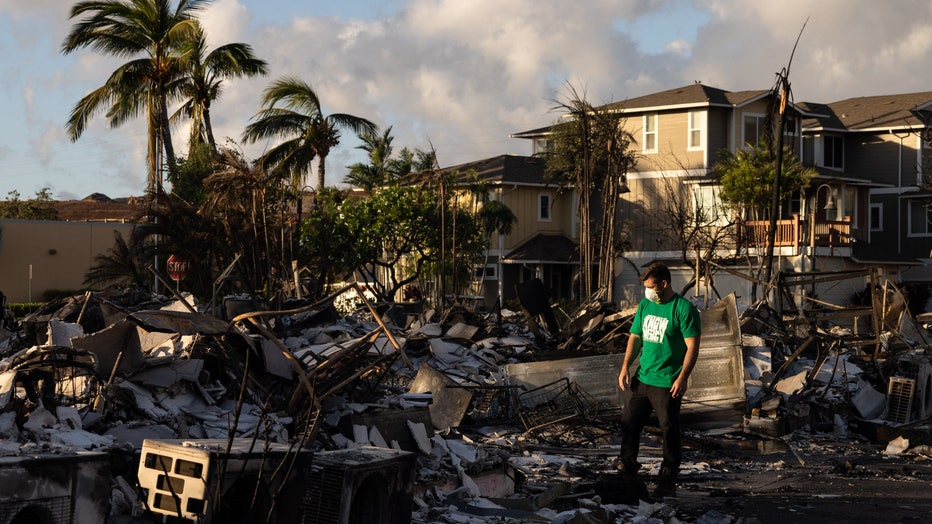 A Mercy Worldwide volunteer makes damage assessment of charred apartment complex in the aftermath of a wildfire in Lahaina, western Maui, Hawaii on August 12, 2023. (Photo by YUKI IWAMURA/AFP via Getty Images)
He has found solace, he said, in Buddhism's teachings of wisdom and compassion, that Buddha has no judgment and allows him to feel whatever he feels in the moment.
Hironaka said he often sees a photo taken by The Maui News and distributed worldwide by The Associated Press that shows the temple burning alongside Waiola Church next door. He considered the temple, built in 1933, to be like a family member, he said.
"That's the end-of-life picture to me," he said.
Lahaina's two other Japanese Buddhist temples also burned down.
Jarom Ayoso is eager to get back to the property where he and his wife rented a house for nearly 15 years. His son was able to get in the day after the fire and took video of the destruction.
"I want closure for my end," he said. "The only way I going get that is if I go and see it."
Ayoso wants to see what's left of the vehicles he lovingly rebuilt, including his 1986 GMC Sierra pickup truck. There were also motors he built on the property, including one that cost more than $13,000. He was just about to install it, he said, and "poof — gone."