Lack of Winter Olympic bids amid venue costs may lead to rotating fixed hosts
MERIBEL, France - Considering the dearth of candidates to stage the Winter Olympics amid spiralling venue costs, the IOC may have to resort to lining up a list of fixed, rotating hosts.
A highly theoretical list could include Salt Lake City and Vancouver in North America, Pyeongchang in Asia and places like Switzerland, Italy and Scandinavia in Europe.
"There are talks. It is a challenge with climate change and also infrastructure to be able to find venues for the Winter Olympics," retired Olympic skiing champion Lindsey Vonn said in a recent interview with The Associated Press.
Vonn is on the bid committee for Salt Lake City's candidacy for the 2030 or 2034 Games.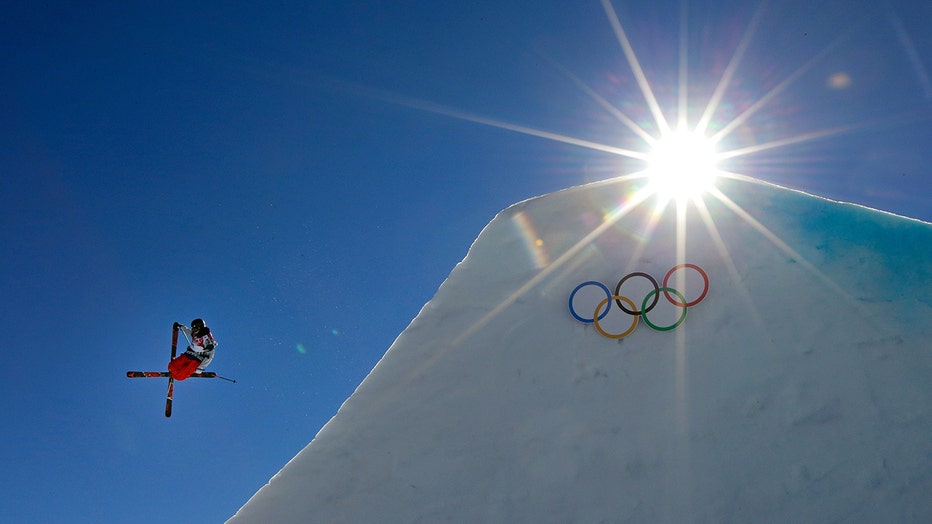 Gus Kenworthy of the United States competes in the Freestyle Skiing Men's Ski Slopestyle Finals during day six of the Sochi 2014 Winter Olympics at Rosa Khutor Extreme Park on February 13, 2014 in Sochi, Russia. (Photo by Ezra Shaw/Getty Images)
Most of the rotating hosts would have hosted the Olympics previously, or have most of the venues already built.
"A rotating venue option is on the table in which certain altitude standards would be in place and it would have to have mostly pre-existing structures and it would limit the cost for the venues and it would limit the chances of climate change affecting the competitions in a negative way," Vonn said.
"I know that's been discussed. How early that will happen, I don't know, but I don't think it would happen before 2034."
Sweden's Olympic leaders announced last week that they are weighing up whether to bid for 2030 while the International Olympic Committee has delayed the process to search for more contenders.
Sapporo, Japan was considered the favorite for 2030 before an ongoing bid-rigging scandal related to the Summer Olympics in Tokyo held in 2021. Salt Lake City is the only other known bidder that might consider taking 2030, though officials have said they favor a bid for 2034.
If a Stockholm-centered bid does go ahead, it currently seems sure to win without opposition and get the IOC out of a hole less than seven years before the Games open.
After last year's Beijing Games were held almost entirely on artificial snow, the Milan-Cortina Games in 2026 will be held across a wide swath of northern Italy.
RELATED: Olympic medalist Usain Bolt missing more than $12M from account, attorneys say
For 2022, Beijing beat Almaty, Kazakhstan — the only other candidate — for hosting rights after several other bids were scrapped by public referendums.
"There's a lot of events that are really difficult to run," said Canadian skier James Crawford, who won the super-G last week at the world championships. "I think there's a lot of places that can host the Winter Olympics … but it's definitely hard for us when there's so few that want to."
Alexis Pinturault, the French skier who won gold in combined and bronze in super-G at the worlds, grew up utilizing the facilities built for the 1992 Albertville Games.
"I also (tried) ski jumping here," he said in his hometown of Courchevel, where the ski jump is adjacent to the downhill course. "I also did cross country skiing. That was the thing with the Courchevel ski club: when you are young you can try many different sports. Then you can choose afterward. I chose Alpine skiing because that's the discipline that gave me the most pleasure."
Pinturault was born a year before the Albertville Games.
"There is still some infrastructure. That's why the Olympics are good in some (ways)," he said. "It's a big part of our history."
Italian veteran Christof Innerhofer added: "For 2026, a lot of venues will be renovated and that's the first step for developing young athletes. For us, the Milan-Cortina Games will be the start of a new cycle. Ten years later, those young athletes will be competing at the Olympics."
___
Andrew Dampf is at https://twitter.com/AndrewDampf
___
More AP sports coverage from Europe: https://apnews.com/hub/sports-europe and https://twitter.com/AP_Sports