Kylie Jenner's ex Travis Scott nightclub incident: New York police investigating alleged bar brawl
NEW YORK - The New York Police Department wants to question rapper Travis Scott about an alleged assault on a man at a Manhattan nightclub, Fox News Digital has learned.
"As of right now there is no one being sought in regard to the incident," the NYPD revealed. "However, the investigation is ongoing."
Scott allegedly got into a physical altercation with a sound engineer at the nightclub amid a heated argument, according to multiple reports.
The 30-year-old allegedly caused $12,000 in damages and reportedly damaged expensive sound equipment, including a speaker and video screen at the nightclub.
Scott's lawyer, Mitchell Schuster, said in a statement, "While this is clearly a misunderstanding being blown out of proportion by clickbait and misinformation, we are actively working with the venue and law enforcement to resolve and set the record straight. We are confident our client will be cleared of any wrongdoing."
Ritchie Romero, the managing partner of Club Nebula where the alleged incident occurred, told Fox, "This is blown completely out of proportion. It was a great night." 
Scott made a surprise appearance at a Don Toliver show at Irving Plaza Tuesday night.
Dorian Harrington, who booked Toliver to host his after party at Club Nebula, said "This is a total misunderstanding, and what I saw on stage doesn't reflect what I read in the news." 
Harrington was on stage with Scott during his surprise DJ set and said, "The music and the night turned out great and everyone left peacefully."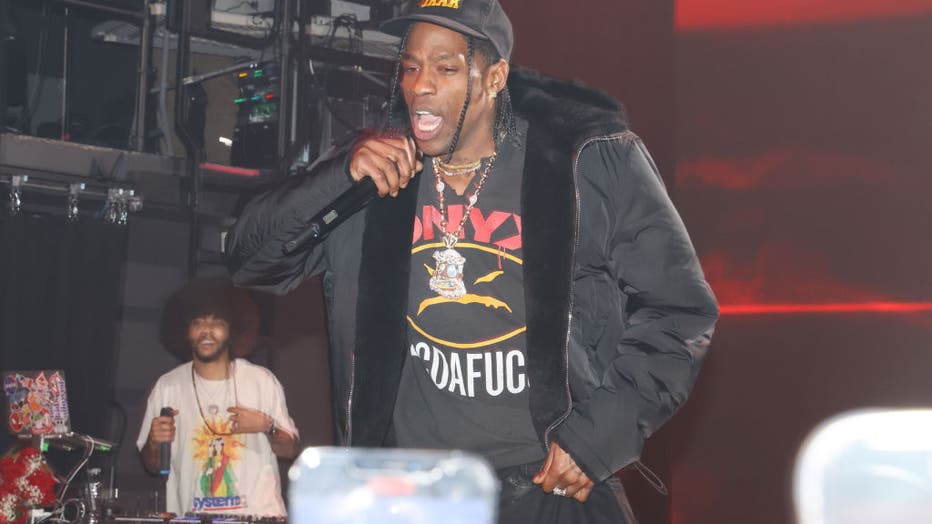 Travis Scott performs onstage during Don Toliver's concert at Irving Plaza on February 28, 2023 in New York City. (Photo by Johnny Nunez/WireImage)
Scott, whose birth name is Jacques Bermon Webster II, shares two kids with reality television star Kylie Jenner.
This latest news comes after the "Goosebumps" rapper made headlines worldwide when his 2021 Astroworld music festival led to 10 deaths and hundreds of injuries.
The 10 victims lost their lives during a reported crowd surge at the Houston music festival.
All the victims' cause of death was listed as "compression asphyxia," according to documents from the Houston medical examiner's office obtained by Fox News Digital. One victim had a contributing cause of "combined toxic effects of cocaine, methamphetamine, and ethanol."
All deaths were ruled accidental.
Scott and other parties involved in the music festival have been hit with multiple lawsuits following the tragic incident.
After the traumatic events unfolded, Scott emphasized during a sit-down interview with Charlamagne Tha God that he did not know the severity of the crowd surge while he was performing.
"I didn't know the exact details until minutes before the press conference [after my set]," the rapper claimed. "And even at that moment, you're like, 'Wait, what?'"
"People pass out, things happen at concerts, but something like that …" Scott said.
Fox News Digital's Lauryn Overhultz contributed to this report.