King's coronation: Splash and dash showers could rank supreme in first ceremony in 70 years
LONDON - Britain and the world are gearing up for an event that hasn't taken place in 70 years - the crowning of a king and queen who will lead the constitutional monarchy for potentially decades to come.
The official coronation is set to take place Saturday, May 6, in Westminster Abbey at 11 a.m. British Standard Time, which is 6 a.m. on the U.S. East Coast.
The coronation of Charles III and his wife, Camilla, has been highly anticipated for years but became a reality after the death of Queen Elizabeth II in September 2022.
Elizabeth II was the longest-reigning monarch in British history, spending 65 years on the throne.
Law enforcement agencies have ramped up in anticipation of the event, but the United Kingdom's national weather service is also gearing up for a task that hasn't taken place since 1953 – producing a coronation forecast.
The forecast is mixed bag for Friday's events leading up to the coronation with sunbreaks mixed with occasionally heavy showers and thunderstorms.
Rain returns to the London forecast by midday Saturday.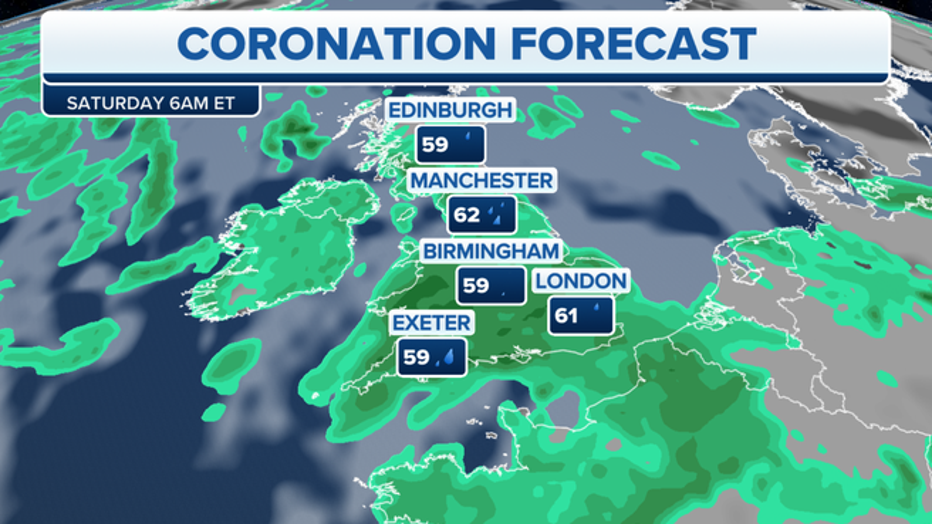 Coronation Forecast for Saturday (FOX Weather)
"On Saturday we will see some heavy rain moving into the southwest in the early hours which will move north eastwards through the morning," explained Steven Keates, a deputy chief forecaster at Met Office. "This is likely to bring some rain to London by around lunchtime as it spreads east and north across roughly the southern third of the UK."
The Met Office in the United Kingdom is very similar to the National Weather Service in the United States, and provides forecasts and alerts to the public, government agencies and other climate-related enterprises.
The UK is surrounded by water and therefore is dominated by a moist maritime environment. The climate tends to remain mild, with temperatures that rarely reach the freezing point or get above 85 degrees Fahrenheit during the summer.
Due to steady moisture, showers and occasional thunderstorms are practical any time of the year, with the rainiest weather occurring during the fall.
Light rainfall with little sun has been a feature coronation watchers have to contend with for over a century, according to data from the Met Office.
The last event featuring Elizabeth II saw temperatures of just around 53 degrees Fahrenheit with light rain on June 2, 1953.
The coronation of George V on June 22, 1911, was the warmest of any of the events held in the 1900s - temperatures reached around 63 degrees Fahrenheit with only a few scattered showers.
The coronation of Charles III and Camilla is expected to be a historic moment, with millions worldwide watching the crowning of the new king and queen.