Killer whale mothers protect their sons more than their daughters, new study finds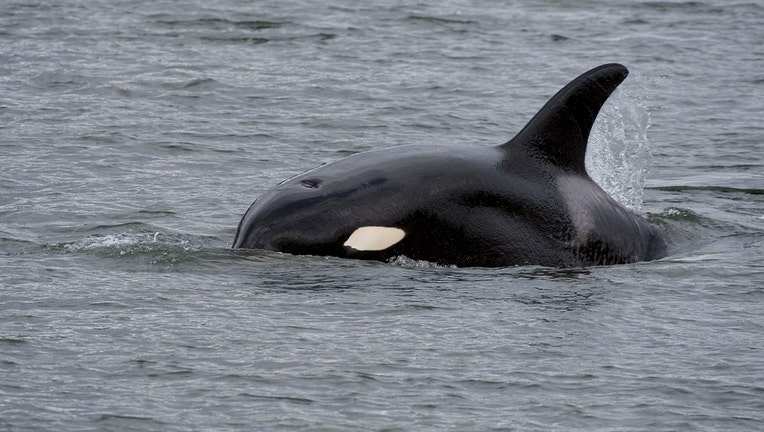 article
Male killer whales appear to be more protected by their mothers than female killer whales are, a new study has found.
Published in the journal Current Biology by researchers at the University of Exeter, the University of York and the Center for Whale Research in Washington, the study looked into tooth-rake marks on the bodies of killer whales, SWNS reported. 
The males had fewer scratch marks on their bodies if their mothers were present with them and were no longer breeding, the research found.
Lead researcher Charli Grimes of the University of Exeter told BBC News that the protection from these older mothers was very targeted: The mom orca, he said, "is definitely, in some way, trying to protect her sons," the BBC reported.
The scratch marks or tooth marks were described as signs of scarring from other whales scraping their teeth across the skin of another, according to SWNS. 
Grimes also told SWNS that the researchers found this information compelling.
"We were fascinated to find this specific benefit for males with their post-reproductive mother," he said. 
KILLER WHALES MAY BE ATTACKING BOATS AS REVENGE FOR INJURED MATRIARCH, SCIENTISTS SAY 
The study was conducted off the Pacific coast of North America.
It looked at "southern resident" killer whales, SWNS noted. 
Males had 35% fewer tooth marks on their skin, the study found — and for those whose mothers were still breeding, there was no evidence the mothers' presence reduced the tooth marks. 
The mention of menopause in female killer whales sparked an interesting comparison to human females as well. 
"We can't say for sure why this changes after menopause, but one possibility is that ceasing breeding frees up time and energy for mothers to protect their sons," he told SWNS. 
NEW RESEARCH REVEALS WHY ENDANGERED ORCAS HAVE FAILED TO RECOVER DESPITE DECADES OF CONSERVATION EFFORTS
Female orcas can live to be in their 80s. They typically go through menopause in their late 30s and 40s, according to the Center for Whale Research in Washington state.
Professor Dan Franks at the University of York said the protective behavior comes with age. 
VIDEO SHOWS KILLER WHALE NEAR SPAIN BITING RUDDERS OFF BOAT
"It's fascinating to see this post-menopausal mother-son relationship deepening our understanding of both the intricate social structures in killer whale societies and the evolution of menopause in species beyond humans," he said to SWNS. 
In terms of why the evidence was noticed on males and not females, the study suggests that it might be that mother killer whales helped their sons instead of competing with their daughters to breed. 
Animal behavior scientist Grimes told SWNS that it all has to do with passing down certain genes. 
"Males can breed with multiple females, so they have more potential to pass on their mothers' genes," she said. 
Professor Darren Croft of the University of Exeter said it might be due to the mothers wanting to protect their sons for social situations. 
"They will have previous experience of individuals in other pods and knowledge of their behavior and could therefore lead their sons away from potential dangerous interactions," he noted to SWNS. 
The work is part of long-term research on the "southern resident" killer whales. 
"One of the key questions biologists have been asking," noted the BBC, "is why the females of this species stop reproducing part-way through their long lives."
Said Grimes, "The [Orca] sons are really reliant on their moms for their survival. Mothers will even directly feed their sons [the] salmon that they catch," the BBC pointed out.