Jurassic- era 'extremely rare fossils' discovered in Utah, a milestone in US paleontology
PAGE, Ariz. - The National Park Service said a field crew recently discovered "extremely rare fossils" while documenting fossil tracksites at Lake Powell a Glen Canyon National Recreation Area in Utah. 
Park rangers said the fossils were the first tritylodontid bonebed found in the Navajo Sandstone. They included bones and teeth. 
The discovering has been described as "one of the more important fossil vertebrate discoveries in the United States this year." Rangers believe it will also shed light on the fossil history that was exposed on the changing shorelines of Lake Powell. 
RELATED: Long Island bird rescue stretched to its limits by pandemic pet abandonments
It's believed the fossils were from early herbivorous mammal-relatives from the Early Jurassic era, which was approximately 180 million years ago.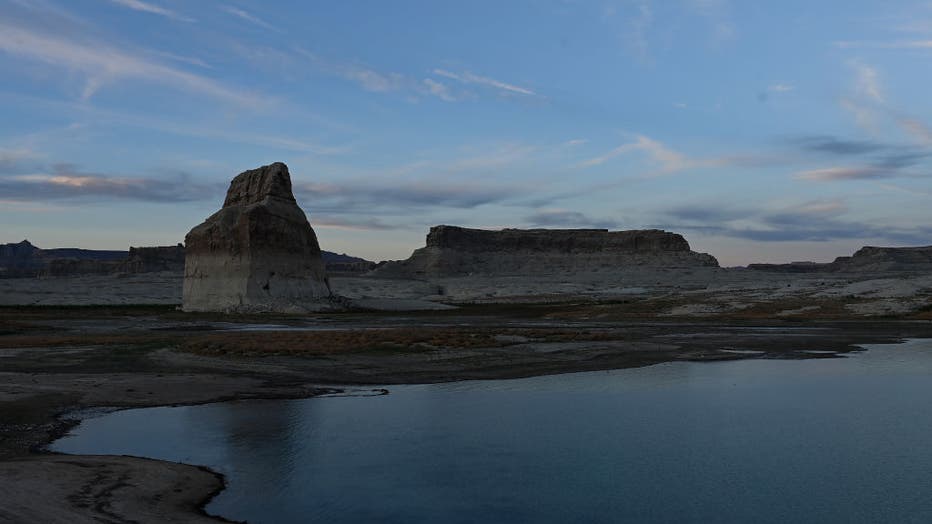 A parched area of Lake Powell is seen near Lone Rock on October 15, 2022 in Big Water, Utah. (Photo by Joshua Lott/The Washington Post via Getty Images)
The fossils will be scanned with X-ray computerized tomography (CT) at the University of Utah South Jordan Health Center. They will further be studied at St. George Dinosaur Discovery Site at Johnson Farm (SGDS) with the help from Petrified Forest National Park and the Smithsonian Institution.
The fossils will then become part of the Glen Canyon NRA museum which will be housed at the Prehistoric Museum in Price, Utah. 
"Studying these fossils will help paleontologists learn more about how early mammal relatives survived the mass extinction at the end of the Triassic Period and diversified through the Jurassic Period," the National Park Service said in a news release. 
RELATED: 'Momo' the monkey captured after running loose through Indiana neighborhood
The public is invited to learn more about the discovery on October 11 for the National Fossil Day interpretive event being held at Zion National Park. 
This story was reported from Los Angeles.