Judge rules that Trump will be on 2024 ballot, rejecting cases based on insurrection claim
FOX 2 (WJBK) - A Michigan judge ruled Tuesday that former President Donald Trump will remain on the state's primary ballot, dealing a blow to the effort to stop Trump's candidacy with a Civil War-era Constitutional clause.
Court of Claims Judge James Redford rejected arguments that Trump's role in the Jan. 6, 2021, attack on the U.S. Capitol meant the court had to declare him ineligible for the presidency. 

Redford wrote that, because Trump followed state law in qualifying for the primary ballot, he cannot remove the former president. Additionally, he said, it should be up to Congress to decide whether Trump is disqualified under  a section of the U.S. Constitution's 14th Amendment that bars from office a person who "engaged in insurrection."  
"The judicial action of removing a candidate from the presidential ballot and prohibiting them from running essentially strips Congress of its ability to 'by a vote of two-thirds of each House, remove such a disability,'" Redford wrote.
Judge Redford ruled in three such cases, including one where Trump sued Secretary of State Jocelyn Benson to stay on the ballot and two other suits including one which was a lawsuit from activists Robert LaBrant, Andrew Bradway, Norah Murphy and William Nowling and another from Robert Davis. 
The activist suits both made the same argument trying to assert Trump was disqualified to run on the ballot based on his alleged actions on Jan. 6 and named Benson as the plaintiff.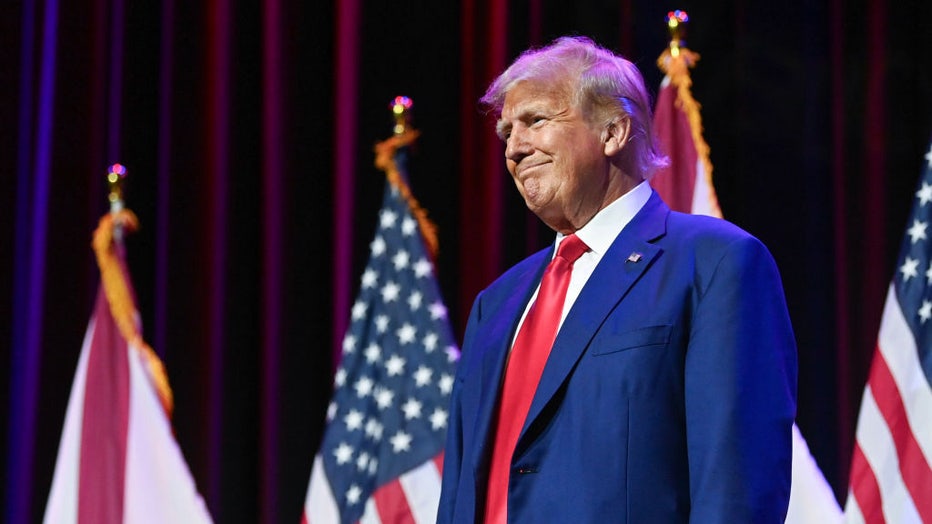 Former U.S. President Donald Trump looks on during the Alabama Republican Party's 2023 Summer meeting at the Renaissance Montgomery Hotel on August 4, 2023 in Montgomery, Alabama. (Photo by Julie Bennett/Getty Images)
In his ruling, Redford argued that Benson did not have the power to keep any candidate off the ballot - which Benson said she agreed with, in the filing.
"The question of whether he is ineligible due to Section 3 of the 14th Amendment presents a political question that is nonjusticiable at the present time," Redford wrote in regard to the insurrection claims. "The question of whether Donald Trump is qualified or disqualified from appearing on the 2024 general election ballot in Michigan is not ripe for adjudication at this time."
The Associated Press contributed to this report.