Donald Trump's relationship with far-right groups under scrutiny during 'insurrection' trial in Colorado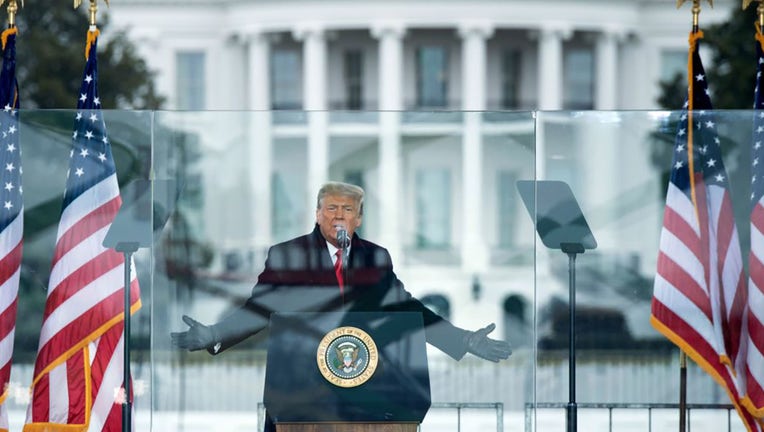 article
DENVER - Lawyers sparred Tuesday over former President Donald Trump's relationship with the mob that attacked the Capitol, an important point in a Colorado lawsuit seeking to bar him from the 2024 ballot under the rarely used "insurrection" clause of the Constitution.
Still to come: arguments over whether the events of Jan. 6, 2021, amounted to an insurrection under a provision put in the Constitution in 1868 to prevent former confederates from taking over the government.
The plaintiffs presented testimony from an extremism expert who maintained that Trump had a clear relationship with far-right extremists and that they interpreted his pleas to protest the certification of President Joe Biden's win as a call to arms.
"A consistent theme is individuals reporting that they thought that Donald Trump had sent them there," said sociology professor Peter Simi of Chapman University, a private college in Southern California.
Trump's lawyers say his comments protesting the election results were merely a matter of him stating his opinion, which he had every right to do.
The hearing in Colorado is one of two this week — with the second before the Minnesota Supreme Court on Thursday — that could end up before the U.S. Supreme Court. The nation's highest court has never before ruled on the Civil War-era provision in the 14th Amendment.
Late Tuesday, a law professor was expected to testify about Section Three of the 14th Amendment, which has been used only a handful of times since it was adopted a century and a half ago. The testimony will get to the heart of the thorny legal issues the case raises — what constitutes an "insurrection" and how can the extreme political penalty of being barred from office be applied?
The plaintiff's lawyers contend the provision is straightforward and that Trump is clearly disqualified from the presidency, just as if he were under the Constitution's minimum age for the office of 35.
Trump's lawyers argue that there remain a host of questions. Those include whether the amendment's authors even meant for the provision to apply to the presidency, which is not mentioned in it — although "presidential and vice presidential electors" are, along with senators and members of the House of Representatives. They also question whether it applies only to those who take up arms or extends to others who simply exercised their free speech rights to support unpopular causes.
Scott Gessler, Trump's lead Colorado attorney and a former Republican secretary of state there, dismissed the lawsuit as "anti-democratic" and noted that one other presidential candidate — socialist labor organizer Eugene Debs — even ran for the office from prison without people trying to use Section Three to disqualify him.
"If they don't like President Trump, they need to get involved in an election," Gessler said after the first day of testimony on Monday. "But what they're trying to do is short-circuit an election."
The Colorado testimony began with a description of the Jan. 6 assault, which was intended to stop Congress from certifying Biden's election win.
Lawyers representing six Republican and unaffiliated Colorado voters argue that Trump's violent rhetoric preceding the attack makes him culpable, and that he should be barred from the presidency again under the clause prohibiting anyone who swore an oath to the Constitution and then "engaged in insurrection" against it.
Trump's legal team and presidential campaign assailed the 14th Amendment challenges as little more than an attempt by Democrats to derail his attempt to reclaim his old job. Trump is so far dominating the Republican presidential primary, and the lawsuits to block him were organized by two separate liberal groups.