'It was surreal': Helicopter pilot recalls covering O.J. Simpson car chase
LOS ANGELES - Do you remember where you were during the pursuit of O.J. Simpson in his infamous white Ford Bronco?
Hanna Zoey Tur does.
"It was one of the strangest things I've ever covered. And I've covered some of the biggest stories ever on live television," Zoey Tur, a media helicopter pilot, recalled to FOX Television Stations. 
The 63-year-old said that news had been circulating on June 17, 1994, throughout Southern California that Simpson did not surrender to police, where he would be taken into custody and charged with two counts of murder for the deaths of his ex-wife Nicole Brown Simpson and her friend Ronald Goldman.
Later that same afternoon, Los Angeles County District Attorney Gil Garcetti held a news conference reaffirming the unbelievable.
"As of this time, approximately 3 p.m., nobody knows where he is," Garcetti told the press. That's when the former football legend became a wanted man and was on the run.
"He was a fugitive. I turned to my crew and I said, let's get in the helicopter. Let's find him," Zoey Tur shared.
The helicopter pilot, who has been flying planes since 1976 and is a commercial pilot, was in the air that day for more than five hours. The coverage led to one of the most-watched moments in U.S. history.
"I looked down below us, and there on the freeway, there was a white Bronco. And within a matter of seconds, there was a police unit, a sheriff's unit, another sheriff's unit, highway patrol, and the white Bronco wasn't stopping," she revealed. "We were on the air live ahead of anyone else for about 22 minutes." 
The award-winning pilot is credited with shooting and reporting the very first live police pursuit in Los Angeles and was the first helicopter pilot to find Simpson and televise the infamous chase. 
"I couldn't believe what I was seeing, because O.J. was a larger-than-life character," Zoey Tur said, adding, "He was a beloved member of Los Angeles, he was a Heisman Trophy [winner], he was a sports legend, he was a movie star. He golfed with presidents, and now, just like another criminal, running from the law, there was O.J. Simpson."
After a long low-speed pursuit lasting several hours, the white Bronco arrived at Simpson's Brentwood home. 
RELATED: FOX 11 Archives: O.J. Chase Sets Slow Speed Record
"People in pursuits tend to go back to areas where they're comfortable," Zoey Tur explained. "I've covered hundreds of police pursuits, so that seems to be a constant." 
By the end of this pursuit, she revealed that there were 22 helicopters flying in the air, comparing it to something out of the movie, "Apocalypse Now."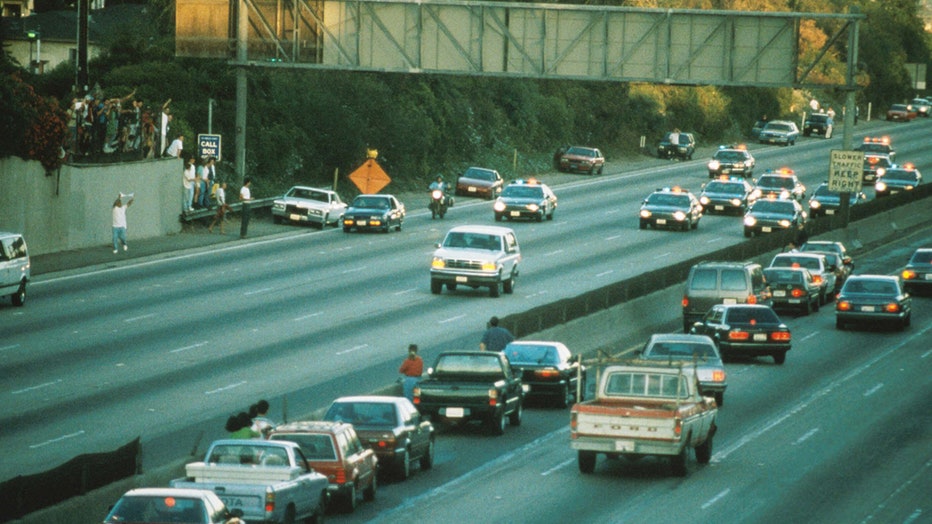 Motorists stop and wave as police cars pursue the Ford Bronco driven by Al Cowlings, carrying fugitive murder suspect O.J. Simpson, on a slow-speed car chase June 17, 1994 on the 405 freeway in Los Angeles, California. (Credit: Jean-Marc Giboux/Liais
As police negotiated to get Simpson out of the car, a gathering crowd added to the mayhem.
Simpson finally surrendered, ending one of the most "surreal" moments in television history, according to Zoey Tur.
It was surreal, to say the least," she said. "It was one of the strangest things I've ever seen in my life." 
Over several decades, Zoey Tur has exclusively reported on major events in U.S. history including the LA riots, televising the attack of actor Reginald Denny. She is currently working on a documentary series.