Inseparable goat, dog duo find forever home on North Carolina farm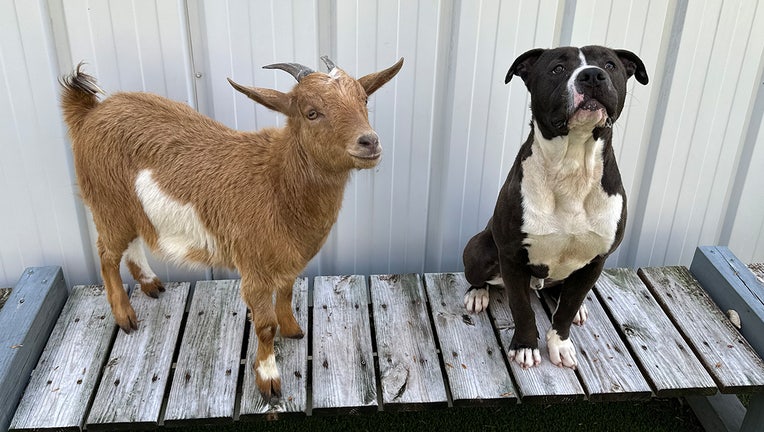 article
An unlikely pair of pets have finally found their forever home. 
Cinnamon and Felix were living together in a home in Raleigh, North Carolina, when their previous owner was unable to continue caring for them. 
The goat and bulldog mix were taken to the Wake County Animal Center for temporary housing until they could find new owners. 
The pair were bonded and animal shelter staff did not want to separate them, but trying to find someone willing to take in a dog and a goat was not the most simple task. 
Luckily, after posting a photo of the dynamic duo on social media, community members and animal lovers shared, commented and sounded the alarm until an animal rescue in New York decided to assist with the search as well. 
Chris and Mariesa Hughes of the Mr. Mo Project run a national non-profit rescue organization that specializes in finding homes for senior dogs, according to a Wake County news release. 
The couple said they had been working with a foster family in North Carolina for nearly 10 years and the family owned a farm which had more than enough space for Cinnamon and Felix. 
"We are so blessed to be able to foster Felix and Cinnamon!" said Jacqui Bankes, owner of the foster farm. "As their forever foster, we are excited to keep them together and also integrate them with our other goats and dogs, after appropriate testing and quarantine. Thank you to Wake County and Mr. Mo Project for making this possible for us!"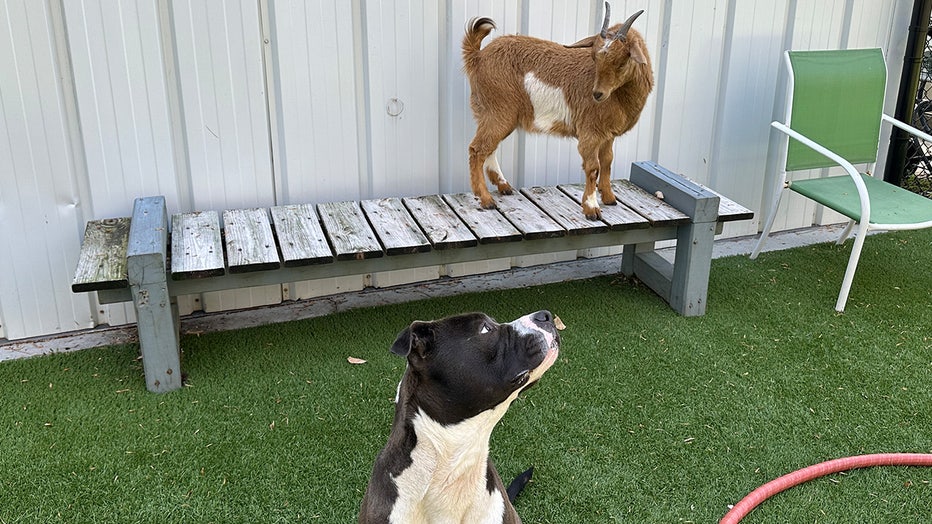 Cinnamon on a bench and Felix watching nearby. (Wake County Animal Center)
Additionally, the Mr. Mo Project has agreed to pay for both Cinnamon's and Felix's health expenses for the rest of their lives. 
"We are so grateful for this support from our community and partners," said Dr. Jennifer Federico, director of the Wake County Animal Center. "This was possible due to all the continuous efforts of our staff, volunteers and community. This unbelievable duo will live together and enjoy their friendship." 
This story was reported from Los Angeles.