How old is too old to trick-or-treat? Experts weigh in
LOS ANGELES - This year, October 31 falls on a Tuesday. And though that means Halloween will be on a school night, millions of families are gearing up for the celebration. 
According to the U.S. Census Bureau, more than 73 million children trick-or-treated in 2020, going from house to house and collecting as much candy as their bags would allow. 
But there's always a debate: How old is too old to go trick-or treating?
How old is too old to trick-or-treat?
"You are never too old!" Aneisha McMillan, spokesperson for Halloween Costume Association, told FOX Television Stations. "I live in a quaint little town in Michigan and my kids range from 7 to 24, and all of them will be trick-or-treating."
"I think it's all about really embracing the excitement of the season, checking out all the cool costumes," she added.  
Believe it or not, some cities have previously imposed age limits on trick-or-treating. In Canada, a town called Batthurst forbade anyone 16 years and older to go trick-or-treating. Other U.S. cities have also imposed age limits on trick-or-treating. 
According to TIME, most teenagers stop dressing up and going trick-or-treating between 12 and 16 years old. 
McMillan said she's even seen older adults and senior citizens dressing up in costumes and taking part in trick-or-treating. 
"I just look at it as just another way to connect with your community members," she added.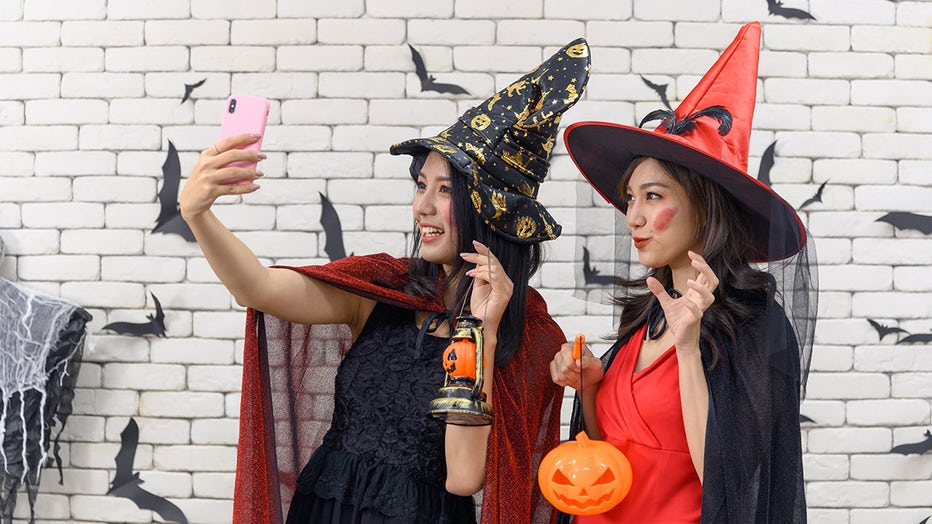 File: Young ladies prepare to trick or treat (Pratchaya / iStock / Getty Images Plus)
According to a 2021 YouGov survey, about one in four Americans say children can never be too old to go trick-or-treating. But about one in eight (12%) think children become too old to go trick-or-treating at age 12. Another 11% will give kids an additional year of trick-or-treating. Another 8% say it's OK to trick-or-treat until age 14 and 7% think a child becomes too old for trick-or-treating at age 15.
RELATED: New York homeowner's Halloween display fools, then wows fire department
However, a 2016 article by Slate believes 12 should be the cutoff age for trick-or-treating. 
"Thirteen is a good age to stop trick-or-treating for many reasons," the outlet said. "Most importantly, there's the fact that 13 is the last plausible age at which a kid could sincerely get excited about dressing up and trick-or-treating."
McMillan said more adults are taking part and enjoying Halloween as much as children compared to years and generations past, partly because it brings back nostalgia of when they were children. 
"The millennials and Gen Z rank Halloween over Christmas as far as all-time favorite holiday," she continued. "They're going all out."
What's going to be the best costume this year?
McMillan believes any costume related to pop culture is going to be very popular this year. 
"You're going to see so many 'Swifties' our there," she explained, referring to singer Taylor Swift and her outfits. 
Google Freightgeist is a resource to help children and parents recognize the most popular costumes this year. 
McMillan said any costume that lights up is going to "catch attention." She advised people can also add some homemade components to their costumes to make it more unique. 
Halloween safety tips
Here are some more useful tips from the American College of Emergency Physicians to help everyone have a safe and fun Halloween:
Make sure your child stays on the sidewalks as much as possible (off streets) and obeys all traffic signals.
Discuss the importance of staying together in a group.  Require at least one adult to serve as chaperone during trick-or-treat gatherings.
Make sure your child knows the potential dangers from strangers.  Make sure they know never to accept rides from strangers or visit unfamiliar homes or areas.
Avoid costumes that could cause children to trip, such as baggy pants, long hems, high heels and oversized shoes.
Avoid costumes that obstruct the child's sight or vision.
Avoid masks if possible.  If your child must wear one, make sure it is well ventilated.
Make sure costume fabric, wigs and beards area made of flame-resistant materials, such as nylon or polyester.
Keep candlelit Jack-O-Lanterns away from children so they can't get burned or set on fire.
Make sure costumes are visible at night: avoid dark colors.  Add reflective tape to costumes so your child is more visible to motor vehicles.
Make sure you see all of the candy before your child eats it.  Avoid candy that is not wrapped in its original wrapper, as well as all fruit.
Take a flashlight while trick-or-treating as visibility decreases long before it gets really dark.
Check accessories such as swords, knives, wands and other pointed objects.  Make sure they are made from flexible materials and have dulled edges.
RELATED: Minnesota boy's performance in alien abduction Halloween costume goes viral
FOX News contributed to this report. This story was reported from Los Angeles.