Emotional video helps hound get forever home after 7 years at shelter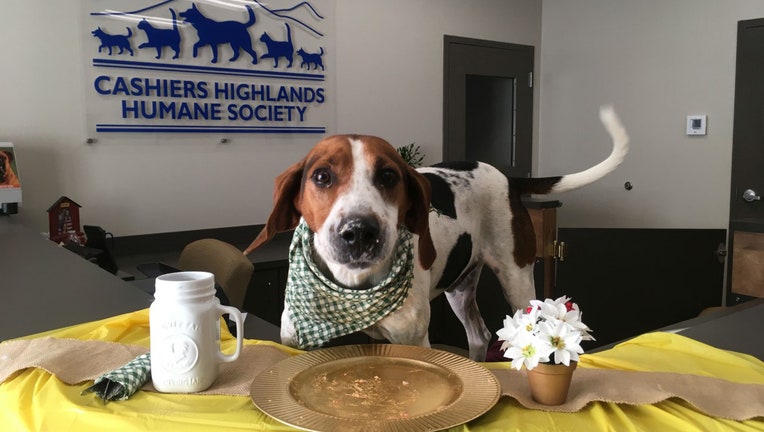 article
SAPPHIRE, N.C. - A hound dog who arrived at a North Carolina animal shelter "thin and terrified" seven years ago has finally found a place to spend his senior years.
The Cashiers-Highland Humane Society in Sapphire, North Carolina, took Mitch in as a stray in 2016. The treeing walker hound dog was scared of humans, but after a lot of love and care, he eventually learned to trust people.
Despite multiples appearances in local newspapers and on local TV adoption segments, Mitch was consistently overlooked because of his shy nature. Shelter workers have said it takes Mitch a little time to warm up to new people, but once he does he's a "sweet and affectionate" dog.
Recently, the shelter posted an emotional video of Mitch on Facebook and TikTok, asking for someone to step up and provide a home for the 11-year-old hound. A woman who follows the shelter on Facebook had seen posts about Mitch in the past, but the video "convinced her to give Mitch a forever home," said David Stroud, the shelter's executive director.
READ MORE: 'A best friend just like him': One-eared shelter dog tears ear off his favorite stuffed toy
"I cried when I watched it the first time," Mitch's new owner, Teresa Shular, told WLOS. "I cried when I watched it the second time. I thought about it and prayed about it for a few days."
Mitch at his shelter birthday party (Cashiers-Highlands Humane Society)
So far, Mitch seems to really enjoy lying around on the porch, Shular said.
"I've had it said to me by several people, 'Why would you go get a dog that age just for it to die on you?' And I said, 'so he can have a home beforehand,'" Shular continued. "It's not about me, it's about Mitch."
The shelter was thrilled for Mitch and his new family, though Stroud points out that Cashiers-Highland is "not your ordinary shelter." For anyone who thought Mitch may have "languished away in some concrete and chain link cage" for all these years, "nothing could be further from the truth."
READ MORE: Missing dog reunited with family 8 years later: 'I think he really remembers us'
"We're nestled amongst 10 acres in the North Carolina Blue Ridge Mountains and all the dogs get to romp and roam all day long in acres of outdoor play yards," Stroud told FOX TV Stations. "They only come inside their modern kennels at the end of the day for dinner and sleep time.
"We throw them birthday parties, Thanksgiving feasts, and each shelter pet gets a personalized stocking for Christmas," he continued. "The best thing, being of course, a forever home. But until each animal in our care finds a forever home of their own, they want for nothing in our no-kill shelter."
Victoria Stilwell, trainer and star of Animal Planet's It's Me or the Dog, once called Cashiers-Highlands the "Doggie Hilton."
"It truly is the next best thing," Stroud said. "And as Mitch can attest, we never give up on the animals entrusted to our care."