Hot dog! Oscar Mayer is hiring a new class of Wienermobile drivers to travel across US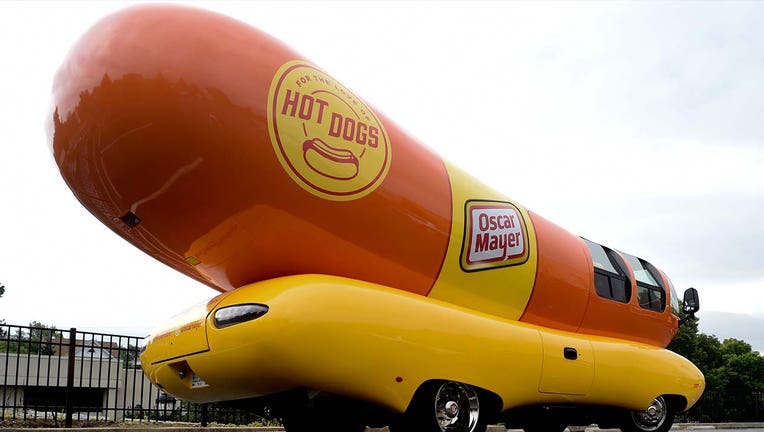 article
Let's get this hot dog on a roll.
Oscar Mayer is hiring its newest class of hotdoggers to travel across America in the iconic Wienermobile.
The 27-foot-long hot dog on wheels sets out each year to spark some smiles with its iconic look — but only a select group of 12 will be invited to hit the road, according to a recent press release.
HELP WANTED WITH TIKTOK: THIS JOB WILL PAY YOU $50 AN HOUR TO SCROLL THE APP
From now until Jan. 31, recent college graduates with a valid driver's license can apply to join the 36th class of hotdogger
The one-year, full-time gig behind the wheel will cover an average of 20,000 miles and more than 20 states along the way, the press release noted. 
Hotdoggers will be responsible for maintaining a fleet of six Wienermobiles, creating social content for various brand channels and collectively handing out more than 250,000 Wiener Whistles each year.
Each hotdogger will serve as an official Oscar Mayer spokesperson at more than 200 events per year, the press release indicated
SLEEPING ON THE JOB? CASPER IS NOW HIRING PROFESSIONAL SNOOZERS FOR CASH
Those chosen will also give rides in the Wienermobile to hot dog fans of all kinds, including celebrities.
"The Wienermobile is an American icon and one of our brand's most prized assets, making the Hotdogger role an extremely important job," Ed Roland, senior brand communications manager for Oscar Mayer at The Kraft Heinz Company, said in a statement. 
"From traveling to events across the U.S. to regularly speaking with consumers and media on behalf of the brand, Hotdoggers operate as a marketing firm on wheels, providing invaluable experience to recent graduates, while continuing our mission of uniting millions around a love of meat."
Eligible candidates must have a bachelor's degree, preferably in public relations, journalism, communications or marketing.
EARLIER: Recall: Oscar Mayer ham and cheese loaf potentially cross-contaminated with 'under-processed products'
Oscar Mayer is looking for potential hotdoggers who are outgoing, friendly and compassionate, have strong communication skills and have a "love of hot dog puns."
"Less than 1% of applicants are typically selected for the 12 positions, making it statistically easier to get accepted into an Ivy League university than be granted acceptance into Oscar Mayer's coveted Hotdogger class!" the brand shared in an email.
Hired hotdoggers will receive a competitive compensation package.
Think you have what it takes to cut the mustard?
Anyone interested can send a resume and cover letter by reaching out to wmrequest@kraftheinzcompany.com — or visit careers.kraftheinz.com to apply for the Wienermobile spokesperson position.