'Times have changed': Homer will no longer strangle Bart on 'The Simpsons'
LOS ANGELES - Homer Simpson may be looking for a new way to reprimand his eldest son, Bart, on "The Simpsons."
One of the most well-known, long-running gags on the animated series is when Homer angrily strangles Bart, typically after yelling "Why you little!"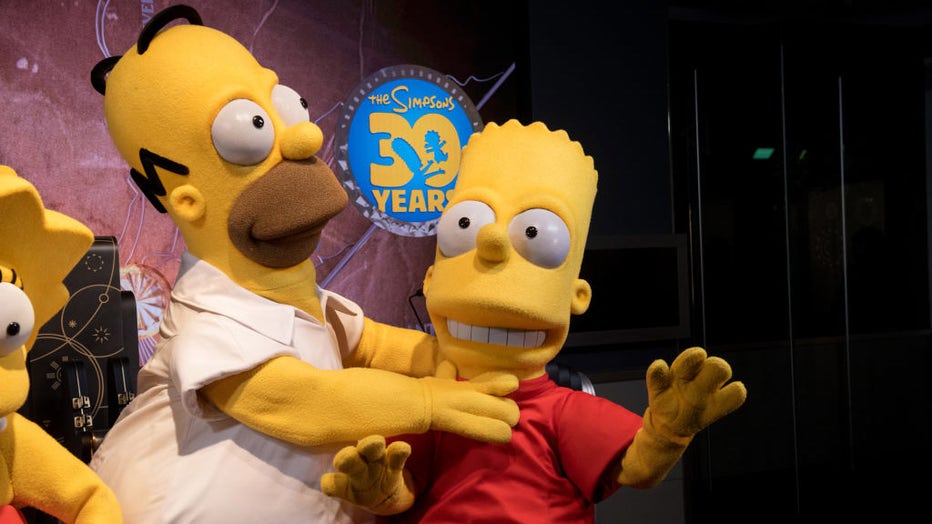 FILE - (L-R) Homer Simpson and Bart Simpson visit The Empire State Building to celebrate the 30th anniversary of "The Simpsons" at The Empire State Building on December 17, 2018 in New York City. (Photo by Noam Galai/Getty Images)
But in the third episode of season 35, which aired on Oct. 22, Homer says he's changed while visiting a new neighbor with his wife, Marge.
When Homer introduces himself with a handshake, the new neighbor, Thayer, notes Homer's firm grip.
"See, Marge, strangling the boy has paid off," Homer says in the episode called "McMansion & Wife." He then adds: "Just kidding, I don't do that anymore. Times have changed."
Many "Simpsons" fans posted about the admission on social media after a clip began circulating on X, formerly known as Twitter.
"Took them long enough," one viewer wrote on X.
"I knew my man Homer was gonna learn. He's a smart fella," another added.
A third wrote: "Homer strangling Bart had always been a sticking point in my love for The Simpsons. I knew it was an old school cartoon gag and not an affirmation of child abuse, but I'm glad they got rid of it. Good on you, @HomerJSimpson, good on you."
Some fans, however, questioned the move: "Is it just me or is The Simpsons stopping Homer from strangling Bart a bit ??? confusing. It was a joke, but now I feel like all this time I've been watching Homer abuse his son. Before, it was just Tom and Jerry esque humour."
"The Simpsons" has also updated other roles in recent years, including the show's depiction of Indian shop owner Apu.
Apu is a recurring Indian-American character who ran the Kwik-E-Mart convenience store. White actor Hank Azaria voiced the character for years before stepping down in 2020. 
Azaria, who described his ancestry as "Sephardic Jews from Greece," was publicly called out in 2017 when comedian Hari Kondabolu, of Indian descent, condemned how south-Asian characters like Apu have been portrayed in a documentary called, "The Problem With Apu."
Earlier this year, Azaria shared how he regretted playing Apu on NPR's podcast "Code Switch."  
"The only really Indian accent that I had context for, apart from guys who worked at the 7-Eleven that I was near in LA, was Peter Sellers in 'The Party,'" Azaria admitted. "It was an homage to that, you know, one of my heroes."
While he was initially skeptical in 2017 that the character was harmful, he said that after he watched Kondabolu's "The Problem With Apu," he realized that he had "hindered" and made the "path harder" for performers that he admires.
But after years of self-reflection and digging into the controversy, Azaria admitted that he now finds his casting "embarrassing" and acknowledged how his character fed into "the broader dehumanization of Desi people in the United States."
This story was reported from Cincinnati. FOX News Digital contributed.