Harvest Moon: Last Supermoon of 2023 happens Friday
Skygazers have had a treat with back-to-back summer Supermoons. Now that fall is here, the full Harvest Moon will usher in the new season with the final Supermoon of 2023.
On Sept. 29, the full Moon will also be a Supermoon because the Moon is at the nearest point in its orbit of Earth during the full Moon. Known as the Harvest Moon, it will also be the year's fourth and final Supermoon. The previous three full Moons – one in July and two in August – were also Supermoons. With two full Moons in August, the second one was known as a Blue Moon.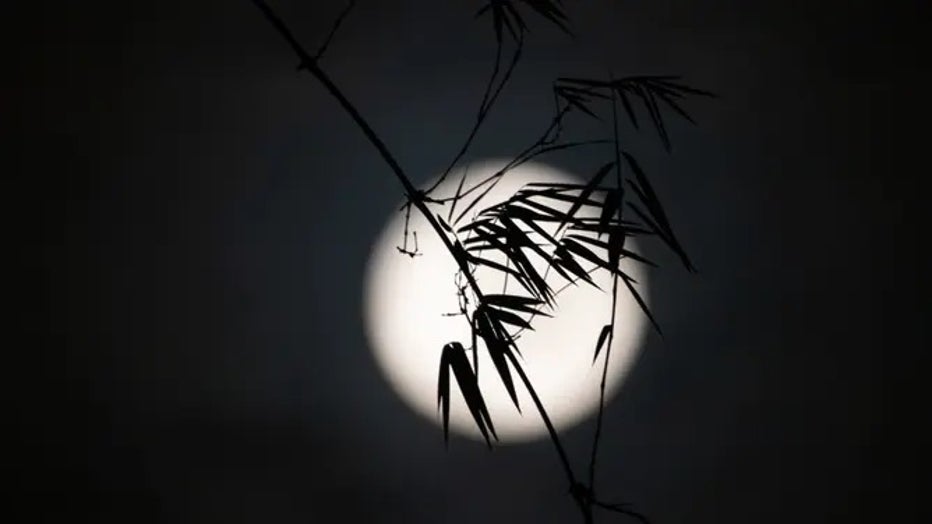 The full Harvest Moon rises over the sky in Ungaran, Central Java Province, Indonesia on September 11, 2022. (Photo by WF Sihardian/NurPhoto via Getty Images)
Why is it called the Harvest Moon?
According to the Old Farmer's Almanac, the full Harvest Moon is not determined by the month it occurs in, but by when the autumnal equinox happens. That means the Harvest Moon can happen in either September or October, depending on lunar cycles. This year, the equinox fell on Sept. 23. 
The Harvest Moon is named for the time when many crops in the Northern Hemisphere typically reach their peak. 
WHAT DOES SIZZLING SUMMER MEAN FOR FALL FOLIAGE? HERE'S A PREVIEW
Traditionally, the fall full Moon provided a few days of moonlight after sunset, giving farmers more time in the day to bring in their crops ahead of the first frost.
When and where to see the Harvest Supermoon
The Moon will appear bright starting on Thursday before reaching peak illumination on Friday morning.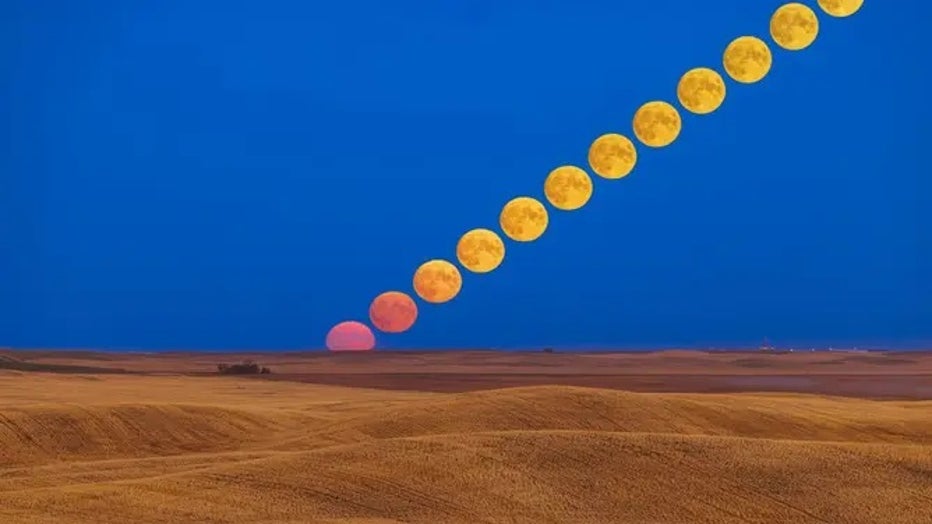 File photo: The rising Full Moon of September 9, 2022, the Harvest Moon for 2022, coming up over a rolling harvested prairie field near home in southern Alberta, on a very clear evening. This is a composite of 11 exposures blended with Lighter Color
About a half-hour after sunset Thursday, look east as the Moon rises. It will appear at its fullest just before moonset, about 6 a.m. ET on Friday.
7 TIPS ON HOW TO SHOOT THE MOON WITH A CAMERA
Those on the West Coast will have more time to see the Moon at its brightest. In Los Angeles, the moonrise is at 6:34 p.m. PT on Thursday, and it sets at 6:58 a.m. PT on Friday, according to Timeanddate.com.
Next year, the Harvest Moon rises on Sept. 17.