The Hartford Adaptive Sports Series: Pro athlete gifts custom-fit wheelchairs to youth basketball players
QUEENS - Fifty adaptive adjusted kids and organizations that support them, received free custom fit sports wheelchairs Saturday.
It happened at a basketball clinic put on by The Hartford and former Knicks player, John Starks was there for the surprise.
Eric Carmona, 10, and his dad drove all the way from Boston to be at the Hartford wheelchair basketball clinic at Queens College CUNY.
"I mainly just love basketball and I want to have a fun time, said Eric Carmona. "I want to have a fun time with all my wheelchair friends."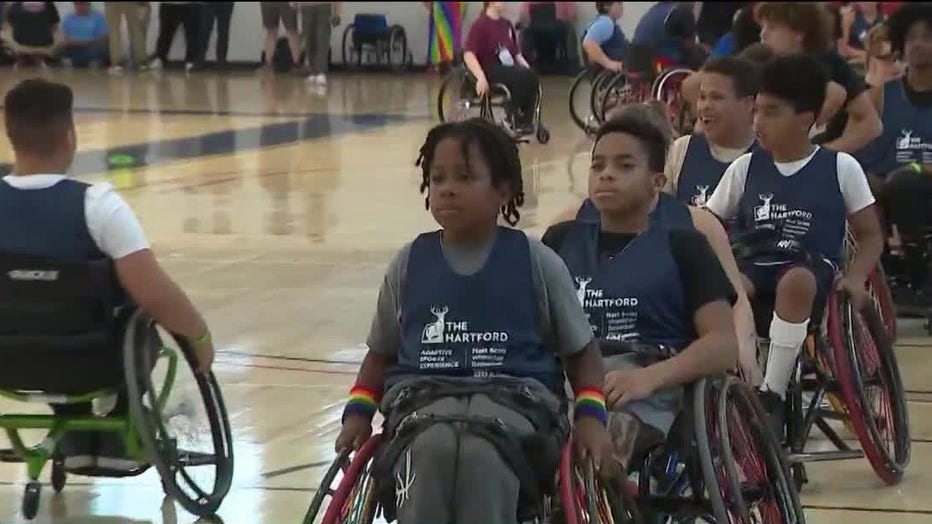 Eric, like many of the adaptive athletes on the court, was born multiple neurological conditions and medical Issues with both feet. It took nine different procedures to get him to this point, and he's having the time of his life. 
"He's my inspiration," said Joel Carmona, Eric's dad. "He's always been there for me, I'm a completely better person because of my son."
While Eric and the other basketball players practiced drills, their hearts pumping with adrenaline and glee.
"Basketball is just one of my hobbies," said Sebastian Ortiz, adaptive athlete. "And I literally want to be a basketball player. It's just so much fun."
Five-time Paralympian, two-time gold medalist Matt Scott was preparing a surprise. He helped give out 50 custom fit sports wheelchairs that cost around $5000 each— for free.
"If you want to be an athlete that plays basketball," Scott explained, "you get a pair of shoes and some basketball shorts, and you can, you go play basketball. For a basketball wheelchair basketball athlete, you need this specialized equipment and you pay 15 times more the price."
And there was another treat for the young athletes. Former Knick's shooting guard John Starks walked onto the court. Starks not only supports the kids, but the pro-athlete is also impressed. 
"They put me in, they strapped me into a wheelchair, and it was very difficult," Starks said. "So I am amazed at what they can do. Very difficult game that I played standing up, and they're playing it sitting. It's just amazing to me."
These little ones aren't just overcoming challenges with their legs. The cost of adaptive sports equipment is a barrier, making the donated wheelchairs a blessing both physically and as you can tell by their big smiles -- spiritually too. 
"The impact that we're going to have is going to be generational," Scott said.