92-year-old breaks world record, becomes oldest person to hike Grand Canyon rim-to-rim
It's been a mere 10 days since Alfredo Aliaga broke the Guinness World Record for being the oldest person to hike the Grand Canyon rim-to-rim – and the 92-year-old is already looking forward to next year's trek. 
On Oct. 14, Alfredo, who splits his time between Germany and Spain, joined his daughter, son-in-law and two witnesses on a hike through one of the seven natural wonders of the world. After two days and more than 21 hours of hiking, Alfredo surpassed the previous record-holder and became the oldest to complete the 24-mile journey from the North Rim to the South Rim.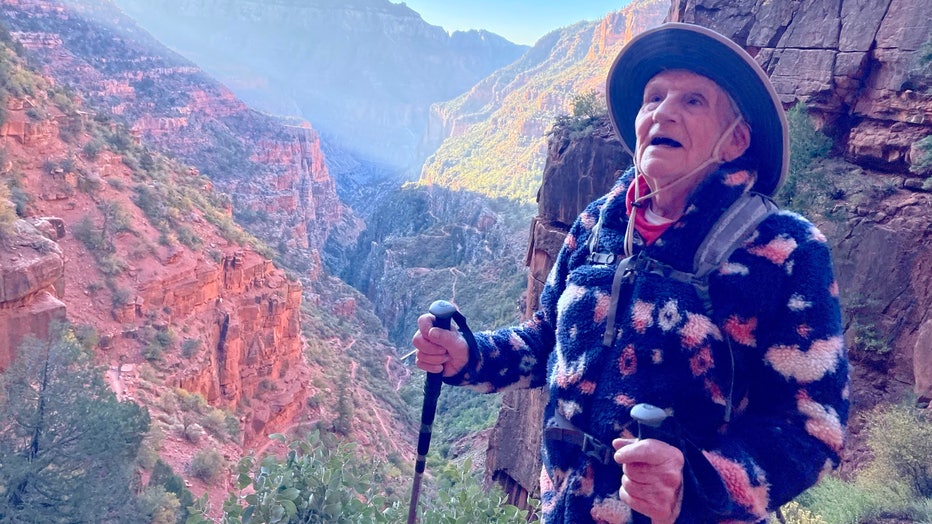 Alfredo Aliaga (Julian Coiner)
"It was just so uplifting," recalled his daughter, Anabel Aliaga-Buchenau, who lives in North Carolina. "And the Grand Canyon does that anyway. It puts everything in perspective once you're in there because you're so small and it's so enormous and so powerful. If you were religious, this is where you would find God. If you were spiritual, this is where you would find … the meaning."
It wasn't Alfredo's first rim-to-rim Grand Canyon hike – he's done it several times and as recently as 2022 – but it was the first with 50 to 100 people waiting at the top to cheer him on. 
"It was wonderful," Alfredo told FOX TV Stations. "[They're] all saying, 'OK, Alfredo! You made it!' It was really unique."
Alfredo and the Grand Canyon
Alfredo's passion for the Grand Canyon dates back to the 1990s: he has a Ph.D. in geology and was always fascinated by rocks. After he retired in 1996, Alfredo and his wife spent a year in a van touring the United States and its national parks.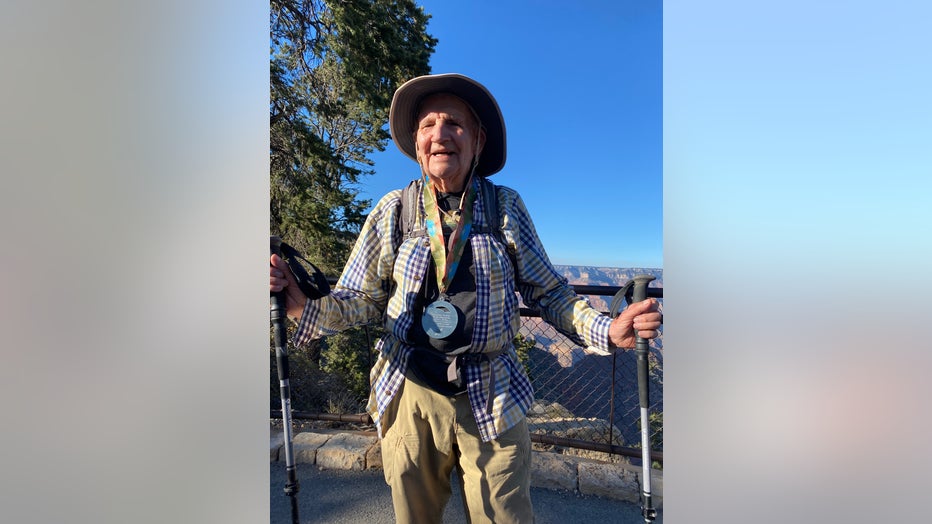 Alfredo Aliaga (Julian Coiner)
"And the one that really stuck with him was the Grand Canyon," explained his son-in-law, Jurgen Buchenau. 
READ MORE: Journey of a lifetime: 3-year-old Texas girl becomes youngest person to visit all 63 US national parks
Alfredo's love for hiking brought him and his wife on a long list of adventures, including trips to Australia, Chile and Mount Everest base camp. After his wife died in 2006, he returned to Nepal at 75 years old and did a six-week route more challenging than Everest base camp. 
Still, daughter Anabel wasn't so sure about Alfredo attempting a world record when her husband and father first began discussing it. 
Alfredo Aliaga and his hiking crew (Julian Coiner)
"When I heard about the Guinness Book of World Records, I thought, 'That's crazy,'" Anabel said.  "We're just normal people. We don't do stuff like that."
But after discussing it more – and realizing he was only a few months shy of breaking the world record last year – Anabel warmed up to the idea. 
"He originally wanted to do it rim-to-rim in 24 hours, so he didn't even want to stop," Anabel said. "And my husband and I both said no."
To prepare, Alfredo walked three hours every day between January and May, the month the hike was originally supposed to take place. Alfredo wasn't able to vie for the record in May: the north rim was closed because of too much snow. 
"So we did rim-to-river-to-rim, and he was in better shape than I was," Anabel recalled. "It's so crazy to realize that even at 91-and-a-half … you can still get your muscles to get stronger."
Alfredo is famous
Before they tried again this month, Jurgen and Anabel posted on social media and asked for volunteer witnesses to meet them on the trail. The response was overwhelming, they said, and led to a lot of notoriety for Alfredo. Toward the end of the hike, Alfredo even had to hide his face to avoid being recognized. 
Jurgen thinks they would have finished the hike an hour earlier if it hadn't been for all the people stopping for selfies with Alfredo, "but because of that we had a wonderful community inside the canyon."
It was an unforgettable experience for all involved, but Alfredo admittedly is more excited about next year's trip  – when he can stop to teach his family (again) about all the rocks and formations in the Grand Canyon.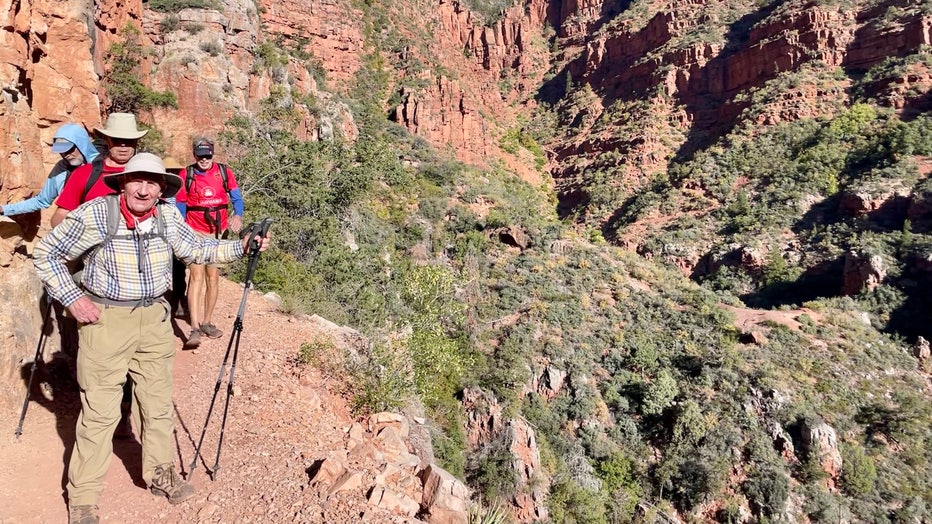 Alfredo Aliaga and his hiking crew (Julian Coiner)
"There was very little geology for him this time, which is probably sad for him, so we're already planning to go back," Anabel said. 
Guinness hasn't confirmed the world record yet – doing so is a months-long process. But Jurgen and Anabel are still getting emails and letters from people who want Guinness to know they witnessed Alfredo's amazing feat. 
"These people understand what it means to do something like this, and I think having seen him inspired them, like maybe I can be like that when I'm 90," Anabel added. 
Alfredo's secret to long life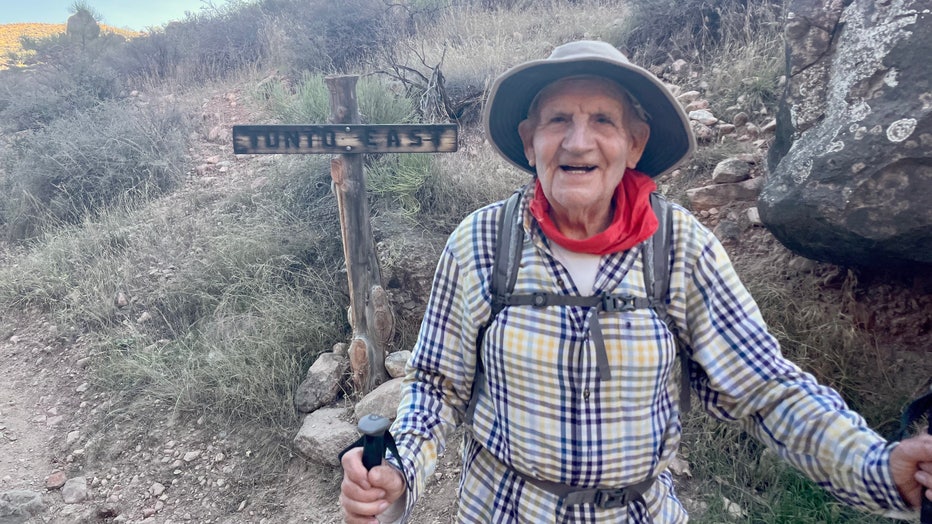 Alfredo Aliaga (Julian Coiner)
Alfredo credits his longevity and vitality to three things: healthy eating and water intake, daily exercise and eight and a half hours of sleep each night. And he says it's never too late to start. Alfredo was in his 60s when he started his healthy habits. 
"You cannot say, 'I am too old' to do things," the 92-year-old offered. "I am healthy and happy."
"Knock on wood, he is also very lucky," Anabel responded with a smile.