Maryland Governor Wes Moore's vision comes to life with new Service Year Option program
COLLEGE PARK, Md. - Maryland Governor Wes Moore launched the first public service year program for high school graduates in the nation Friday during a vibrant event at the University of Maryland's Reckord Armory.
It's called the Service Year Option. 
The governor was joined by fellow service advocates at the university, including Lieutenant Governor Aruna Miller; First Lady Dawn Moore; Department of Service and Civic Innovation Secretary Paul Monteiro; University of Maryland President Darryll Pines; legislators, program host employers, and the program's first participants.
"Today, we are calling upon Marylanders to unite in service to develop essential skills that meet society's demands. I look upon this inaugural cohort and see a group defined by courage, compassion, and vision," Governor Moore said during the event.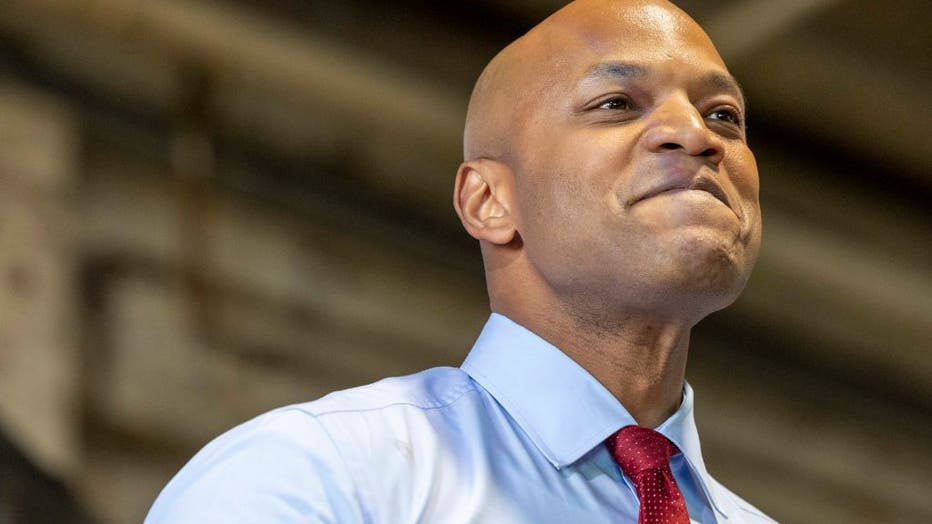 BALTIMORE, MD - OCTOBER 23: Maryland Governor Wes Moore speaks during a campaign event for Angela Alsobrook's run for Maryland's open U.S. Senate seat at Monument City Brewing Company in Baltimore, Maryland, on October 23, 2023.(Amanda Andrade-Rhoade
The Department of Service and Civic Innovation, in its first year, is committed to expanding service and volunteer opportunities statewide. 
This endeavor includes the creation of new service pathways to address community needs, further workforce development, and lay the groundwork for higher and vocational education. The department is also home to the new Service Year Option and Maryland Corps, both of which build upon existing volunteer programs.
Lieutenant Governor Miller commended the launch, stating, "Service has the transformative power to shift our lives from mere consumption to meaningful contribution. The inaugural cohort and future participants will significantly enrich our communities and our state as a whole."
The Service Year Option is designed for young adults who have recently graduated from high school. Participants work a minimum of 30 hours per week, earning at least $15 an hour. They gain practical and interpersonal skills through service placements tailored to their interests, along with support from coaches to help map out their post-service futures, be it in college, career, or continued service.
Similarly, Maryland Corps offers service opportunities for people of all ages, paying a minimum wage of $15 an hour. Participants work with organizations that provide job training and professional development. Program partnerships with Maryland's Historically Black Colleges and Universities and community colleges offer additional support and alignment with skilled trades and apprenticeship programs to aid the transition into continued education or the workforce.
Upon completion of their service year, participants from both programs are eligible to receive a $6,000 award, which can be utilized as a direct payment or deposited into a Maryland 529 Education Account for further studies.
"Today, we unite as public servants in the truest sense of the phrase, all sharing the belief in the transformative power of service to better lives and our society," First Lady Dawn Moore said. "Maryland is ready to lead, and Marylanders are ready to serve. This is just the beginning."
Governor Moore enacted the Serving Every Region Through Vocational Exploration Act, also known as the SERVE Act, in April. This act was instrumental in creating the Service Year Option and the Department of Service and Civic Innovation, as well as adjusting the provisions of Maryland Corps.
The inaugural participants in Friday's launch applied through the Maryland Serves application portal. 
Host organizations span various sectors including education, health, public safety, climate, conservation, public service, historic trades, and information technology.